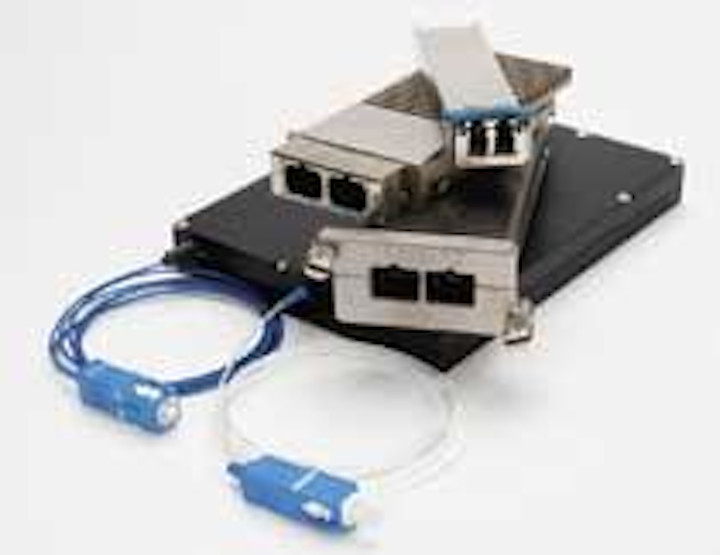 by Stephen Hardy
Four-year-old Menara Networks (www.menaranet.com) has unveiled the first in a line of transceivers that incorporate ITU-T G.709 Optical Transport Network (OTN) functions within the module. The devices are designed to enable current-generation packet transmit platforms to offer OTN-based DWDM transport of Ethernet without recourse to separate transponders. Target applications include switch/routers and the client side of multiservice provisioning platforms -- basically, wherever Ethernet platforms need to communicate with each other over a carrier's fiber network.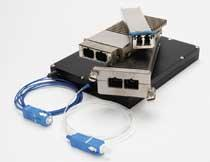 Menara Networks says it has integrated OTN capabilities into its line of optical transceivers. The company sees its devices saving cost and power in DWDM and Ethernet transport, as well as in Ethernet demarcation applications.
"What we have done is basically abstracted what are the key transport functionalities that are needed and then made sure that we can design all of the necessary ICs that provide us with the integration that would be required -- all the software and know how -- and basically package them into transceivers that are 100% MSA compatible," says Siraj Nour El-Ahmadi, founder and CEO of Menara Networks. "Our products are XFPs, XENPAKs, X2s, and 300-pins that not only integrate DWDM but full OTN as well as forward-error correction."
The XENPAK modules are generally available and shipping for revenue, he says. Juniper Networks is the company's first announced customer. The XFP and 300-pin devices are in alpha stage.
Menara Networks pins its differentiation on internally developed ICs that combine the transport-related functions that would normally appear within line card chips. The ICs are small enough to fit within MSA transceiver packages alongside the TIAs, laser drivers, and other devices such transceivers would normally contain.
"The prime example is the OTN framer processor," explains El-Ahmadi. "Those are [usually] BGA chips. Then on top of that you have the serializer/deserializer with them, and then with the associated PLL and clock recovery and all the ancillary circuitry."
By integrating these functions within the transceiver, system designers can add OTN DWDM transport capabilities, including OTN OAM, into line cards designed for use with standard 10-Gigabit Ethernet transceivers. El-Ahmadi says the company plans to add the ability to extend reach via signal impairment mitigation in the future. The 300-pin module is described in a data sheet as incorporating electronic dispersion compensation.
Menara asserts that use of its transceivers for Ethernet transport can result in a total network cost savings of as much as 55% (and a power savings of greater than 60%) due to obviating the need for separate DWDM transponders. In addition to Ethernet and DWDM transport, El-Ahmadi envisions his devices used in Ethernet demarcation applications, leveraging OTN-based transport performance and OAM capabilities to provide service-level agreement assurance and performance monitoring functions not inherent in Ethernet transport without a separate Ethernet demarcation node.
The company, headquartered in Dallas, also has an IC design facility in Irvine, CA. All design work is done in-house. The chips are produced by outside foundries, while Sanmina-SCI (www.sanmina.com) provides packaging and manufacturing of the transceivers.
Founded in 2004, Menara Networks boasts a management team with significant experience in systems design and carrier requirements from work at companies such as Nortel, Qtera, Siemens, Multilink, Fujitsu, and Worldcom. The Qtera links are particularly strong: El-Ahmadi; founder, CTO, and vice president, advanced technologies Salam El-Ahmadi; vice president, product engineering Sultan McDoom; vice president, business development Sri Nathan; and vice president, product line management Adam Hotchkiss at the DWDM developer, which Nortel acquired in 2000.
"Eliminating network elements and simplifying the underlying architecture has tremendous advantages to network operators," according to Eve Griliches, IDC program director for telecommunications equipment. "Menara's integration of ITU-T OTN into their MSA pluggables extends the advantage of the OTN core transport to IP/Ethernet switches and routers and to customer premise equipment as well. This integration has the potential to significantly impact the overall cost of next-generation network deployments."