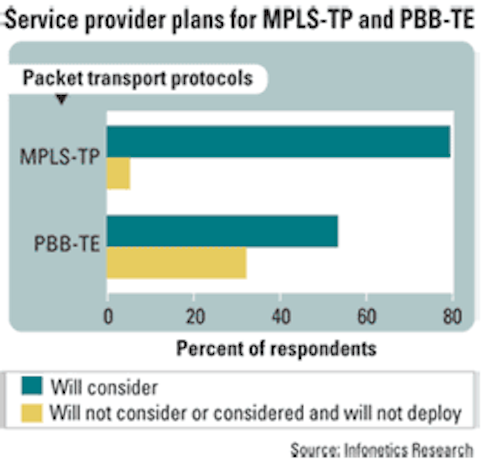 Analyst firm Infonetics Research (www.infonetics.com) conducted a survey to see whether service providers plan to use PBB–TE or MPLS–TP, both, or alternative transport protocols as they build more packet–oriented networks. According to the resulting report, MPLS–TP and PBB–TE Go Toe–to–Toe: Service Provider Survey, PBB–TE faces an uphill climb toward widespread use.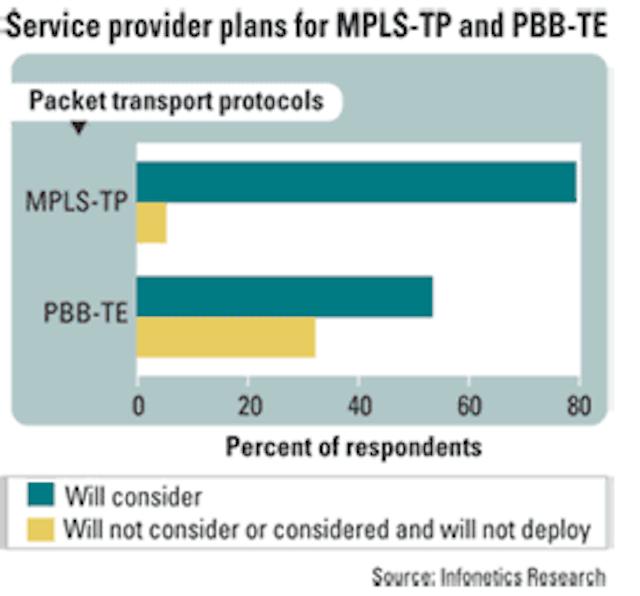 "First, 32% of the service providers we interviewed will not consider, or have considered and rejected, deployment of PBB–TE, while only 5% express similar negatives for MPLS–TP. Second, even though MPLS–TP is not yet defined, almost 80% of the service providers said they are considering MPLS–TP, while 53% will consider PBB–TE," said Michael Howard, principal analyst at Infonetics Research.
Infonetics interviewed purchase decision makers at incumbent operators (mostly vertically integrated operators operating both wireline and wireless businesses) and competitive providers in EMEA, Asia–Pacific, and North America. FIND OUT MORE ONLINE
The Optical Internetworking Forum (OIF; www.oiforum.com) has released Integrable Tunable Laser Assembly Multi–Source Agreement (ITLA–MSA) version 01.2. The group also created a next–generation tunable laser agreement, the Integrable Tunable Transmitter Assembly (ITTA), that leverages the ITLA platform.
The OIF's PLL Working Group has optimized the ITLA command set to enable the use of smaller, lower–power microprocessors and open the door to future size reductions. New features support applications requiring non–traffic–interrupting off–grid tuning as well as those requiring sub–tones for channel identification.
A project within the OIF Software Working Group has been created to work on interface testing to help ensure consistent software interface implementations across multiple ITLA vendors as well.
Meanwhile, the ITTA is a tunable laser integrated with a modulator encompassed by an electronics board containing the necessary laser and modulator control electronics. The ITTA comes in two form–factors. One is similar in size to the ITLA; the other, a reduced size version, is compatible for use within a 300–pin SFF transponder.
The OIF implementation agreements can be found as OIF–TL–01.1.pdf (www.oiforum.com/public/documents/OIF–TL–01.1.pdf) and OIF–TLMSA–01.0.pdf (www.oiforum.com/public/documents/OIF–TLMSA–01.0.pdf) at the OIF's website.FIND OUT MORE ONLINE