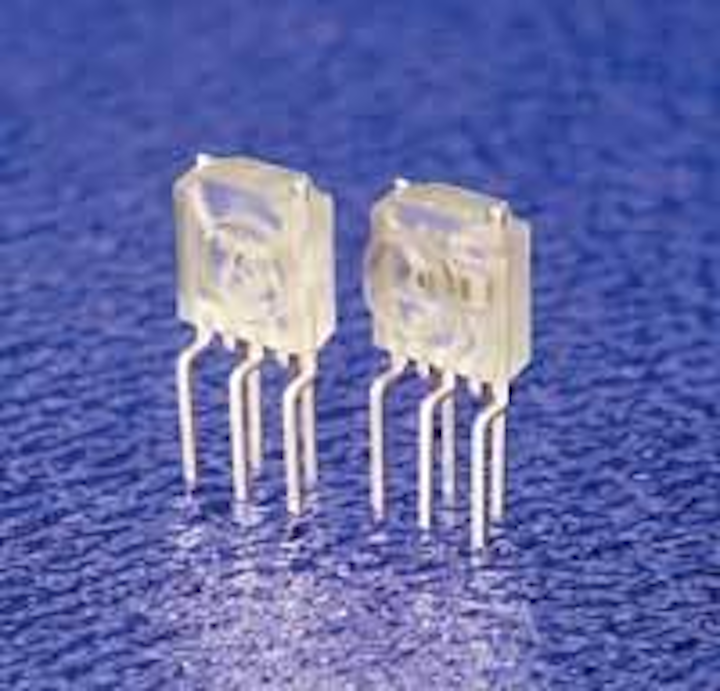 Firecomms (www.firecomms.com) has released an integrated 650-nm fiber-optic transceiver (FOT) along with a "highly sensitive" receiver that operates with IEEE 802.3u Fast Ethernet data communications networks. The company's EDL300 series of Fast Ethernet FOTs, based on proprietary resonant-cavity light-emitting diode (RCLED) technology, is designed to provide Fast Ethernet communication links over plastic optical fiber (POF).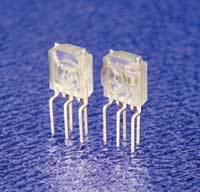 Firecomms' Fast Ethernet FOT can be used with low-cost connectors to significantly reduce the cost per node for applications including home, office, and industrial Ethernet networks.
"Traditionally, plastic fiber's been very successful in applications like industrial field buses, which are relatively low-speed but very rugged," explains John Lambkin, chief technology officer of Firecomms. "The conventional light source for plastic optical fiber to date has been a surface-emitting LED, which provides bandwidth up to 50 Mbits/sec-if you look at these field buses, that's about the maximum bit rate at which they operate."
Firecomms says its compact RCLEDs offer all the features of conventional LEDs, plus high speeds, high-temperature operation, and superior coupling efficiency into optical fiber.
"The strength of RCLED is that it's a more efficient light source; you can extract the light out of the semiconductor more efficiently than you can with a conventional LED," explains Lambkin. "And its key feature is that it can be modulated up to high speeds. RCLED technology has allowed plastic fiber to have a roadmap into the future, because now without changing your physical layer, you can go from the automotive bus at 50 Mbits/sec, to 150 or 250 Mbits-the technology probably can max out at about 400 Mbits/sec."
The company says its RCLED technology can be used with POF to replace copper cables in high-volume applications such as home and car networks. Such applications are based on the IEEE 1394b FireWire standard and the automotive Media Oriented Systems Transport (MOST) standard, developed in Germany and specifying a multimedia bus that's been widely deployed by European automobile manufacturers. In the case of the EDL300 series, the company has its eye on broadband in the home.
"One of the big drivers I think will be IPTV, especially for 100-Mbit/sec Fast Ethernet done over POF," predicts Lambkin. "We certainly view this technology as always being competitive with copper-it's EMI immune, so there's no worry about laying cabling around power outlets. You have all the advantages of an optical signal at the same kind of price point you would for copper."
Firecomms says the RCLED's cavity and thin active region combine to significantly increase the extraction efficiency of light emitted through the device's front surface, as well as the maximum modulation frequency. Thus, the RCLED, compared to a conventional LED, generates more light for each milliampere of drive current and can be modulated to higher data rates.
The company's Fast Ethernet FOT is rated for modulation of 250 Mbits/sec, suitable for 100-Mbit Ethernet transmission. For integration into Ethernet hubs, the device is compatible with current-mode logic (CML) differential voltage swing levels.
"The driver accepts a digital CML signal in, and the receiver gives a digital signal out," continues Lambkin. "This means that these FOTs, packaged in a simple connector, can be very easily implemented onto an OEM's motherboard-they don't have to worry about any analog-to-digital conversion; they just have to have the CML logic on the board, and then they can drive these transceivers."
The company says its Fast Ethernet FOT provides a simpler interface to an Ethernet PHY than previously available and can be used with low-cost connectors to significantly reduce the cost per node for applications including home, office, and industrial Ethernet networks.
That said, POF technology faces barriers to acceptance in mainstream communications applications. "A [POF] transceiver pair for an automobile-it's $3. That same technology can be used for Ethernet/Fast Ethernet transceivers-at three bucks? So why aren't all the Ethernet suppliers running to this?" asks Paul Polishuk, president of the research and consultancy firm Information Gatekeepers Inc. and secretary of the POF Interest Group.
"There is a roadmap for higher data rates over plastic fiber-we're currently working on low-cost gigabit transceivers for plastic optical fiber," concludes Firecomms' Lambkin. "It doesn't just stop at Fast Ethernet for this kind of technology."