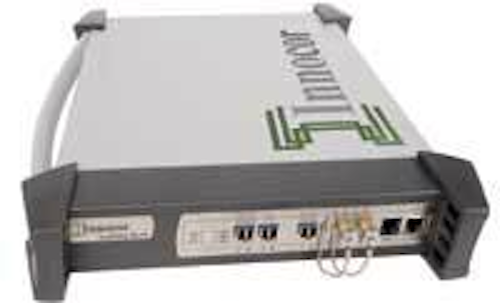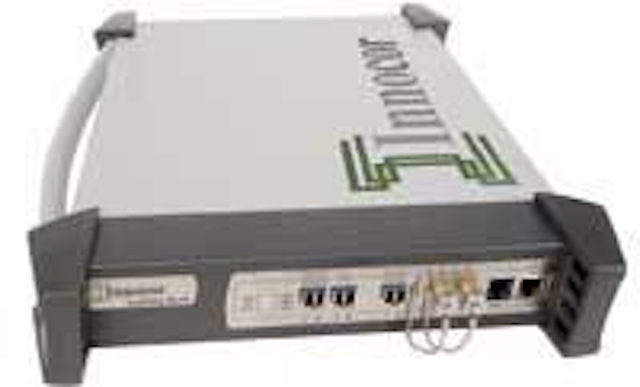 Next-gen test family with OTU1 test capabilities
OTU1 test capabilities have been added to the TestPoint products for FEC and OTN digital wrapper testing at a 2.666-Gbit/sec line rate. The test functions are available as a factory upgrade to the multirate module in the lightweight, portable TS-10 product, as well as the scalable TS-30 and TS-170 configurations for manufacturers and R&D environments.
Innocor, www.innocor.com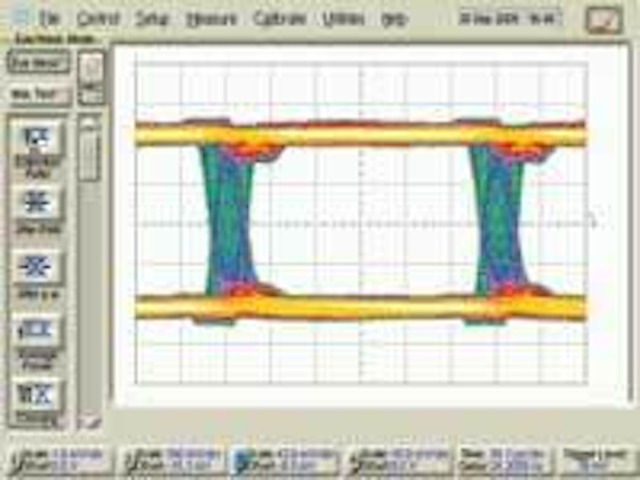 A multipurpose serial pulse data generator has a stimulus capability up to 13.5 GHz, enabling reliable physical-layer measurements for high-speed serial bus designs and lab research. High-precision, low-jitter signals can be programmed remotely for a variety of serial buses; full data-stream control assists in performance and characterization testing. It supports RZ, R1, and NRZ data formats for high-quality waveforms and eye diagram measurements, and uses up to 1-GHz linear delay modulation for jitter-tolerance testing.
Agilent Technologies Inc.,
www.agilent.com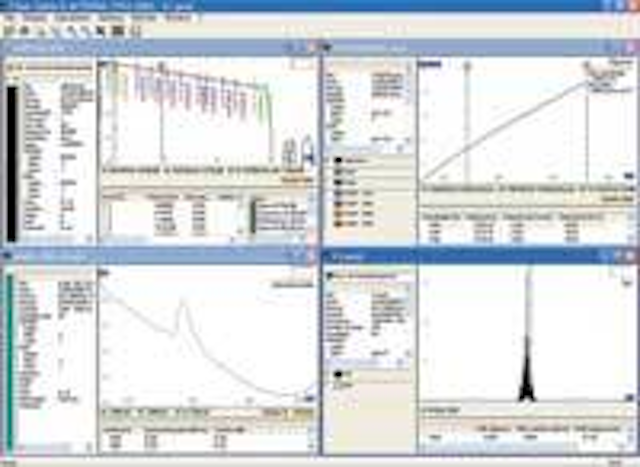 The latest versions of Optical FiberCable v4 and Optical FiberTrace v6 enable complete qualification of fiber infrastructure for delivering high-quality triple-play services via multiwavelength (CWDM/DWDM) and FTTX networks. The software packages integrate bidirectional insertion loss, optical return loss, bidirectional OTDR analysis, fiber bend detection, CWDM/DWDM ­attenuation profile, CWDM/DWDM optical spectrum analysis, and polarization-mode dispersion/chromatic dispersion measurement capabilities for post-analysis of field tests.
JDSU, www.jdsu.com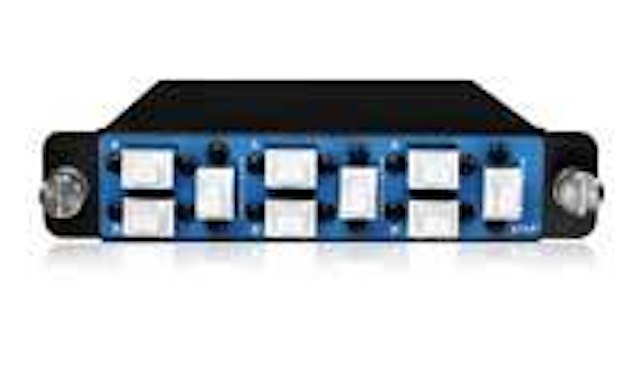 The upgraded line of optical network test access ports (nTAPs) features a lower price point and higher port density than previous offerings for complete visibility into full-duplex networks. The nTAPs are configured with LC connectors that are more compact than SC connectors, allowing a single unit to support one, two, or three channels. A single 1-U rack panel can support as many as nine full-duplex links while mixing and matching various media types. Available configurations include gigabit singlemode, gigabit multimode, and 10-Gbit multimode, compatible with assorted analysis tools.
Network Instruments,
www.networktaps.com
MSA-compliant DWDM SFP transceiver
Supporting high-density, long-distance metro area networks, the TRPW48L2 DWDM small-form-factor pluggable (SFP) transceiver line integrates digital diagnostics monitoring (DDM) and features DFB lasers with an integrated optical isolator to stabilize transmitter operation under varying backreflection conditions. The transceivers' DDM functionality monitors internal temperature, DC supply voltage, transmitter bias current, transmitter output power, receive optical-signal level, laser wavelength, and TEC current, with warnings and alarms. These devices offer 44 wavelengths on 100-GHz C-band spacing with an optical link budget of 26 dB and can support data rates from 2.67 Gbits/sec down to 125 Mbits/sec.
Optical Communications ­Products Inc., www.ocp-inc.com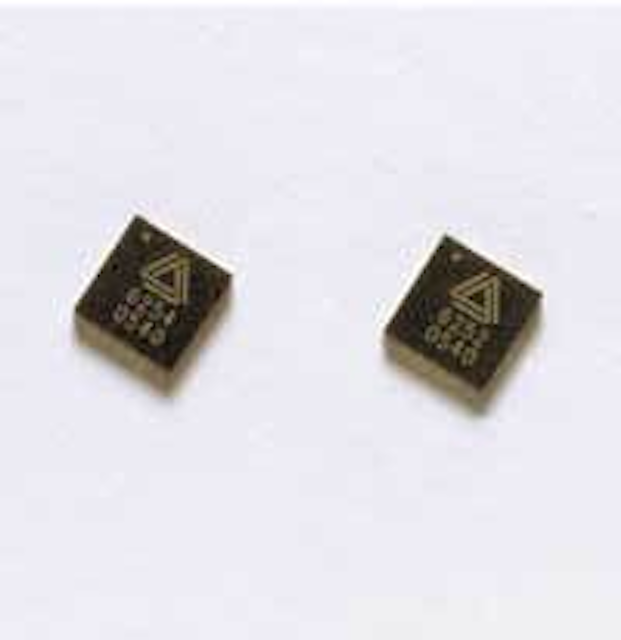 The TAT6252 and TAT6254 Series of RFICs are designed to meet the high gain demands of GPON and GEPON optical network unit (ONU)/optical network terminal (ONT) video deployments. The ICs are fabricated with 6-inch GaAs pHEMT technology and exhibit greater than 30-dB gain and 20-dBmV/channel output, as well as low equivalent input noise (4 pA/rtHz) and distortion of -70 dBc at high optical input levels. The 6252 is optimized for low power consumption while the 6254 supports a wider range of requirements, including DBS frequencies up to 2,150 MHz.
TriAccess Technologies Inc., www.triaccesstech.com
Wide-bandwidth X-cut Mach-Zehnder LiNbO3 modulators achieve 3-dB insertion loss, a 20% improvement over traditional modulators. The latest 10-Gbit bandwidth MX-LN-10 combines this ultralow insertion loss with a drive voltage of 5 V; it is nearly chirp-free (α ≤ ±0.05) and designed for long-haul or ultralong-haul applications. The modulators operate well with either RZ or NRZ modulation formats for point-to-point or DWDM optical transmissions.
Photline Technologies,
www.photline.com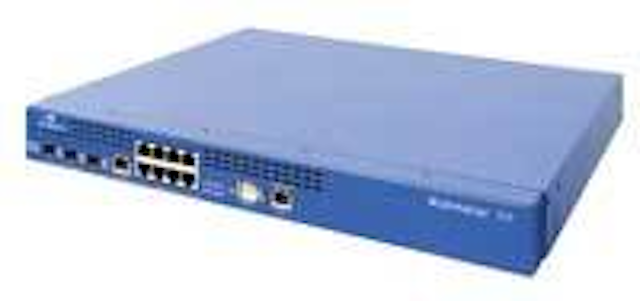 Carrier Ethernet premises equipment
The LE-310, an addition to the LightningEdge product family, is designed to offer cost-effective deployment and delivery of simultaneous telephone, business and entertainment video, and broadband data and Internet access services. The customer premises equipment (CPE) has dual-speed and/or triple-speed on all ports to deliver 100-Mbit/sec or Gigabit Ethernet drops to the subscriber on either fiber or copper. It can deliver multiple services to multiple tenants within a single building. Rapid Spanning Tree Protocol and Rapid Spanning Tree Domains provide SONET-like resiliency and stability in a ring architecture.
World Wide Packets,
www.worldwidepackets.com
The Salira 3000 Series, based on IEEE 802.3ah protocols, consists of the 2550 OLT, the 3345 ONU, and the 3350-S ONU for providing EPON services. The 2550, with its reduced footprint, allows four devices to be installed in a 7-ft rack. The 3345, a flexible CPE device has two pluggable slots to support combinations of eight-port 10/100Base-T, eight-port DMT VDSL, or eight-port T1/E1. The extremely compact 3350-S is designed to deliver Fast Ethernet services to individual businesses or residences, has two ports, and measures 6.5×4.5 inches. The Salira Access Management system simultaneously manages proprietary and standards-based services.
Salira Systems Inc.,
www.salira.com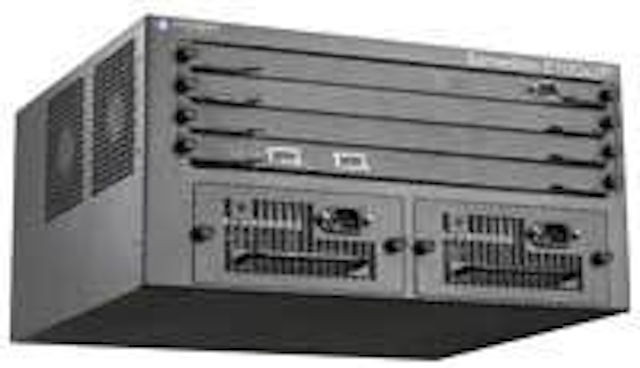 ServerIronGT C and E Series 10-Gigabit Ethernet switches use ASIC-based application processor technology to deliver more than 200,000 Layer 4 connections per second, as well as advanced denial-of-service protection at multigigabit wire speeds to enable scalable acceleration and delivery of web and voice-over-IP applications. The C Series model has a 2-U-high compact, modular, three-slot design for areas with space constraints. The E Series offers more expansion capacity with a four-slot design and front power supplies. Both switches enable efficient load balancing, intelligent content switching, and robust application security.
Foundry Networks,
www.foundrynetworks.com

10-W PM singlemode amplifier
The 10W-KPS-SLM-PM is a singlemode, continuous-wave, polarization-maintaining (PM) amplifier in the C-band spectral range. The amplifier series is engineered for the amplification of narrow-linewidth, linearly polarized input signals in the spectral range from 1530 to 1565 nm, delivering 1 to 10 W of saturated optical output power with a polarization extinction ratio from 15 to 20 dB through a bare fiber or beam collimator. The amplifiers are suitable for free-space communications, frequency doubling, coherent detection, and beam combining.
Keopsys Inc., www.keopsys.com
A line of bidirectional SFF and SFP transceivers simplifies FTTH network architectures by operating over a single strand of fiber. They operate at data rates from 125 Mbits/sec to 1.25 Gbits/sec and comply with IEEE 802.3ah Ethernet in the First Mile (EFM) standards, as well as meeting SFP and SFF-8472 MSA standards. The SFF version offers a variety of pigtailing options, and the SFP model is hot pluggable. Both incorporate either MQW-FP or DFB lasers at 1310, 1490, and 1550 nm.
NeoPhotonics,
www.neophotonics.com
System suppliers can add ROADM capabilities to current optical networking equipment designs as easily as a single-card upgrade with the XRM-7500 turnkey module, even permitting upgrades in the field. The four-port integrated module enables the ability to reuse the existing demultiplexer/multiplexer cards to drop and add wavelengths, control of pass-through equalization and optical power monitoring functions in one interface, and a small footprint and low height for fitting in a single card slot in most systems. It features a high-performance, free-space micro-optics-based design with low insertion loss and wide passband performance.
Xtellus, www.xtellus.com
The WSS-1x8 wavelength-selective switch is a liquid-crystal-based model with nine fiber ports. It was developed based on the LightFlow platform, without moving parts, for high reliability and cascadability. The module integrates demultiplexing/multiplexing, hitless switching, and power balancing functions in a small footprint, and features remote configurability via embedded firmware/software, scalability, and low power consumption. The bidirectional WSS can independently manage power equalization and blocking of any combination of wavelengths and also dynamically routes the wavelengths to any of the fiber ports as needed.
CoAdna Photonics Inc.,
www.coadna.com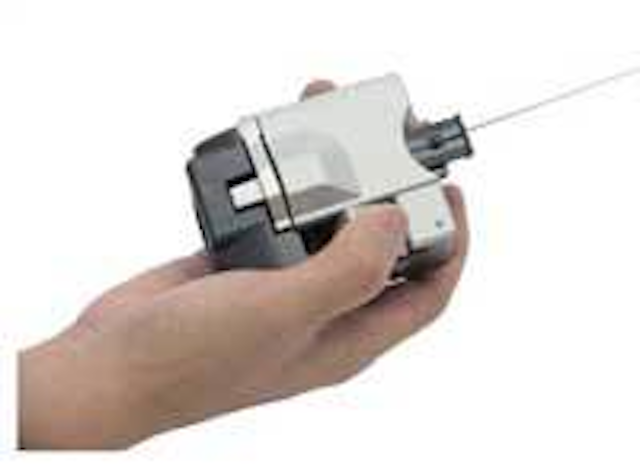 Single-action, four-function fiber cleaver
The FITEL S325A combines all four steps of fiber cleaving into one press of a button: applying tension to the fiber, scoring it, precisely breaking it, and disposing of waste fiber. The unit can cleave single fiber with an adapter or up to a 12-fiber ribbon using fiber holders for field installations such as FTTH and LANs. Its ergonomic design allows both handheld and benchtop operation, featuring a wide lid top for ease of loading and an integrated high-capacity waste fiber chamber.
Furukawa America Inc.,
www.furukawaamerica.com
The menu-based "Fiber Optic Splicing" DVD covers PA, LID, and fixed V-groove fusion splicers for ribbon, FTTH, and premises applications. It also discusses types and applications for mechanical splicing, such as access for testing fibers and cables, emergency restorations, and premises applications. Among the highlights are correct methods for preparing, cleaving, splicing, and protecting optical fibers; outside plant, inline, pigtail, and FTTH splicing applications; preparation for single-strand and ribbon fibers; and specialty splicing.
The Light Brigade,
www.lightbrigade.com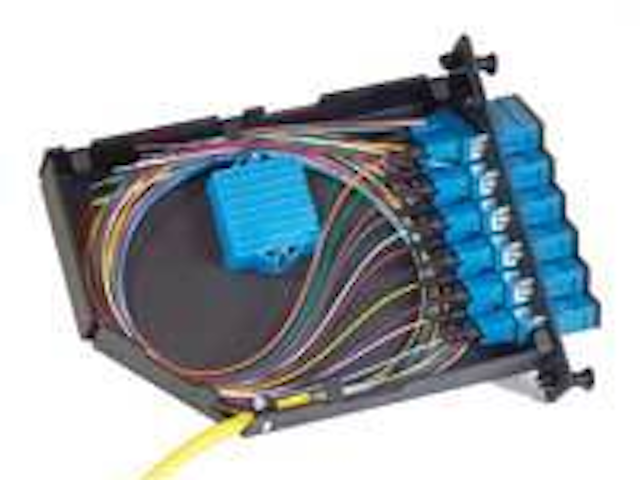 The LightLink Poli-MOD is a patch and splice module based on the LGX 118 footprint. It supports up to 144 patch and splice configurations in a standard 4-U panel, creating 1,296 patch and splice locations within a 7-ft rack. Its front and rear access, secure environment for spliced fiber, and ease of fiber identification allows for expansion in new and existing systems. The module is available in SC and LC configurations with up to 18 ports, and no moving parts, making it useful for data centers, customer premises, LANs, WANs, COs, and more.
AFL Telecommunications,
www.afltele.com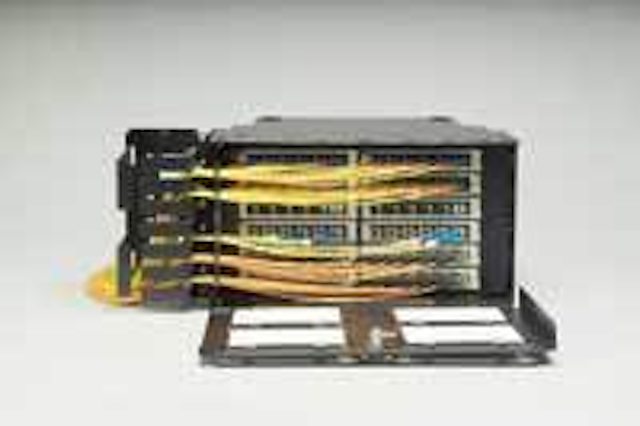 The TrueNet Enterprise Fiber Portfolio brings fiber cable, connectivity, and cable management solutions to the TrueNet Structured Cabling System. Encompassing high-density frames, optical raceways, racks, cabinet panels, wall boxes, fiber-optic cables, and field termination kits, the portfolio of products offers a zero bit-error warranty guaranteeing signal integrity and throughput, as well as 20-year product performance warranties. Its Next-Generation Fiber Frame is a high-density unit that provides expansion with optimized fiber cable management. Each frame features plenty of trough space for cable and jumpers, easy access to connectors, and storage for jumpers.
ADC, www.adc.com
A built-in dual heating system and simultaneous operation reduces "heater wait time" in the Type-39 FastCat fusion splicer by 88%. With an individual heater cycle time of 30 sec and a splice cycle of 9 sec, the splicer is capable of improving splicing efficiency and productivity by 70%. The RoHS-compliant FastCat is designed for applications in the central office or head-end, the feeder portion of FTTX networks, and at terminals leading to the final drop to the premises or home. A multiposition monitor accommodates front-to-back and back-to-front viewing. High-resolution Direct Core Monitoring (HDCM) image-processing software aligns the core and estimates splice loss, with typical loss less than 0.02 dB (singlemode) or 0.01 dB (multimode).
Sumitomo Electric Lightwave, www.sumitomoelectric.com
Using IMPACT MOUNT Technology (IMT) splice connectors with single- and multimode capabilities, the service enclosure is suitable for both indoor and outdoor applications. It replaces connector panels that require racks, bulkheads, and pigtail subassemblies. Technicians can quickly add or reduce lines by connecting or disconnecting the IMT splice connectors mounted in the enclosure. Additional splice connector cassettes can be easily added as more lines are needed.
Valdor Fiber Optics Inc.,
www.valdor.com