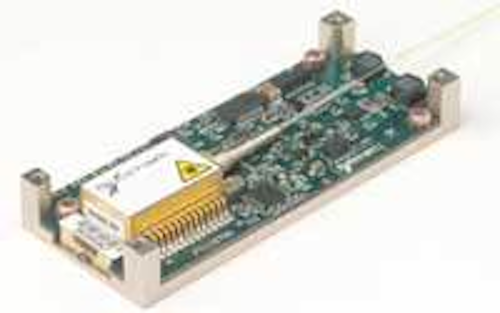 The emerging market for tunable technology was among the key trends cited by a panel of component vendors at the 2006 Executive Forum, held last month at the Optical Fiber Communication Conference & Exposition and the National Fiber Optic Engineers Conference (OFC/NFOEC). In fact, the panel was unanimous in its belief that the industry is rapidly transitioning to tunability. As Michael Ricci, senior vice president of the Components and Modules Group at JDSU (San Jose, CA), declared, "Tunability is no longer a question of if but when, and when is now."
After several lean years during which only a handful of tunable laser vendors survived, tunability is back on the radar screen. Gary Wiseman, general manager of Intel's Optical Platform Division, expects 2006 to be marked by a shift from fixed to tunable lasers in DWDM networks. Several recent Tier 1 requests for proposals (RFPs) specify reconfigurable optical add/drop multiplexers (ROADMs) with wavelength flexibility to handle burgeoning end-user traffic from video-on-demand and IPTV-type applications. By all accounts, most new systems are tunable.
But carriers most likely are not exercising that wavelength flexibility today, admits Santur (Fremont, CA) CEO Bardia Pezeshki. "I don't think so many people are reconfiguring their networks currently, adding and dropping wavelengths in a time-dependent manner, but they want to be able to do that in the future," he says. "Buying a tunable laser future-proofs their system."
For now, sparing remains an important market. In fact, says Pezeshki, the inventory problem is much greater than people assume. "It's not just keeping stocks of lots of spare lasers. It's also about being able to order and get parts quickly and manufacture lots of different codes that make tunables so much more interesting in this application," he says.
Pezeshki recalls a system vendor that came to Santur because it couldn't get a particular fixed-wavelength laser anywhere else. Given the three- to six-month lead-time for the fixed laser, the system vendor decided to pay the price premium for a tunable. "If the system is configured so it can take both tunable and fixed wavelengths, it turns out the tunable is a lot easier," adds Pezeshki.
Steve Robinson, vice president of product management at Meriton Networks (Ottawa, ON, Canada), agrees with Pezeshki's assessment. He cites the lack of available systems designed to take advantage of them as a key reason why tunable lasers haven't seen as much traction in the past. "It's more than just the laser itself," he says. "You have to have a system that has a ROADM in it that can reconfigure the wavelength, and the ROADM actually has to be on the drop side, using a wavelength-selectable switch. It doesn't do any good to have a tunable laser on the source if you can't tune the wavelength on the drop. You have to design a system from day one to be agile."
It is precisely this need for agility and reconfigurability that has everyone talking tunables. "The triple-play of voice, video, and data is driving bandwidth growth and the need for bandwidth flexibility, and that, in turn, is driving the agile optical network vision, which is already being deployed," notes Kevin Affolter, product line manager of telecom modules at JDSU. Where reconfigurability likely will play the biggest role is in the metro, which ultimately should prove to be a bigger market for tunable lasers than the long haul.
"It's just simple math," says Pezeshki. "In long haul, a laser signal goes many thousands of miles, so you only need one laser for many thousands of miles. In the metro, the nodes are closely spaced, so you have to have a laser on every node."
This is good news for the tunable laser manufacturers, says Adam Price, director of product line management for Bookham's Mach-Zehnder and tunable transmitter lines at Bookham (San Jose, CA). He is not convinced the long-haul market on its own will provide sufficient volumes. "Where the breakthrough will be is in the high-volume metro regional or metro, though tunability certainly won't be used in an application for a while."
The Optical Internetworking Forum (OIF-Fremont, CA) is hoping to do its part to "kick-start" the metro market, reports Raj Batra, engineering manager for Intel's Optical Platform Division and editor of the OIF's most recent tunable laser white paper. The OIF's history with tunable lasers dates back to 2000, when it developed an implementation agreement (IA) for the first tunable laser module interface, a 40-pin connector. This IA met with so much success, the OIF immediately began work on the next-generation device, to be integrable with a 300-pin large-form-factor transponder.
The resultant integrable tunable laser assembly (ITLA) IA provides a specification for integrating a continuous wavelength (CW) laser into a 3.5×4.5-inch transponder as well as the small-form-factor 3×2.2-inch transponder. Most of the tunable laser manufacturers have an ITLA in their portfolios today.
In 2004, the OIF took on a project that was a bit more forward-thinking: the development of an integrable tunable transmitter assembly (ITTA), designed to increase traction in the metro market. "Based on our ITLA experience, we felt there would be a lot of advantages for the line card vendors," explains Batra. "It would be one less integration headache if there was a transmitter within the package. Frankly," he adds, "it also opens up more markets for tunability. We're trying to get into the metro/metro edge, and we felt like this technology might be able to enter into that market."
It is difficult for tunability to enter the metro/metro edge market right now because the multisource agreements (MSAs) for XENPAK and X2 do not support tunability, notes Batra. However, the much smaller XFP form factor does support tunability. "If we can either work with the X2 or XENPAK or try to reduce our electronics, lasers, and modulators to fit into an XFP, I do think that will be the next area of growth for tunables," says Batra. "But there are some hurdles that, in the near term, we would have to surmount."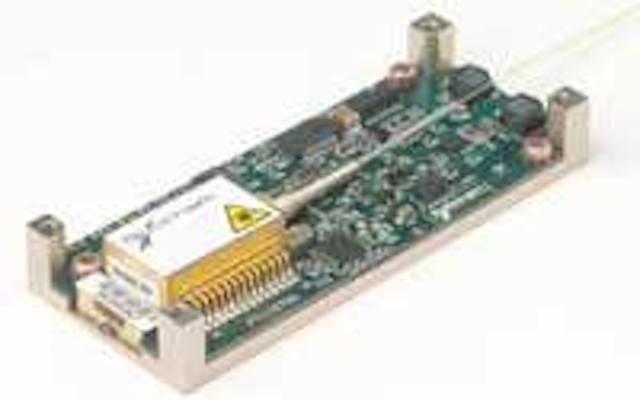 The Optical Internetworking Forum (OIF) developed the integrable tunable laser assembly (like the one pictured above from Bookham) to facilitate the integration of tunable lasers into systems and remove some of the risks for the system vendors.
The OIF has determined that XFP would be the ideal form factor for the ITTA because it is so widely used in the enterprise segment, but the size constraints of the current generation of tunable lasers make an interim step-in the form of X2, XENPAK, or 300-pin form factors-necessary. Several of the tunable laser manufacturers currently are working to integrate modulation capabilities into tunable lasers, and this would go a long way toward the development of an ITTA IA.
Back in 2001, there were nearly 30 different tunable laser technologies in development. Today, the industry is down to five or six technologies and three major suppliers: Intel, Santur, and JDSU through its acquisition of Agility. But the recent spate of carrier RFPs has led to an onslaught of new players in the market, including Paxera and Pirelli Broadband Systems (see "Small Companies Get in Tune"). Others, like Bookham, are trying to strengthen their foothold in the market.
"To be honest, we haven't gone out there and been the earliest supplier of tunable lasers," admits Price. "But what we have done is very effectively understood where our cost pressures are, where our price points need to be to get volume in the tunable market and make it suitable for our customer base."
Bookham recently branded its tunable laser line LambdaFLEX to better create an identity for itself within the tunable laser market. The company's plan is simple: Get smaller, get into the metro, and be price disruptive.
"The performance has to be equivalent or better [than fixed lasers]. The price has to pretty much equivalent, and you have to be able to supply it in volume," contends Andy Carter, Bookham's vice president of research development.
Speaking on behalf of the system vendors, Meriton's Robinson echoes this sentiment. "Technology is not as important as the ability of the manufacturer to produce the product in quantity at a competitive price and to have it fully qualified," reveals Robinson. "To the extent that we look at the technology, it's only if we have concerns that the technology is not scalable or you can't qualify it."
Meriton has been shipping tunable lasers via its wavelength-selective-switch-based ROADM since 2003, including a deployment with Verizon at Texas A&M. For his part, Robinson is encouraged by the direction of the tunable laser market. "Over the last five years, carriers have squeezed all that they can out of systems vendors on capex, but they haven't worked on the 80% problem, which is the opex problem. The opex savings related to tunable lasers are just tremendous. I think that's another reason why you are seeing now, in this last year, customers valuing flexible networks that provide substantial opex savings."