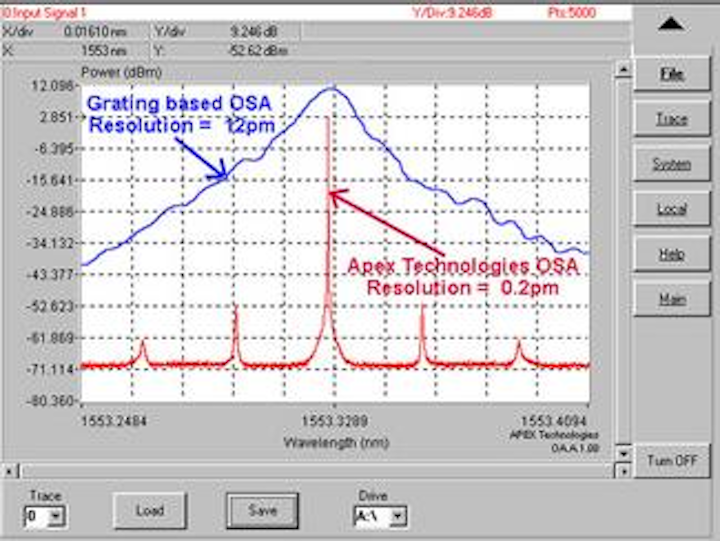 Apex Technologies has introduced a new module for its AP1040A Optical Analyzer, which enables optical spectrum measurements between 1520 nm and 1630 nm with a resolution more than 50 times better than the best grating-based OSA (3 dB resolution: <0.2 pm), say company representatives. Moreover, the principle used by Apex Technologies offers a high dynamic range (>60 dB) as well as an high wavelength accuracy (+/-3pm) and a short measurement time.
With this new module, the AP1040A is now able to characterize tunable laser or transmitter spectral features such as line width, laser spectral symmetry, modulation spectrum, ultra DWDM channel behavior, relaxation oscillation of unmodulated tunable lasers, and close-in spurious sidebands.
With an ASE source, the new module can also be used for passive component characterization used in Ultra-DWDM systems. Thanks to its very high resolution (<0.2 pm) and its high dynamic range (>60 dB), it is now possible to characterize very narrow filters.

For more information about APEX Technologies (Créteil, France), visit the company's Web site at www.apex-t.com.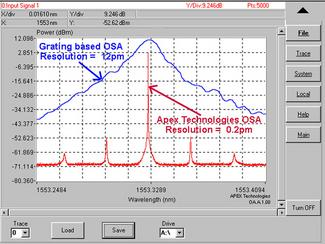 Apex Technologies' new module features high resolution (60 dB).