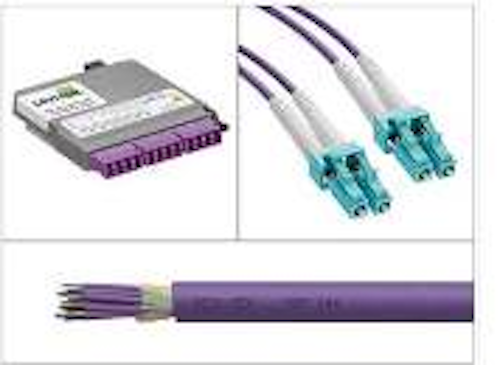 Berk-Tek Leviton Technologies says its OM4+ Premium Violet Data Center System can support both 40 Gigabit Ethernet and 100 Gigabit Ethernet (100GbE) optical transmission lengths of 300 meters. The multimode fiber-optic cable system provides the extended optical transmission distance with standard 40GBASE-SR4 or 100GBASE-SR10 optical transceivers according to the company, which is an alliance between Berk-Tek, a Nexans company, and Leviton (see "Berk-Tek Leviton Technologies alliance targets high-performance networks"). Components of the OM4+ Premium Violet Data Center System include trunk cables, harnesses, patch cords, MTP cassettes, and adapter plates. "An OM4+ end-to-end system using cable with GIGAlite-10XB fiber can transmit 40/100GbE signals out to 300 meters, encompassing almost all data center layouts. This is double the length capability of a minimally compliant OM4 solution," said Mike Connaughton, RCDD, CDCD, data center market segment manager at Berk-Tek. "For shorter lengths, the system also allows for increased connectors pairs, creating greater flexibility in the network." As its name implies, the OM4+ fiber cable and connectivity accessories are color-coded violet, making the OM4+ Premium Violet Data Center System the first end-to-end offering with that color, the partners say. "Color coding is an integral part of our industry, as it helps identify the performance of individual fibers, cables, and connectors," said David Mullen, Leviton Network Solutions senior product manager, fiber. "The new violet color is an important step to help distinguish OM4+ from OM4 and OM3, or other legacy installations, ensuring data center managers get the highest performance from a Berk-Tek Leviton Solution." For more information on fiber cabling and suppliers, visit the Lightwave Buyer's Guide.
Want to learn more about fiber cable innovation? Attend the Lightwave Optical Innovation Summit
The Lightwave Optical Innovation Summit will feature panels and presentations that will illuminate where optical innovation is required in carrier and enterprise/data center networks, what it should look like, and when it might appear. A wide range of experts from the user, technology development, academic, and analyst communities will offer their views on innovation in a variety of areas, including fiber-optic cable. Find out more about the Summit, which will be held in Austin, TX, July 14-16, at the Lightwave Optical Innovation Summit website.