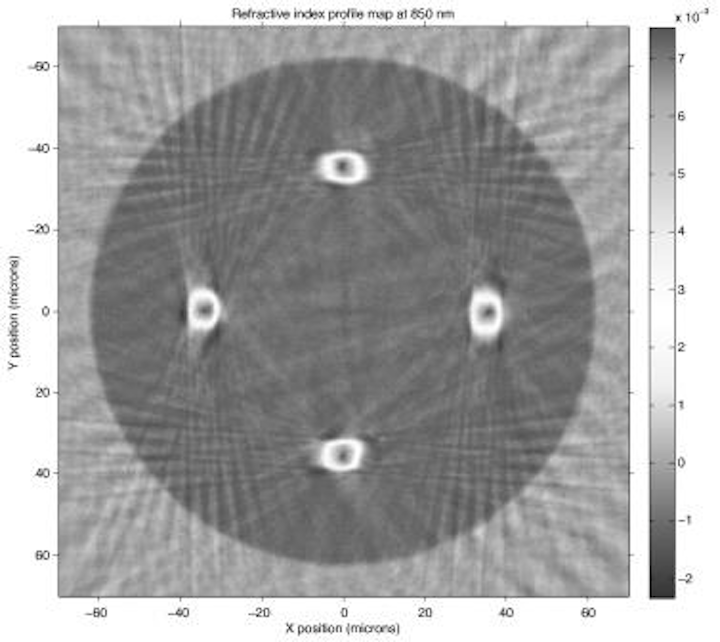 Fibercore Ltd., a UK-based firm that designs and manufactures specialty optical fiber, says it has developed the ability to fabricate multicore optical fibers.

The standard, demonstration product has four cores. However, Fibercore says the fabrication method is versatile enough to enable the production of multicore fibers in virtually any practical configuration, spacing, and number of cores.

As their name implies, multicore fibers promise to significantly increase the bandwidth capacity of fiber by providing more light-carrying cores than the single core typical of conventional fiber (see photo provided by Fibercore). The technology is being explored for such applications as next-generation telecommunication devices and fiber-optic sensor systems.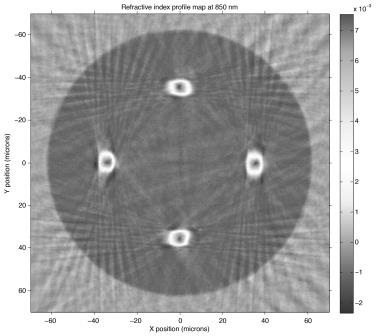 In the telecom sector, for example, multicore fibers can be used to dramatically reduce the amount of space required for and increase the bandwidth of the fiber-optic cable used in data center networks and exchanges. Data cables could be reduced in size by having, for instance, eight cores within one fiber. This would change the existing technology from an eight fiber ribbon to a single fiber cable, reducing the cross-sectional area and weight of the cable. Alternatively, the eight fibers could be replaced by eight multicore fibers, increasing the cable bandwidth eight times.

For applications in the biomedical sector, fiber Bragg gratings may be inscribed into each photosensitive cores, providing the ability to use the fiber as a 3D shape sensor.

Fibercore says its multicore fibers can be customized to provide the optimum design for any particular application. Special drilling technology makes it possible to place virtually any core in any position within the fiber, the company adds.

"Our multicore fiber technology provides us with extreme flexibility to design what the customer needs and does not limit them to stack-and-draw design constraints," said Dr. Andy Gillooly, technical business development executive at Fibercore.

For more information on fiber cable and suppliers, visit the Lightwave Buyer's Guide.

Want to learn more about optical fiber innovation? Attend the Lightwave Optical Innovation Summit
The Lightwave Optical Innovation Summit will feature panels and presentations that will illuminate where optical innovation is required in carrier and enterprise/data center networks, what it should look like, and when it might appear. A wide range of experts from the user, technology development, academic, and analyst communities will offer their views on innovation in a variety of areas, including optical fiber. Find out more about the Summit, which will be held in Austin, TX, July 14-16, at the Lightwave Optical Innovation Summit website.