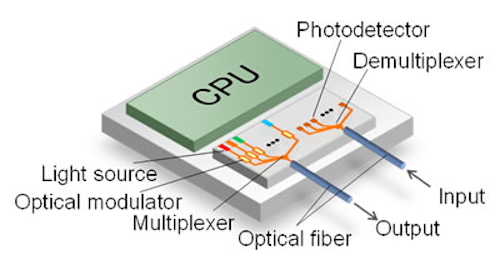 Fujitsu Laboratories Ltd. says it has developed an integrated silicon optical transmitter for use in optical transceivers that will enable large volumes of data to be transmitted between computer central processing units (CPUs).

Several organizations have investigated the use of optical connections for chip-to-chip communications (see, for example, "Avago Technologies offers 120 Gbps parallel optics in CXP, MiniPOD formats"). According to Fujitsu Labs, thermal fluctuations from the heat emitted by CPUs have a large impact on both the light source built into optical transmitters located near CPUs and the separate optical modulator that encodes data into the light emitted from the light source. A thermal control mechanism is usually required to ensure that the operating wavelengths of both the light source and optical modulator consistently match.

Fujitsu Labs had previously devised a structure incorporating both the light source and optical modulator and demonstrated that separate prototypes of the light source and the optical modulator had identical thermal properties. This structure used identical ring resonators for both the wavelength control unit of the light source and the optical modulator. This time, the company used this structure to make a prototype optical transmitter with the light source and optical modulator integrated on the same silicon chip (see figure, courtesy of Fujitsu Laboratories).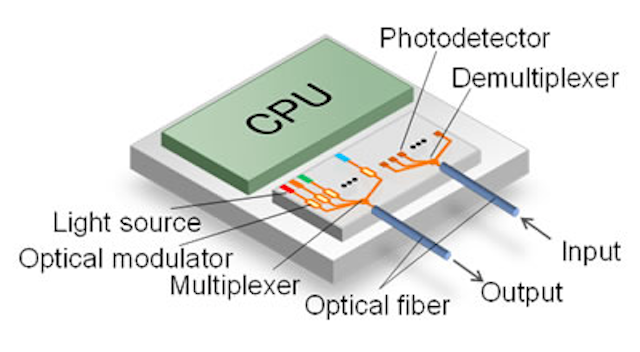 Using this prototype, Fujitsu Laboratories demonstrated optical modulation at speeds of 10 Gbps at temperatures ranging from 25°C to 60°C without a thermal-control mechanism. Moreover, the electricity consumed by the optical transmitter was reduced by roughly half compared to previous methods, according to the laboratory.

This technology enables compact, low-power optical transceivers to be mounted directly in CPU packaging, the company says. By further increasing the speed of the optical transmitter and integrating multiple transmitters on one chip using wavelength multiplexing, it will be possible to create optical transmitters small enough to be embedded into CPU modules that are capable of transmitting data at rates of several terabits per second. The ultimate aim is to apply this technology in exaflops-class supercomputers and high-end servers for mega data centers.

Details of this technology will be presented at the 9th Group IV Photonics international conference (GFP 2012), running August 29—31 in San Diego.

For more information on optical components and suppliers, visit the Lightwave Buyers Guide.