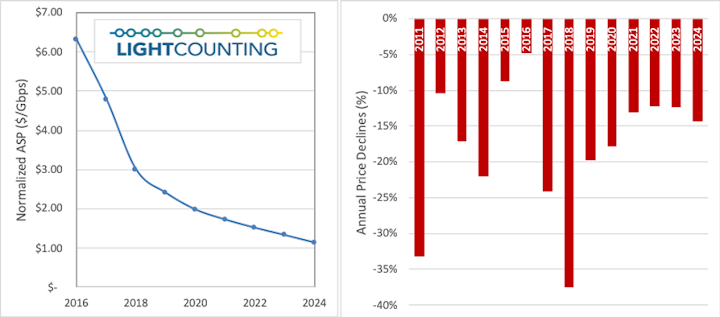 After what the market research firm called "slower than expected years" in 2017 and 2018 for optical transceiver sales, LightCounting believes continued disappointment in 2019 is "likely." However, the company's analysts say that three events between this year and next could put the global optical transceiver market back on track to enjoy a 14% compound annual growth rate (CAGR) between 2003 and 2024.
Here are the three events (drumroll, please):
China and the U.S. stop squabbling long enough to reach a trade deal this year.
5G deploys on schedule, which would create demand for wireless fronthaul and backhaul optical transceivers.
Shipments of next generation Ethernet modules, including 2x200 Gigabit Ethernet (GbE), 4x100GbE, and 400GbE, reach decent volumes in 2020 while Ethernet optics price declines return to their historical average.
LightCounting says the third event is the most important. The market researcher notes that 2018 saw a record decline in Ethernet optical prices (see figure above), which accounted in large part for last year's disappointing sales totals. Such prices shrank 37% last year, with a decline of up to 50% in 100 Gigabit Ethernet optics average selling prices last year leading the way. LightCounting notes that the market sees the steepest price declines when new technology generations reach high volume. The sharp declines illustrated above in 2011 and 2014 came as 10GbE and 40GbE optics, respectively, reached high production. The same happened last year when 100GbE transceivers reached volume production.
So one would expect that a similar steep price decline is in store when optical transceivers for greater than 100GbE applications reach high volume as well. Fortunately for module vendors, that doesn't look like it will happen during the current forecast period, LightCounting predicts. That's because this market segment remains fragmented. Google has begun to deploy 2x200GbE SR8 and FR8 optical transceivers, but Amazon likes 4x100G DR4. Facebook, meanwhile, is expected to remain focused on 100GbE, then step toward 200GbE. Other cloud providers haven't revealed their 100GbE+ plans, assuming they have such plans at this point, according to LightCounting.
LightCounting offers this analysis, and more, in the "Optical Communications Market Forecast" it published last month (subtitled "Looking beyond the Slowdown of 2017-2018"). The report offers a market demand forecast through 2024 for optical components and modules used in Ethernet, Fibre Channel, CWDM/DWDM, wireless infrastructure, FTTx, and high-performance computing (HPC) applications.
For related articles, visit the Optical Technologies Topic Center.
For more information on optical modules and suppliers, visit the Lightwave Buyer's Guide.