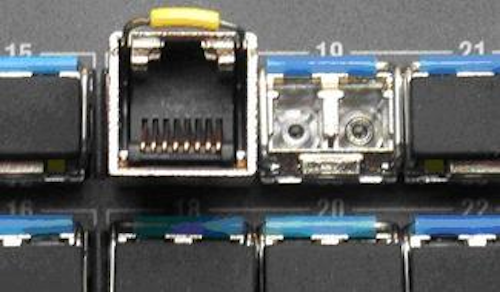 From increased port density and flexibility to logistical and inventory advantages, the use of copper SFP transceivers is a promising development for the optics industry.
By Rafik Ward
Finisar
Optical networking today is the de facto standard for Fibre Channel storage area networks (SANs) and SONET/SDH networks, while Ethernet local area networks (LANs) primarily use copper (i.e. electrical) networking technologies for data rates up to 1 Gbit/sec. As network infrastructures evolve, it will be important to maintain both configuration flexibility and high port utilization for equipment deployed at the intersection of legacy copper and newly installed optical networks. The maturation of copper small form factor pluggable (SFP) transceivers is playing a key roll in enabling system designers to meet these objectives while simplifying their inventory and reducing operating costs.
Originally defined in 2000 under a multi-source agreement (MSA) by fifteen module manufacturers, SFP optical transceiver modules combine transmit and receive functions in a compact, low-power, low-cost package format. Rapidly accepted as the industry standard, SFP modules now are widely used to support Fibre Channel, Gigabit Ethernet (GbE), and SONET/SDH applications, supporting data rates between 125 Mbits/sec and 4 Gbits/sec.
Introduced two years ago, copper SFPs enable system manufacturers to populate SFP ports with either copper or optical transceivers. (Figure 1, for example, depicts a system with both copper and optical SFPs populated in adjacent ports.) As a result, the demand for copper transceivers in the last 12 months has begun to increase significantly.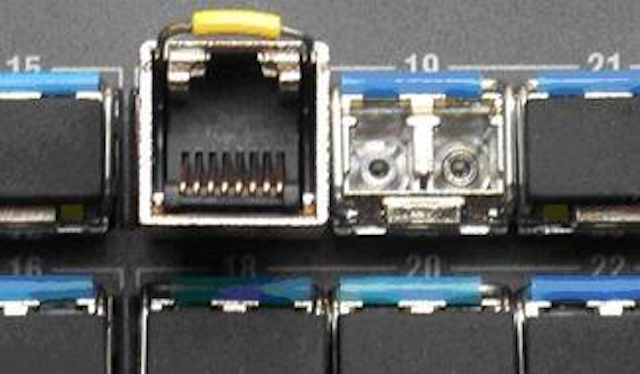 Figure 1: Here, a copper SFP transceiver with an RJ-45 connector (left) and an optical SFP transceiver (right) share adjacent ports in a high-density system.
Optimizing port-level configuration flexibility
The IEEE 802.3 standard defines two different types of GbE traffic: 1000BASE-T and 1000BASE-SX/1000BASE-LX. 1000BASE-T refers to GbE over copper, primarily Category 5, 5E, and, increasingly, Category 6 twisted-pair cable. 1000BASE-SX /1000BASE-LX refers to GbE over fiber, with 1000BASE-SX intended for applications over multimode fiber and 1000BASE-LX primarily intended for applications over singlemode fiber.
Before the introduction of copper SFP transceivers, system designers who wanted to support Ethernet traffic over both copper and fiber needed to offer two different line cards dedicated to one media or the other or, alternatively, hybrid cards with a fixed number of copper ports and optical cages. From a system resource utilization perspective, this approach proved inefficient because the available ports for each type of media rarely matched the network's constantly evolving topologies.
In today's network environments, systems must deal with the ongoing convergence of data, voice, and video traffic as well as topologies that mix Internet Protocol (IP) with legacy PDH traffic and integrate specialized requirements such as Fibre Channel or ATM. As such, GbE switches, routers, and multi-service provisioning platforms (MSPPs), for example, must provide port-level flexibility for handling both fiber and copper interfaces.
Copper transceivers that conform to the SFP form factor have emerged as the best way to optimize port-level flexibility. As shown in Figure 2, a 1000BASE-T copper SFP and an optical SFP provide exactly the same physical and electrical interface for any port on the line card. This parity enables system builders to offer a single line card design that can handle the entire spectrum of copper and fiber connections.

Figure 2: A 1000Base-T copper SFP transceiver and an optical SFP transceiver provide the same physical and electrical interface for any port on the line card.
Port utilization is maximized because any SFP cage on a line card can be populated with either copper or optical SFP transceivers. With every line card fully utilized, overall value for end customers is enhanced; they can more efficiently grow their investments to accommodate changing network requirements.
Minimizing costs
The traditional dedicated line card approach also increases inventory costs and logistical challenges because it represents the lowest level of field reconfiguration. For example, say a technician needs to reconfigure one or two ports in a GbE switch from copper to fiber-perhaps a longer distance link is required. Previously, if there were no unused fiber ports, the technician had to add another line card or swap out one or more existing cards to get the right combination of copper and fiber ports. Similarly, in the event of a line card failure, the technician needed a spare card that matched the copper-versus-fiber port mix of the existing card. If no match was available in the technician's inventory, multiple truck rolls could be required to complete the update.
Copper SFP transceivers and a common line card design for all ports, by contrast, significantly reduce the field technician's inventory while also improving service responsiveness. Despite a smaller inventory, the technician can be assured of having the requisite hardware to complete the copper-to-fiber reconfiguration.
From a design standpoint, copper SFPs also reduce design cycles and accelerate time to market. Many copper SFPs products offer "tri-rate" capability or backwards compatibility with 100/10BASE-T in addition to 1000BASE-T operation through an SGMII interface. In the past, system designers were required to design multiple port interfaces for optical and copper media (in addition to separate interfaces for 10/100 and 1000BASE-T interfaces). Today, copper SFPs streamline the design effort to a single port design that can be replicated easily on a host board, enabling both optical interfaces and tri-rate copper interfaces.
In summary, the industry has seen a maturation of--and growing demand for--copper SFP transceivers over the last year. Copper SFPs offer designers and network administrators a level of flexibility that simply did not exist before. Copper SFP transceivers also provide key advantages such as increased port density, improved system utilization, simplified logistics, and lower overall costs, ensuring their continued use in increasing numbers in the future.
Rafik Ward is senior director of marketing at Finisar (Sunnyvale, CA). He may be reached via the company's Web site at www.finisar.com.