Tucson Medical Center chooses Canon FSO system
JULY 23, 2007 -- Tucson Medical Center has chosen the Canobeam DT-130 wireless optical Gigabit Ethernet data-transmission system to serve the networking demands of its campus.
Jul 23rd, 2007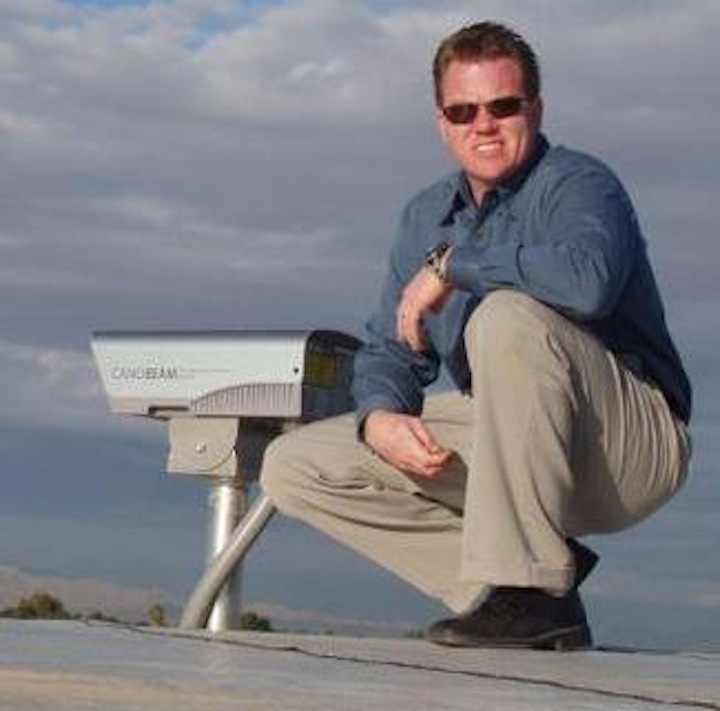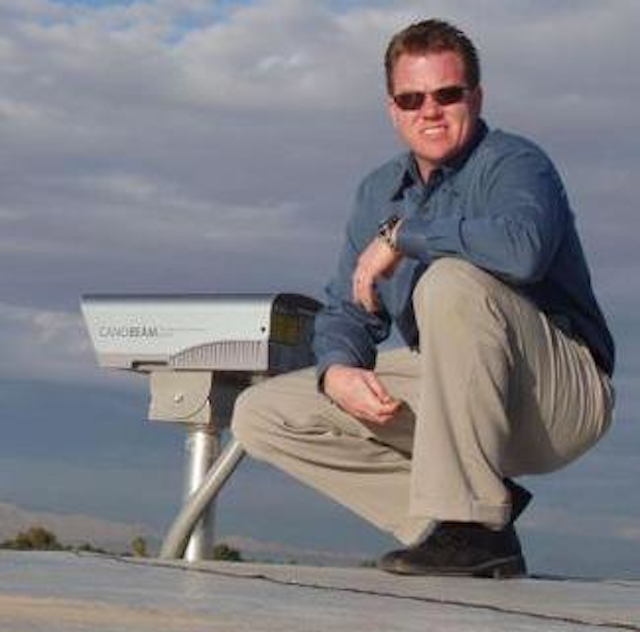 TMC's James Kemery poses next to one of his new FSO systems.
JULY 23, 2007 -- Tucson Medical Center (TMC), the largest hospital in Southern Arizona and one of the 300 largest in the nation, has chosen the Canobeam DT-130 wireless optical Gigabit Ethernet data-transmission system to serve the networking demands of its sprawling campus.
Canobeam, from Canon U.S.A., Inc. (search for Canon), uses a line-of-sight beam of infrared light to transmit high-bandwidth data wirelessly via free-space optics (FSO) technology. Since radio waves are not employed, setting up a Canobeam does not require frequency coordination or licenses. Set-up is quick and the line-of-sight nature of FSO ensures that data is virtually immune from interception, Canon says.
"Our networking mandate is 'always up,'" said James Kemery, network engineer and senior systems application analyst for TMC. "As our campus has expanded, Canobeam offers a unique solution that provides us with high bandwidth. It is a highly dependable device from a manufacturer that we can rely on, and it is secure and easy to manage. It has been a great asset to us."
With more than 1 million square feet in TMC's central site, multiple other facilities throughout Tucson, and the construction of TMC's new Atrium Building in progress, Kemery and his team were faced with a data-networking challenge, according to Canon. Even though the new construction was merely 500 yards away from the main campus, two non-TMC buildings in between the two sites presented multiple complications for connectivity that the Canobeam DT-130 was well suited for solving.
With matching Canobeam DT-130 transceivers positioned on each building's roof, TMC established a data-networking link in a very short period of time. "We had six months to complete this connection to the Atrium Building, which is the home of our vitally important enterprise-wide scheduling department," Kemery explained. "Negotiations to lay down fiber under the properties would have taken years. The bandwidth simply was not there with RF, and multiple T1 lines would have had very high recurring costs. With its ability to provide up to 1.25 Gbits/sec to support our Ethernet network, the Canon DT-130 Canobeam fit our needs perfectly. Our Canobeam units are extremely easy to set up and subsequently manage. They have been very dependable and the service and support has been excellent."
The Canon Canobeam DT-130, one of three models in the Canobeam line, offers data rates of up to 1.25 Gbits/sec for Gigabit Ethernet networking at a range of 100 to 1,000 m. The Canobeam DT-130 also incorporates a 3R (reshaping, retiming, and regenerating) function, which allows its data signal to be relayed without loss of strength or quality.
"DT-100 series Canobeams are used by a wide range of organizations needing fast, reliable, secure and affordable wide-bandwidth data transmission solutions," said Gordon Tubbs, director, Broadcast and Communications division, Canon U.S.A. "As the expectations for network performance continue to escalate, Our Canobeam wireless optical networking systems are a uniquely versatile tool that more and more administrators are finding that they can rely on."
Visit Canon U.S.A.