Analysts, investors optimistic about MEMS components
Jul 1st, 2004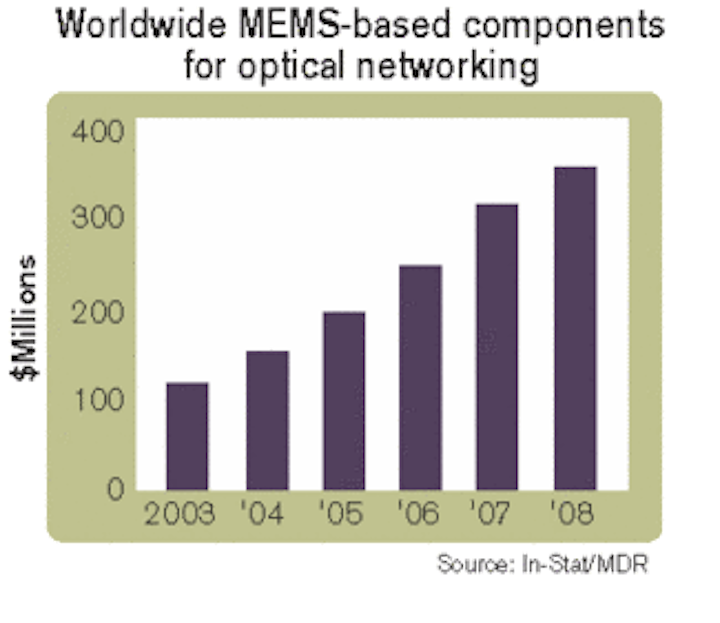 Despite the number of MEMS manufacturers that have gone dark or significantly shifted their business models, the market for MEMS-based network components is poised for slow, steady growth in the future, contends a new report from In-Stat/MDR (Scottsdale, AZ). Last year ended surprisingly strong for the MEMS market, thanks to increased customer activity, say In-Stat analysts, who remain "cautiously optimistic."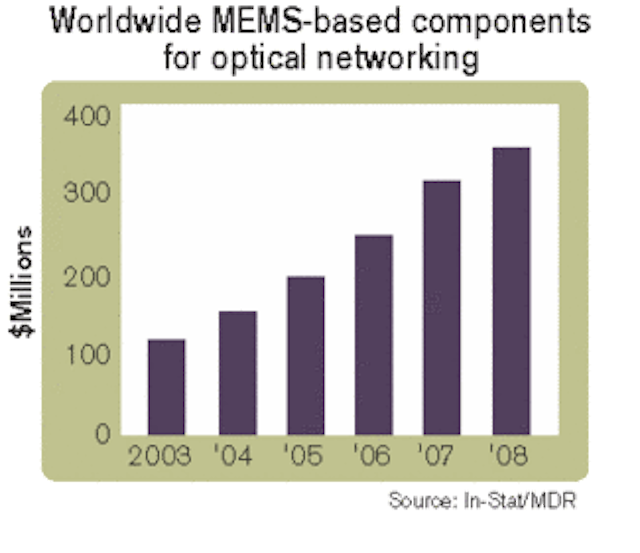 "MEMS is no longer a bad word," notes In-Stat/MDR senior analyst Marlene Bourne. "Companies once avoided use of the term because of concerns about reliability; now they don't because it is seen as a competitive advantage."
Investors appear optimistic too, having funneled $38 million to MEMS suppliers in the first quarter alone. But Bourne points out that a reality check is needed in one particular segment—there are far too many companies pursuing the development of variable optical attenuators (VOAs), making that sector ready for consolidation.
Unit shipments of MEMS-based optical-networking components are forecast to increase at a 15.5% CAGR, with revenues increasing at a 25% CAGR. Shipments of MEMS-based components, other than switches, are forecast to grow at a 14.8% CAGR. Continued growing demand for tunable filters and lasers as well as dynamic components, coupled with decreasing price points, will help drive sales.
For more information on the report, "MEMS and Optical Networks: Cautiously Optimistic," call 480-609-4533 or visit www.instat.com.