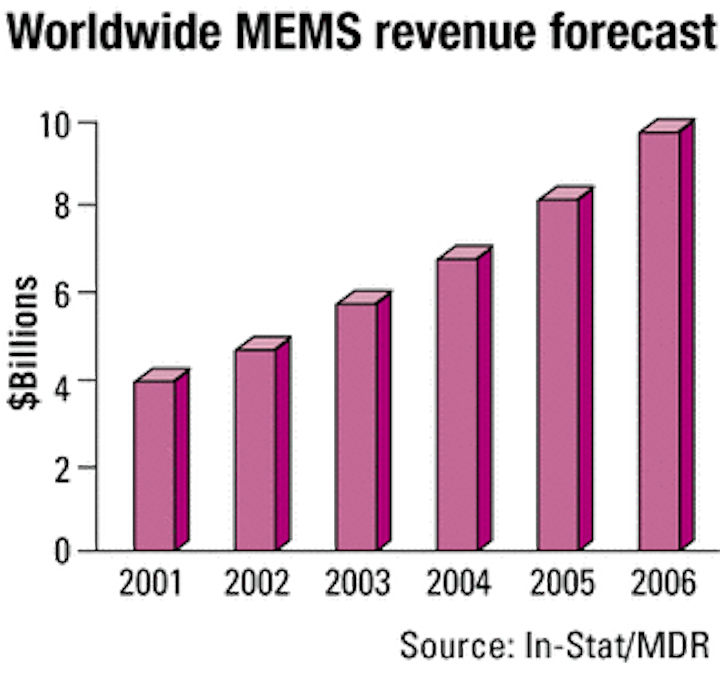 The market for micro-electromechanical systems (MEMS) will continue to grow, despite tough economic conditions, details a new report from market researcher In-Stat/MDR (Scottsdale, AZ). Every major market has now embraced the technology, say analysts; in the communications and consumer market, for example, MEMS has only just scratched the surface. Worldwide revenue for MEMS is expected to jump from $3.9 billion in 2001 to $9.6 billion by 2006.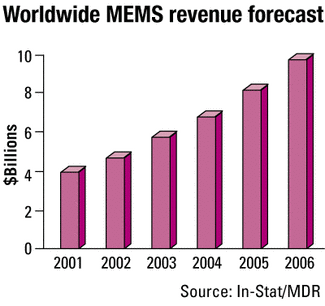 "It takes luck, timing, money, and perseverance to succeed in any business, and for those in the MEMS industry, it's no different," surmises Marlene Bourne, senior analyst at In-Stat/MDR. "Depending which sector within the MEMS industry you look at, the past year has been very good, or not so great."
A shift from sensor-driven to non-sensor-driven revenues will occur throughout the forecast period. In 2001, non-sensor devices made up almost one-third of total MEMS revenues; by 2006, they will account for almost half. Moreover, the overall average selling price for MEMS will actually increase 25% over the next five years, claims the report, as more expensive non-sensor devices enter the market.
Unit shipments are expected to double over the next five years, from 1.85 billion units in 2001 to 3.61 billion units by 2006, thanks to the introduction of new devices and the emergence of new application opportunities. The communications and consumer segments will see the highest CAGR, based on revenues through 2006 at 151.4% and 42.4%, respectively, say In-Stat/MDR analysts. The computer market will remain one of the largest revenue-generating segments, however, moving from second place in 2001 to first place by 2006.
For more information on the report, "It's Raining MEMS: 2002 Industry Overview," call 617-630-2139 or visit www.instat.com.