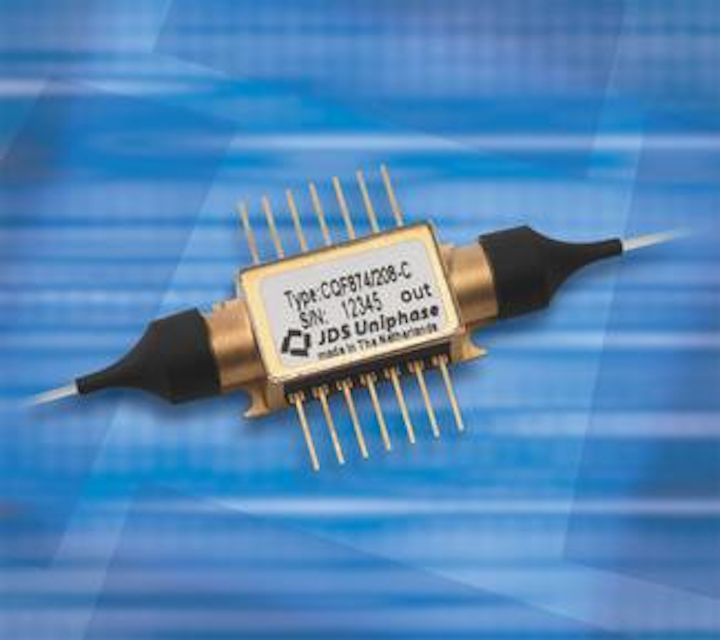 JDS Uniphase Corp. today announced its new, smaller Semiconductor Optical Amplifier (SOA) module for fiber-optic communications.
Its MSA-compliant design is the first to have integrated polarization independent optical isolators, claim company representatives. The new SOA module meets the cost and performance requirements of the Metro market and can be used for multiple applications throughout the network, including switching, in-line amplification, booster applications and pre-amplification.
SOAs, made using semiconductor chip technology, are smaller and lower cost than other types of optical amplifiers. The CQF 874 model includes integrated optical isolators, which further reduces size and cost for equipment manufacturers.
JDS Uniphase's CQF 871 and 872 models and the new CQF 874 model require 40% less space than previous models, with an overall size of approximately 58 x 10 x 15 mm. These modules meet all mechanical, electrical, and optical specifications of the Multi-source Agreement announced by JDS Uniphase and other optoelectronics suppliers in March 2002.
Applications
The SOA module can be used throughout the network as an in-line amplifier to compensate for losses due to components in the optical path. When placed before the receiver, it provides pre-amplification to improve signal reception. The polarization-maintaining model can be used during initial transmission to boost signal strength. SOAs can also be used as a very quick switch that can respond in nanoseconds and are applicable for both single channel and WDM applications.
Performance
JDS Uniphase's MSA-compliant SOA modules operate over the entire C-band and have a saturated power of 10 dBm (typical).
The polarization independent models are available with a gain of 17 dB for booster applications and with a gain of 22 dB for pre-amplifier applications. These models are available either with (CQF 874) or without (CQF 872) integrated optical isolators.
The polarization dependent gain is <1 dB (typical) for the polarization independent modules.
The polarization maintaining model (CQF 871) has a gain of 16 dB and includes two integrated optical isolators.
JDS Unphase's MSA-compliant SOA modules are now available for order. Lead-time for sample quantities of the CQF 871 and 872 models is about two weeks and for larger quantities is about six to eight weeks after receipt of order. First shipments of the CQF 874 polarization independent SOA with integrated optical isolators will begin in August.
For more information about JDS Uniphase (Ottawa, Ontario, and San Jose, CA), visit the company's Web site at www.jdsu.com.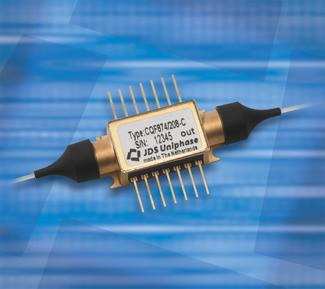 The CQF 874 Semiconductor Optical Amplifier