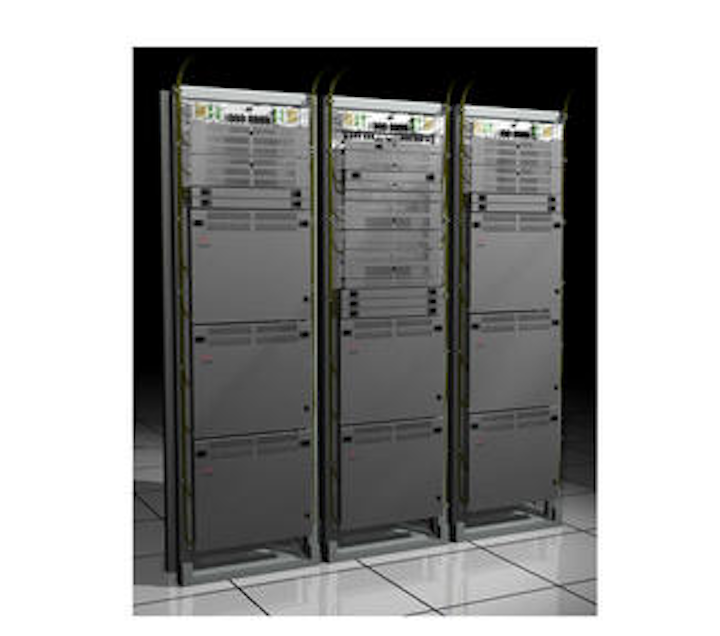 By MEGHAN FULLER
At last year's OFC conference, Xtera Communications Inc. (Allen, TX) introduced a discrete Raman amplifier for the S-band and began marketing it as a subsystem to the major system vendors. However, the current economic climate has dampened much of the ardor DWDM vendors may have had for expanding into the S-band. After nine months in stealth mode, Xtera is ready to unveil a new business model and new long-haul (LH) and ultra-long-haul (ULH) system, Nu-Wave, which combines both discrete and distributed Raman amplification to maximize integration and lower system cost. While Xtera marketing vice president Paul Harrison will not reveal the ingredients of what he calls the company's "secret sauce" until the official launch at next month's OFC, he is willing to provide a taste.
A typical offering from LH and ULH vendors includes a discrete erbium-doped fiber amplifier (EDFA) that amplifies the channels on the fiber, explains Harrison. Housed on another shelf with pumps and couplers is a second amplifier, the distributed Raman amplifier, that produces the co-propagation distributed amplification. The discrete EDFA works only within a certain limited nanometer range, claims Harrison--typically 35 nm in the C-band and 30-32 nm in the L-band.
To overcome this limitation, the folks at Xtera are using a discrete Raman amplifier in conjunction with the distributed Raman amplifier. Discrete Raman amplification enables 100 nm of continuous bandwidth coverage from 1,520 nm (which is below the existing C-band) to 1,620 nm (which is above the existing L-band). Continuous bandwidth coverage eliminates the disjointed gaps that appear when the C- and L-bands have to be coupled together.
The distributed Raman amplification enables the Nu-Wave system to achieve a longer transmission distance--it can operate from 300 km to 1,500 km--while the discrete Raman amplification enables greater channel capacity--from one channel of 10 Gbits/sec to 240 channels of 10 Gbits/sec.
Unlike competitors' product offerings, which typically trade capacity for distance, the Xtera product requires no such tradeoff, claims marketing director Sharlene Lin. "What we're saying is that a full 2.4 Tbits, 240 channels of 10 Gbits, will go 1,500 km before the need for regeneration on standard fiber," she adds.
The Nu-Wave system eliminates unnecessary equipment and complexity. "To get the equivalent bandwidth that we're providing," contends Harrison, "you'd need a C-band amplifier, an L-band amplifier, an S-band amplifier, the corresponding dispersion compensations for each of those, the couplers for the Raman amplifiers, and the Raman amplifiers for the C-, L-, and S-bands."
Because the Nu-Wave system features a wide bandwidth range, the folks at Xtera were also able to eliminate the headache of trying to squeeze lots of channels into one band, which means they do not have to use expensive 25-GHz or 12.5-GHz channel-spacing technology.
"You have to do all kinds of special things like different modulation techniques in order to squeeze a 10-Gbit channel into a 12.5-GHz filter," Harrison explains. "Because we don't have to do any of that, because we have this great big 20-lane highway, we can keep the existing technology that's been around for a long time, and we can take the third generation of that technology, which has the benefits of size and cost reductions."
Some of Xtera's competitors tout 160-channel systems, housed in 7-ft bays with a total of 24 channels of 10 Gbits each. "You do the math--that's a lot of racks," claims Harrison, each of which needs power and expensive collocation space. Xtera's platform compresses 240 channels into a total of three bays that are 12 inches deep, about half the size of their competitors' bays. That includes all the couplers, dispersion compensators, and other common equipment as well.
The folks at Xtera plan to market their platform for traditional point-to-point LH and ULH applications, as well as for regional applications, which may be both linear or mesh configurations. As an example, Harrison cites a ring that begins in Miami, moves in a circle down to Key Largo and back up Florida's west coast to Orlando and Tampa, then back down again to Ft. Lauderdale. This ring is roughly 1,500 km in length.
Today, people use LH systems to do 500 km between Miami and Tampa, he contends, then they put in back-to-back terminals, drop some channels, and put another system between Tampa and Orlando and then Orlando to Ft. Lauderdale. "When in fact, with a good architecture system, you could have both terminals situated in Miami, and then good add/drop terminals at each one of those major cities," he explains.
The Nu-Wave product line is slated for general availability in the third quarter. Harrison expects beta trials to consume the latter half of this year and doesn't anticipate revenue generation until the 2003 time frame--which is just fine with him.
"From all the contacts we've had internally with all our [carrier] customer contacts, plus a lot of analysts, they are all saying that 2002 will be the year of filling up what they've got. By 2003, that's when the new routes will start being built, and we should be right on time for that," he contends.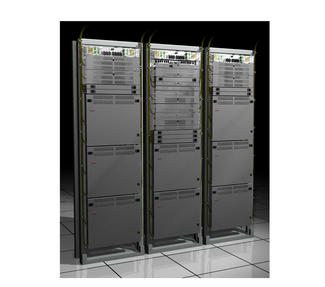 Xtera Communications' Nu-Wave system uses distributed Raman amplification to achieve a longer transmission distance and discrete Raman amplification to achieve greater channel capacity.