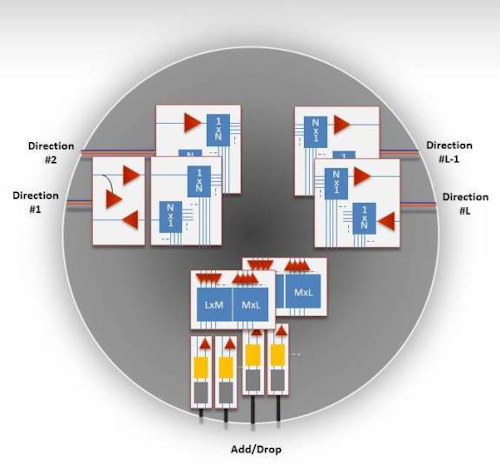 The continued growth in bandwidth demand is driving a corresponding increase in network transport and switching capacity. Cloud-based services are driving data streams of varying rates and priorities through the network. On the back end, data centers are connected for database synchronization and application load sharing. On the front end, client requests are handled on demand.

The resulting traffic patterns vary from a consumer downloading an email of a few kilobytes at one extreme to moving a multi-terabyte image of an Internet commerce site between data centers at the other. Furthermore, traffic patterns constantly change as new applications are adopted and old ones abandoned. Even applications that persist move to new data centers to maximize resource use and minimize cost of operation.

Optical switching has become an important complement to TDM and packet switching to maximize asset use and ensure cost efficiency. High data rates are most efficiently switched at the optical layer to minimize electrical switching when access to sub-line-rate tributaries is not needed. Packet optical transport systems implement this function by integrating reconfigurable optical add/drop multiplexing at the optical layer. Recently, optimizing the optical layer, particularly via the switching architecture, has become a significant focus to ensure maximum network utility.

A colorless, directionless, and contentionless node architecture
Features such as colorless, directionless, and contentionless switching are being considered carefully to optimize the combined value of the electrical and optical switch fabrics. The goal is to minimize the total cost of ownership by deriving the maximum value from the network assets with the least operational effort. A colorless, directionless, and contentionless optical system design, when fully implemented, would help achieve this goal by ensuring that any transponder can transmit any wavelength in any direction independently of already provisioned wavelengths.

However, in practice such switching has not been economical to achieve. Yet some minor limitations can help optimize return on investment.

For example, an architecture that delivers great flexibility at an attractive cost is shown in Figure 1. Line interface cards terminate each fiber pair and route signals either toward other directions (i.e., the linecards interfacing with the corresponding fiber pairs) or to add/drop cards through which the signals are directed to available transponders. Two or more add/drop modules and diverse signal routing can eliminate single points of failure and enable directional separability.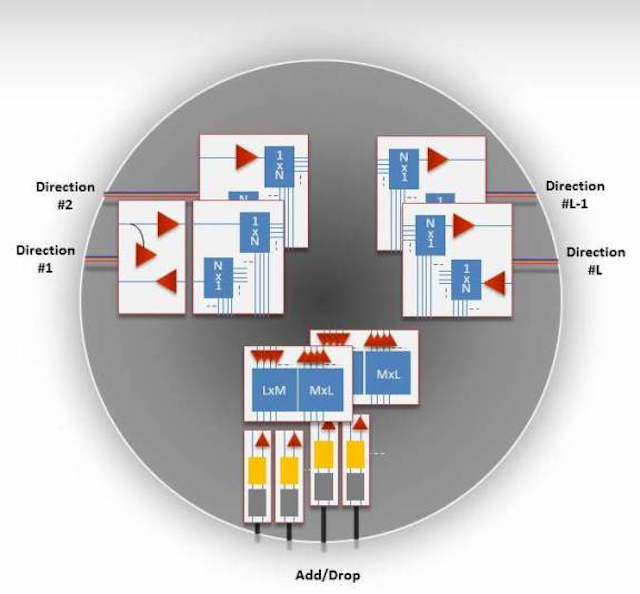 Figure 1 Schematic of an L-degree colorless, directionless, and contentionless node architecture with line interface cards based on 1xN-port wavelength selective switches and add/drop cards based on LxM-port colorless switches and transponders.

Flexible signal routing is implemented with 1xN-port and LxM-port switches in the line interface cards and add/drop cards, respectively. Signal levels are managed in the node by means of intra-node amplifiers; arrayed amplifiers between the ports of the line interface cards and the add/drop cards; as well as micro-amplifiers between the add/drop transponder ports and the transceivers. Micro-amplifiers are integrated in the transponder linecards so that they are deployed when bandwidth is added and do not contribute to the common equipment cost at first install.

Integration of switches, amplifiers, and signal monitoring devices enables flexibility and agility as well as automated provisioning and management at the wavelength level. In addition, the node architecture shown in Figure 1 is built from just a few different linecard variants, which simplifies network planning and engineering as well as deployment and maintenance.

Highly integrated subsystems
The growing need for higher capacities, and hence higher bit rate transponders, puts a premium on central office space and power, which are highly constrained in many locations. Optical switch modules, arrayed amplifier modules, and even optical channel monitors (which are required depending on the desired card features) can be large by themselves. Therefore, simply stacking them typically will result in linecards that are too large and costly. Stacking controlled modules also suffers from the proliferation of controllers that accompany them.

Highly integrated subsystems, in contrast, offer space, power, and cost advantages by leveraging the design and components of modules in a more pliable form without the enclosures and controllers. The implementation may be in the form of linecards or super-modules, the latter of which provide most or all of the functionality of a linecard, minus the board controller and power supplies, in a module that designers can easily integrate onto an "empty" linecard.

The uncontrolled components designed for this level of integration are typically not cost-efficient for the merchant market, as the engineering the system manufacturer must perform to implement the controls is significant and often varies among components from different suppliers. However, component and subsystem suppliers can leverage their vertical integration to tailor the components for such integration, taking advantage of control designs already in development for merchant variants. In addition, control of the underlying materials technology and packaging is important for realizing the cost advantages.

Developing functional elements that lend themselves well to component-level integration helps maximize the value of this design approach. For example, a single controller is often sufficient for controlling the entire linecard, including individual functional elements, as well as managing communication with the control plane. Figure 2 shows an optical channel monitor consisting of a hermetically sealed gold box, the functional element, accompanied by a printed circuit board assembly (PCBA). The circuit external to the gold box is easily "painted" onto the PCBA of a larger module leveraging the already existing controller to provide the functionality at a lower cost and higher density. Manufacturing efficiencies can often be derived as well -- for example, by eliminating daughter boards, board-to-board connectors, and the like.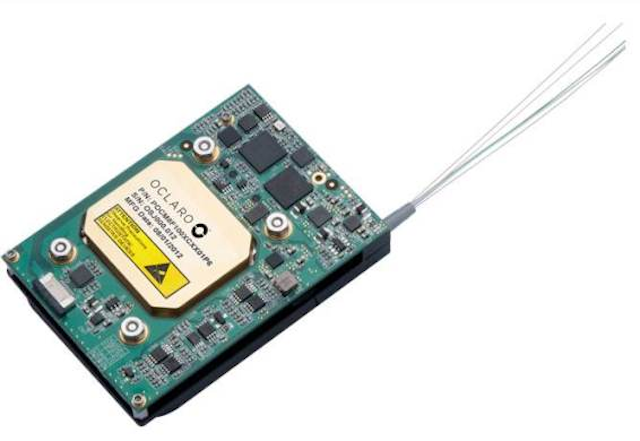 Figure 2 Photograph of a compact eight-port, modulation-format agnostic optical channel monitor designed for both discrete applications and high-density integrated linecards.


An integrated add/drop linecard design is an example that highlights the physical density advantages of such an approach. This analysis, based on a common add/drop card design and typical dimensions, shows that a highly integrated design based on functional elements and a single controller results in a two-slot form factor, whereas a linecard built on controlled modules would be three slots wide. The actual space reduction will of course depend on card complexity, the PCBA area, and the slot width of the host system.

Key functional building blocks
Intelligent next-generation network systems rely on automating complex functions to provide higher performance while reducing total cost of ownership for the network operator. Critical functions that can benefit from such automation include switching as well as high-performance signal monitoring and amplification.

Compact, high-performance switching components that can leverage existing board functionality and hardware, such as the controller, are particularly interesting for highly integrated linecard designs. For example, colorless matrix switches implemented in mature planar lightwave circuit (PLC) technology can meet the requirements of the add/drop card and offer integration benefits in terms of cost and size.

Optical channel monitors ideally must be flexible, modulation-format agnostic, and cost-efficient to enable pervasive use on the card for automation of both startup and optimal in-service operation of the linecard. Optical network systems may aggregate information derived from optical channel monitors on various linecards to verify cabling and port connectivity during install, adjust operational parameters, as well as monitor ongoing operation.

Loss inherently accompanies wavelength management. Low-cost, low-power consumption, and space-efficient optical amplification is therefore critical when implementing complex network platforms for preserving the fidelity of the optical signals. Miniaturized packaging of pump lasers and other optical amplifier components is instrumental in achieving this goal. However, power consumption and the required heat sinking can still limit density.

Uncooled 980-nm pump lasers have advanced significantly and now provide pump powers as high as 500 mW in compact 10-pin mini-butterfly packages. The resulting arrayed amplifier implementations using individual pump lasers offer high-performance features, such as fast transient control within tight space and power budgets, as well as cost advantages.

These lasers exemplify the new components now emerging to provide compact, high-performance amplification that offsets loss in highly parallel applications such as add/drop cards and in extremely power-constrained linecards such as high bit rate transponders.

Conclusions
Architectures that include a high degree of flexibility and automation at the optical layer will reduce the switching cost in the network and offer higher utility of transponders. Automation is gained through more complex linecard designs, which use cost-efficient, high-density functional elements such as multi-port, modulation-format agnostic optical channel monitoring and uncooled amplifiers to make more compact linecards that are smarter and operationally more efficient.

Per Hansen is vice president, product marketing within the Optical Networks Solutions Business Unit at Oclaro.