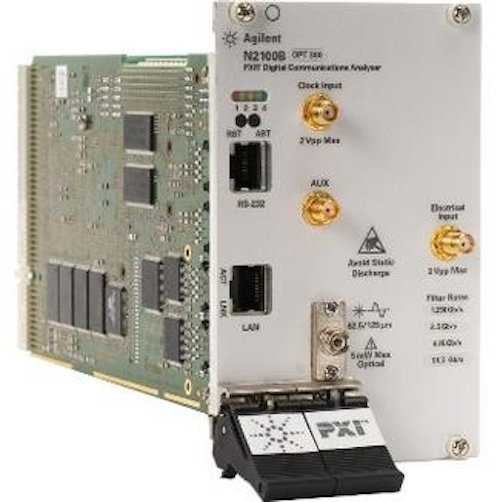 MARCH 25, 2009 -- Agilent Technologies Inc. (search Lightwave for Agilent) has introduced the PXIT 10G Digital Communication Analyzer (DCA), PON filter rate options and smart post-processing for the PXIT N2100B DCA.
The PXIT family of products and the new smart post-processing feature on the N2100B DCA are designed to address the requirements of optical transceiver manufacturers. The high -- and growing -- demand for 10GbE transceivers at lower prices is driving the need to decrease the cost of test. This in turn is pushing optical transceiver manufacturers to look for lower-cost and higher-throughput capital equipment.
The 10G PXIT N2100B Option 300 DCA complements the existing 8.5G PXIT option 100 DCA. The additional filter rate options for PON are available for both option 100 and 300 on the N2100B DCA. The new releases also complement the existing PXIT family of products, which include the 10.3G N2101 BERT and N2102 pattern generator.
Smart post processing features and benefits include:

Data acquisition rate of the PXIT DCA (160 MS/s) is faster than traditional R&D focused sampling scopes.

Ability for transceiver manufacturers to capture multiple sets of eye diagrams under different test conditions and then process this data during downtime. Examples of DCA downtime could be when a DUT is being replaced or while the DUT's temperature is stabilizing.

Shorter test times, potentially a factor of 10x to 15x for some DCA tests.
"Minimizing the cost of test is the key goal for all optical transceiver manufacturers," says Juergen Beck, general manager of Agilent's digital and photonic test business. "With the new PXIT DCA we further enhance our PXIT manufacturing test platform for optical transceivers, address the need for reduced cost of test, and provide the most complete manufacturing solution for optical transceivers up to 10.3G."
The Agilent N2100B 10G PXIT DCA can be ordered now. Shipments will begin in April 2009.

Visit Agilent Technologies

For more fiber-optic testing news and resources, visit the Test & Measurement Resource Center