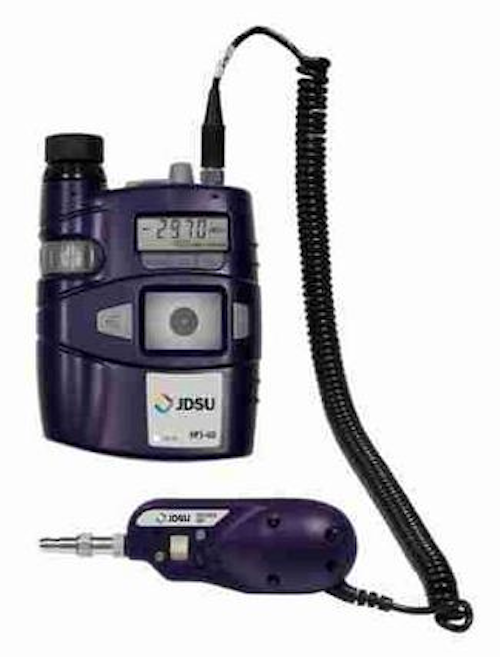 JULY 15, 2009 -- Optical communications equipment and test and measurement supplier JDSU (search Lightwave for JDSU) has announced the standardization of its HP3-60 fiber inspection and power meter product line with AboveNet Inc. (search Lightwave for AboveNet), a provider of high-bandwidth connectivity products.
The HP3-60 is a handheld fiber-optic network inspection and testing device. By combining fiber inspection and optical power measurement into a single handheld unit, it is designed to decrease total fiber inspection and test time.
"The JDSU solution is a homerun for our fiber technicians," says Chris Moore, director, Mid Atlantic operations, AboveNet. "Having one meter do it all will improve their efficiency and reduce our time to test. This will help speed installations and repairs of our customers' critical networking needs."
The instrument combines a probe and patch-cord microscope, allowing users to inspect both male and female fiber endfaces of a fiber-optic connection on a TFT-LCD screen, and an optical power meter to measure the power of an optical signal. The dual inspection eliminates the need to switch tips or use mating adapters, says the supplier.
"By combining a power meter, probe, patch-cord viewer, and display into one device, JDSU makes fiber inspection and testing fast and easy," says Jim Nerschook, vice president and general manager in JDSU's Communications Test and Measurement business segment.
The HP3-60 also works in tandem with the JDSU T-BERD/MTS 4000, 6000, and 8000 systems and is compatible with the company's selection of 200+ tips and adapters.

Visit JDSU
Visit AboveNet
For more fiber-optic testing news and resources, visit the Test & Measurement Resource Center