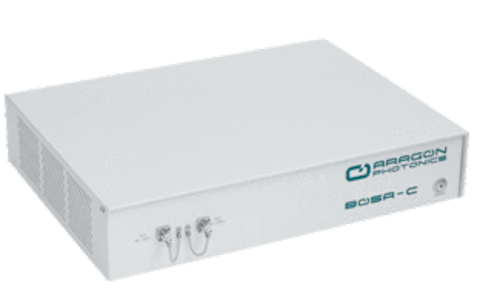 April 6, 2006 Zaragoza, Spain -- Aragon Photonics has initiated manufacturing production of its BOSA, which the company calls one of the highest resolution optical spectrum analyzers (OSA) on the market.
According to the company, as an instrument designed for qualification of tunable laser sources (TLS), the BOSA "relies on a continuous, mode-hop free TLS with an extremely linear sweep." The company calls the instrument a powerful tool for evaluating the quality of a TLS for key parameters such as sweep linearity, wavelength accuracy, and wavelength repeatability.
In a press release, the company says that it has recently optimized its production processes to ensure the "manufacturing quality" of the BOSA, while reducing delivery times for instrument from "12 - 16 weeks down to only eight."
"The main concern was to save time and costs while not compromising the final quality of the BOSA," comments a spokeswoman from the engineering department at Aragon Photonics. "This has been possible only after completion of the procurement strategy and development of calibration tools, and thanks to the experience achieved during the fabrication of the existing orders."
Going forward, the company says it is "now fully dedicated to the accomplishment of product certifications," a process that the optimized implementation of manufacturing processes and reduction in delivery times has hastened, according to the company.