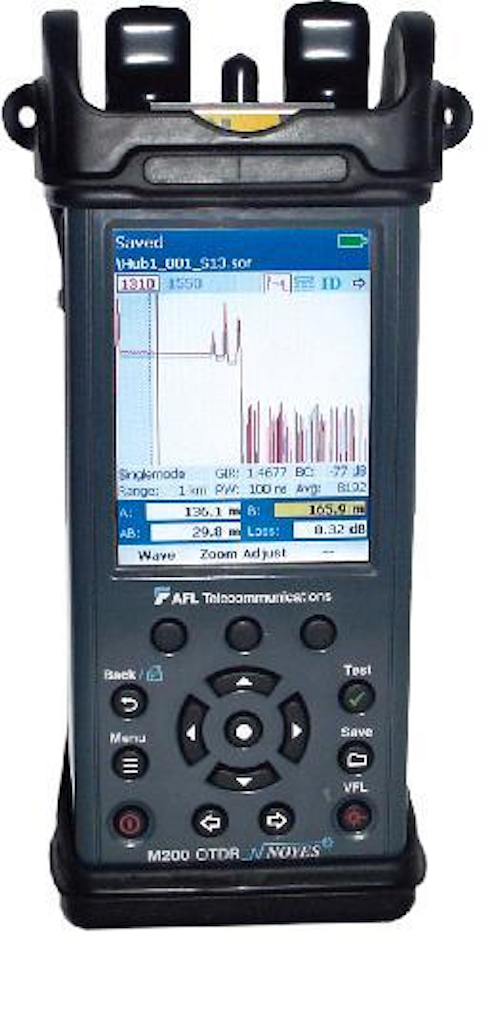 April 10, 2006 Spartanburg, SC -- AFL Telecommunications has released its Noyes M200 OTDR, which provides fiber-optic cable test and troubleshooting capabilities in a handheld package weighing less than 1 kg (2 lbs).
Three models are offered: the M200-MM (850/1300 nm multimode capability) and M200-Quad (850/1300 nm multimode plus 1310/1550 nm singlemode capability), both of which are suitable for tier-2 certification of premises fiber-optic networks. The M200-SM (1310/1550 nm singlemode capability) is designed to test and troubleshoot FTTX and fiber-optic access networks.
AFL says the M200 series is based on a new hardware and software platform, which supports the following features: auto setup; auto event table; auto fiber identification (when used with a Noyes test receiver); auto dual-wavelength operation; a Li-Ion battery with an operating time > 6 hr, tool-free access, and internal recharging capability; data storage on internal, non-volatile memory (>100 traces) or CompactFlash removable media (1000s of traces per card); USB data transfer; support for standard Bellcore/Telcordia SOR file formats; aack-lit/transflective, color display; dedicated test and save keys; and data entry via physical keys or touchscreen.

The instrument incorporates a shock-absorbing boot with an integrated quick-release adapter. The M200 stores all firmware and user preferences on internal non-volatile memory. The company says the unit may be stored, unpowered, with the battery removed, for an unlimited period of time and still be ready to run within seconds when needed.

All models include a rugged, soft-sided carry case with shoulder strap, an AC power adapter, a country-specific power cord, and SC and FC test port adapters. The M200-Quad model also includes an ST test port adapter.