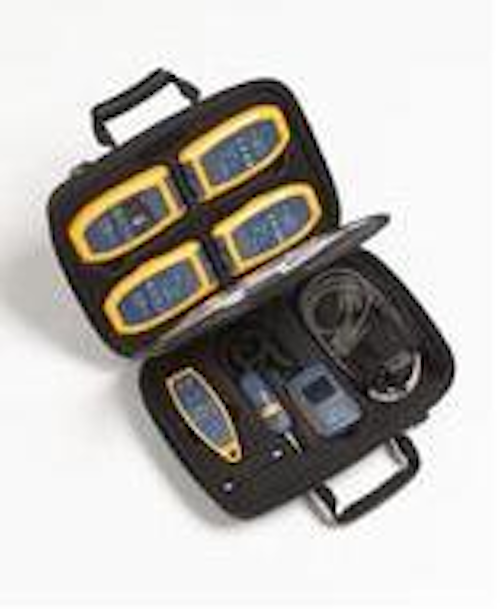 NOVEMBER 12, 2007 -- Fluke Networks (search for Fluke Networks) has introduced three new fiber-optic kits designed to offer faster and safer installation, testing, troubleshooting, and operation of fiber links than with older methods.
All three kits offer video inspection of fiber end-faces using the FiberInspector Mini, a 200X microscope designed to quickly align the inspection probe with either fiber ports or patch cord connectors to greatly increase the speed and efficiency of fiber inspection. FiberInspector Mini also offers increased safety for the user, as the video camera blocks all harmful laser light transmitted by the fiber, showing the end-face on a palm-sized video screen, the company says. FiberInspector Mini works for both multimode and singlemode end-faces, ports, and patch cords.
"By far, the most common problem I see with fiber links is end-face contamination," said Larry Johnson, president of The Light Brigade, a fiber-optic training company. "And the problem is getting worse. Contamination and end-face damage increase attenuation and reflectance. At higher data rates, fiber links are even less tolerant of signal loss. Proper cleaning techniques are essential, and safe end-face inspection is critical."
The new kits are intended to enable installers and network managers to perform cleaning and loss testing as well as fast, safe inspection. Elements of the FiberInspector Mini and Cleaning Kit include a fiber-optic solvent pen that uses a plastic-safe solvent with cleaning properties that Fluke Networks says is superior to isopropyl alcohol. Also included are fiber-optic cleaning cards and a fiber-optic cleaning cube, both of which provide cleaning and wiping surfaces that are safe to fiber end-faces, and two sizes of fiber-optic swabs for cleaning inside fiber ports. The kit includes a carrying case, and all items are also sold separately.
Two other new kit configurations let users verify loss and power levels for both singlemode and multimode fiber using SimpliFiber optical loss test sets. The SimpliFiber test sets operate at 850 nm, 1,300 nm, 1,310 nm, and 1,550 nm. The meter features the ability to save a reference power level, allowing a direct display of fiber loss.
The new FiberInspector Mini and Cleaning Kit (FT525) includes Fiber Inspector Mini and an assortment of fiber-optimized cleaning tools in a carrying case. The Multimode Fiber Verification Kit (FTK350) includes a multimode optical loss test set (light source and power meter), FiberInspector Mini, VisiFault Visual Fault Locator, and carrying case. The Complete Fiber Verification Kit (FTK450) adds a singlemode optical loss test set (light source and power meter) to the elements of the multimode kit. All are available for immediate delivery from Fluke Networks sales channels worldwide.
Visit Fluke Networks
For more test & measurement news and resources, visit the Test & Measurement Resource Center