by Stephen Hardy
The use of optical switches in test environments has increased over the last several years, particularly in lab applications. Carriers also can benefit from using optical switches for network monitoring and characterization, but require a high degree of reliability. Polatis Inc. (www.polatis.com) believes it has developed a system capable of meeting such requirements. The Compact Latching Switch is designed to provide hitless, bidirectional access to as many as 80 express fibers. It also will maintain connections in the face of vibration and other environmental disturbances-including loss of power.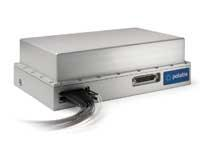 The Polatis Compact Latching Switch provides high availability as well as a variety of switching options for both restoration and network testing and monitoring.
Latching switches maintain their state in the face of platform power loss, which means connections are more likely to be maintained during disaster scenarios. Aaron Bent, senior vice president of sales and marketing at Polatis, says that small-scale latching switches have been available in the past; his company's product brings to market a large-scale, matrix capability for carrier, defense, and other applications that feature high fiber counts and a requirement for high reliability and availability. The company demonstrated an 80×80×4 configuration (80 fibers upstream and downstream, plus four monitoring ports) at the European Conference on Optical Communications (ECOC) this past September. The company offers switches with as many as eight monitoring ports to go along with the 80 fibers in each direction; Polatis will customize the port counts within this limit to meet customer applications, Bent says.
The switch requires as little as 7 W of power to operate. Bent suggests that this factor could enable users to locate the unit remotely and feed it from a solar cell or a small battery pack. In addition, it introduces less than 1 dB of loss on the express paths (less than 3 dB on the monitor paths) as well as "near zero" optical impairments and no signal modulation. It operates over a wavelength range of 1,260 to 1,625 nm. Its normal operating temperature range is 5° to 45°C, at less than 85 RH noncondensing. A package size of 275×190×84 mm will accommodate four monitor ports.
Bent says the switch is capable of tapping only the amount of optical power necessary to perform basic monitoring or fully switching a line to a piece of test equipment. The device also can be used to restore a fiber path if a link in the network fails.
Polatis will target the switch at a variety of applications. The switch has already deployed in at least one network in the defense space. In the telco arena, the company envisions interest in the platform for packet inspection, wireless backhaul quality-of-service monitoring, centralized network testing for ultralong-haul and metro networks, FTTH network characterization, undersea network landing stations, and RF over fiber uses. Bent says the company will most likely sell the product to test equipment OEMs for integration into their offerings; however, he expects to have a rack-mount version in his arsenal for carrier applications.
In this vein, Bent says he expects to see significant interest for FTTH applications. The switch can be used for characterization purposes during network construction, then help perform troubleshooting once carriers begin serving customers, he explains. The wireless backhaul opportunity also should prove significant, he believes.
Bent asserts that his company has introduced a new class of optical switch to the marketplace. While current matrix switches work fine for network restoration purposes, Bent says that the new Polatis platform marries that capability with support for monitoring and test via the ability to tap varying degrees of optical power.
The latching switch will prove particularly attractive when paired with the newly emerging generation of test equipment now coming to market, Bent adds. To take advantage of this confluence, Polatis has begun to partner with test equipment vendors (which he declined to name) with an initial focus on the North American and European markets. The switch, which is available now, is being demonstrated to carriers, he says. He expects interest not only from Tier 1 service providers, but also smaller carriers and dark fiber providers and cable TV companies.