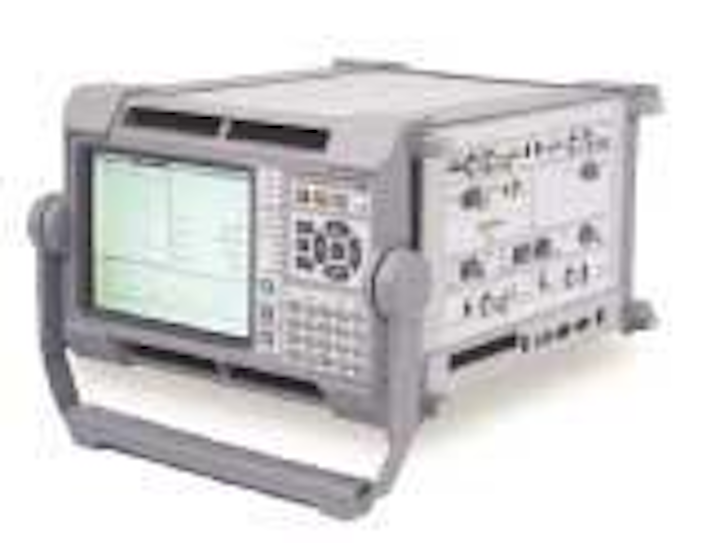 Multiservice provisioning platforms (MSPPs) combine switching, routing, multiplexing, and transport functions into an integrated system. Carriers have embraced MSPPs to add data-centric protocols to their networks without disturbing high-margin voice services; they appreciate the cost savings, smaller footprints, and more sophisticated service offerings MSPPs enable. But MSPPs also use new protocols and support complex topologies in a more dynamic network environment, creating huge challenges for today's test equipment vendor.
Carrier interest in MSPPs stems from the capital and operational savings they afford as well as the new architectures and topologies they enable. Gone are the days of simple SONET rings; MSPPs can support both multiple rings and mesh topologies. While they are ideal for delivering new data services, such a range of topologies is too complex for legacy test equipment.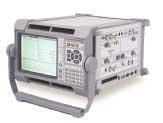 Test equipment like Agilent's OmniBER OTN J7230A now supports emerging protocols like generic framing procedure, virtual concatenation, and link capacity adjustment scheme to accurately test the next-generation data services enabled by multiservice provisioning platforms.
Another big challenge facing test equipment vendors is the support of new and emerging protocols, including generic framing procedure (GFP) and virtual concatenation (VC). GFP is used to map Ethernet, Fibre Channel, and other data traffic onto standard SONET/SDH frames, while VC is used to "right-size" SONET/SDH pipes by grouping traffic into high-order (55- and 155-Mbit/sec) and low-order (1.5- and 2-Mbit/sec) containers. The new generation of test equipment "must be able to capture information from both high- and low-order containers," explains Jessy Cavazos, research analyst at Frost & Sullivan (New York City). "When you have a low-order container that's running at 1.5 Mbits/sec, you're going to have a large number of those low-order containers in the network. The tester needs to be able to analyze and capture them all."
As if that weren't difficult enough, today's MSPP testers must analyze high- and low-order containers within the dynamic context of the link capacity adjustment scheme (LCAS). Used in conjunction with VC, LCAS enables the dynamic allocation of the concatenated payload.
The advent of these new protocols has led to the convergence of voice and data communications, which presents its own set of problems, reports Zaid Ally, product manager at EXFO (Quebec City). "With this convergence, you almost have to start looking at how errors are correlated. If you get an error on the physical layer, how does that affect the other layers—Ethernet over GFP or Escon over GFP or Fibre Channel over GFP? If you get certain SONET errors, you need to correlate those errors with your data errors as well, and that's a challenge for all test equipment vendors."
MSPP manufacturers, in particular, have been wrestling with the challenge of how to ensure quality of service (QoS) on mixed SONET payloads, reports Ronnie Neil, marketing programs manager for the Data Networks Division of Agilent Technologies (Palo Alto, CA). Service providers expect traffic restoration within 50 msec following a fiber failure. "Now that we're carrying so many more channels on so many more ports, is the equipment still able to give us that 50-msec performance limit?" muses Neil. "And can it meet that performance level under all conditions?"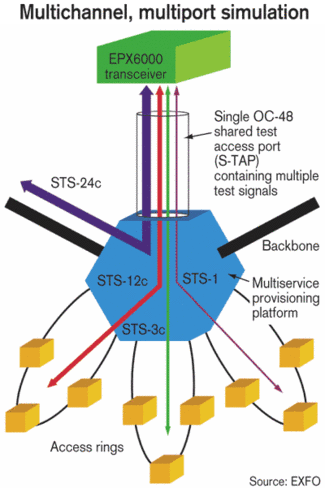 Multichannel, multiport capabilities are critical in the testing of multiservice provisioning platforms. EXFO's EPX6000 and EPX6100 transceivers can be configured to generate all the channels in the desired payload sizes to simulate real-life network traffic.
From a service-provider perspective, interoperability is the biggest technical and economic concern. Because many of the protocols employed by MSPPs are new and some standards have not been finalized, equipment vendors can interpret those standards in various ways, often using proprietary techniques. Service providers don't want to get locked into a single source, so it's up to the MSPP vendor to demonstrate interoperability to the service provider, says Cavazos. "Interoperability is a key challenge from their point of view as well," he adds.
At the bare minimum, MSPP test equipment must provide a deeper analysis per port on a greater number of ports. While that may seem simple enough, traditional SONET/SDH testers have just one transmit port and one receive port that are used to test one channel—a far cry from the thousands of channels that could be carried on an MSPP.
The answer, says Agilent's Neil, is a test platform with multiport, multichannel capabilities on both the transmit/simulation side and the receive/measurement side. "In a live network, multiple channels can fail at the same time," he explains. "It may be that there is one channel that is reacting in one way, and at the same time another channel is being impacted in a slightly different way. You want to be able to measure all the channels simultaneously so you get the complete picture of performance of the network equipment."
Agilent's OmniBER XM network simulator is designed to do just that: characterize protection-switching performance for up to 1,344 channels at a time. The firmware upgrade enables end users to verify switching performance at both the STS level and virtual tributary/tributary unit (VT/TU) level, ensuring traffic restoration on all channels within the 50-msec limit.
The company also recently announced an upgrade to the OmniBER OTN J7232A 2.5-Gbit/sec analyzer that supports LCAS emulation at both high- and low-order VC levels. The device ensures conformance to industry standards to ensure interoperability across vendor platforms. Agilent has also introduced the new OmniBER OTN J7230B for next-generation SONET testing at the 10-Gbit/sec level.
Like Agilent, Acterna (Germantown, MD) touts a multichannel test and multiport configuration in the form of its recently released ONT 512 optical-network tester. The company claims its test device is ideal for all phases of research and development, from manufacturers' system verification to carriers' acceptance testing. The ONT 512 provides parallel testing on all channels for bit errors, service disruption, and alarms; its network simulation capabilities minimize the risk of unknown effects under full-load conditions.
Simulating all network conditions is a key capability of MSPP testers. "As a test vendor, we need to challenge the reaction of the network elements by injecting errors and causing certain scenarios that might not be expected but could occur in the field," contends EXFO's Ally. EXFO's MSPP offering leverages its existing EPX6000 2.5+ Gigabit multirate transceiver, but with a new independent path control feature that enables the simultaneous testing of each channel embedded within the SONET trunk signal. The company's EPX6100 provides the same multichannel testing at OC-192 rates.
While Agilent, EXFO, and Acterna focus on the transport layer, Ixia (Calabasas, CA) claims its MSPP test suite targets the higher layers of the OSI model. "Where we pick up is actually being able to configure source and destination addresses, run actual protocols against the control plane of the device, and make sure the data plane is functioning properly," explains Josh Goldstein, product-line director at Ixia. The company's MSPP offering makes use of the existing TXS product family, which features what Ixia claims is the industry's first processor-per-port architecture.
While MSPP testing may be complicated, "it's also very much an opportunity for test equipment vendors because it requires a complete new generation of testers," asserts Cavazos. "That's the good news; it's a challenge and an opportunity." That opportunity could be quite sizable. According to market researcher IDC (Boston), MSPPs are the largest segment in optical networking; MSPP revenue reached an estimated $1.6 billion last year and is expected to net $3.2 billion by 2007.