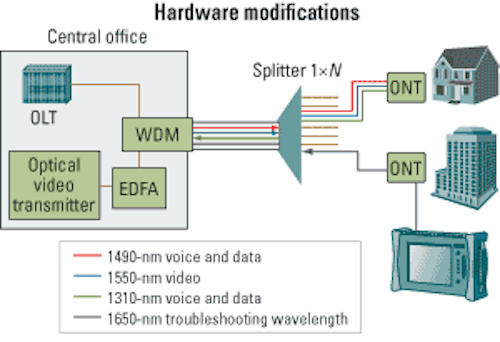 Fiber to the premises and similar principles (FTTX) have enjoyed the spotlight in many parts of the world over the last two years. As the appeal of the technology has increased, many operators worldwide decided to "tame" FTTX technology in their testbeds. At the beginning, that meant a relatively small amount of test equipment, with little testing time and modest efforts to develop test procedures. Recently, the situation has evolved as larger-scale deployments increase in popularity.
When an operator deploys FTTX only in some sections of a network, there is no need to document and optimize test procedures. Similarly, additional technicians do not have to be trained, which would be the case otherwise because this type of deployment and testing is usually performed by experienced technicians and engineers.
However, some network service providers that adopted FTTX technology in its early stages have now started deploying it on a larger scale. In fact, in Japan and America, some operators have already connected (or passed) millions of users to their FTTX networks. In this situation, it is important that the operator invest the time and effort to optimize installation, maintenance, and troubleshooting test procedures because these activities directly impact quality of service (QoS) and consequently customer satisfaction and profit.
In the last two years, such operators have been looking to do just that: optimize their testing procedures and operations, especially during network construction and service activation. More recently, with a significant number of users already active on their networks, network service providers are requesting that test vendors address maintenance and troubleshooting needs as well as testing. That's where adaptation comes in.
FTTX network architectures have particular requirements when it comes to testing that differ from conventional long-haul or metro-network architectures. To meet these needs, some of the existing fiber-optic test equipment have been adapted to take these differences into account (see Figure 1). Among these modifications are hardware adaptations such as the introduction of new test wavelengths: 1490 nm for OTDR or optical loss test set (OLTS) testing at the construction stage; 1650 nm for out-of-band OTDR testing; and the use of a broadband pass filter for OTDR in-service PON testing at 1650 nm from an ONT or a terminal.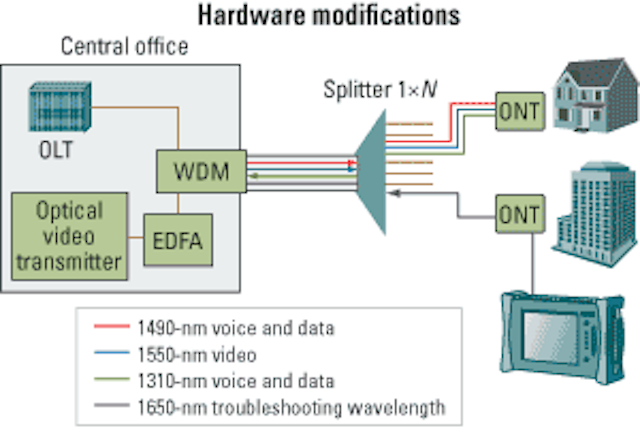 Figure 1. Three configurations for RF video-overlay transport and distribution: (1) collocated headend/central office (HE/CO) with collocated OLT and video transmitter, (2) collocated HE/CO with remote OLT, and (3) regional HE with RF transport. The length of the RF video signal path (blue bar) clearly varies depending on configuration and can be much longer than the PON ODN (orange bar). Optical amplifiers and video/data WDM are not shown.
The most significant changes, however, have been made to the software. Namely, OTDR analysis software has been adapted to comply with the new test wavelengths. In addition, by modifying the OTDR analysis and tuning the OTDR signal recovery after the splitter loss as well as the end-of-fiber loss limit, OTDRs can now test through splitters with losses up to 20 dB.
Some FTTX test equipment vendors have even integrated standardized parameters based on ITU Recommendation G.983 or G.984 or the IEEE 802.3ah Ethernet in the First Mile standard (depending on whether the PON transmission equipment is BPON-, GPON-, EPON, or GEPON-compliant). This information is encoded directly into the memory of the unit, allowing it to perform diagnostic analyses and display a "pass" or "fail" indicator on the test equipment interface. So what's next for FTTX testing?
One of the more active sectors in FTTX testing is expected to be the development of a diagnostic analysis software engine that will be integrated into the test equipment; the software engine will either offer configurable values or values based on recommendations from the ITU, IEEE, or other reputable industry groups such as the FTTH Council. This novelty, known as FTTX software automation, should greatly simplify the tasks of test technicians. The requirement for training will be significantly reduced since the intelligent test equipment will be able to make a diagnosis and provide the results in plain language text form, graph form, or value that will be easily understood by all technicians. That means novice testers will not be required to learn different technologies (OLTS, OTDR, IP, Ethernet, video, etc.).
The benefits of automation are illustrated in the following example. Since OTDR technology is well known, the OTDR trace is the most recognized interface associated with this tool. Moving markers to interpret loss or reflectance associated to an event requires significant expertise, which only comes with experience. Some OTDR vendors on the market already provide OTDRs with precise and reliable event tables generated by solid OTDR analysis algorithms, but FTTX software automation can go a step further. It will integrate pass/fail diagnostics and other automated routines like 1310/1550-nm delta loss comparison to generate a macrobend finder and integrate everything on a summary screen to give the FTTX technician everything at a glance (see Figure 2).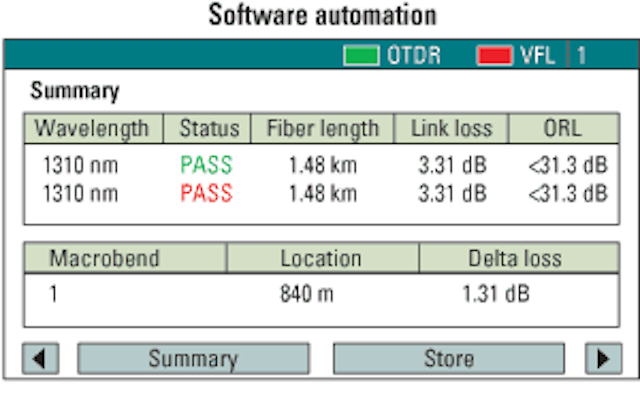 Figure 2. Comparison of RF analog video signals with optical launch power (a) below the system's stimulated Brillouin scattering (SBS) threshold (17 dBm) and (b) above the system's SBS threshold (22 dBm). Both examples are from CH2 monitored under a 78-channel analog load over 20 km of singlemode fiber (SMF) with loss simulated to represent the presence of a 1x32 optical splitter. No digital QAM loading and no PON 1310/1490-nm wavelengths were present, which would otherwise induce additional signal deterioration. The transmitter used was conventional cable TV grade and rated for a 17-dBm SBS threshold over standard SMF.
Connecting thousands or hundreds of thousands of FTTX subscribers will be the objective of many operators in the next few years. For them, that will mean hiring hundreds of technicians or reassigning technicians who were previously installing older technologies. In other words, it will mean training technicians on the FTTX technologies, test procedures, and test equipment. Of course, that requires a lot of operational expense dollars. Considerable amounts of time and money can be saved if more intelligent test equipment becomes available to these operators.
More intelligent test equipment is not the only trend one can foresee in FTTX testing. We believe that test equipment in the future will be adapted to more than one application. One of the main reasons for this prognosis is the desire of many operators to offer triple play services over their FTTX networks. It is becoming clearer that the foundation of triple play services should be IP.
It is also becoming clear that the FTTX test equipment industry is heading in the direction of integrating physical layer testing technology (OTDR, OLTS, xDSL, etc.) with IP protocol testing technology in the same equipment. With the addition of the FTTX software automation described earlier, the concept of a one-button FTTX modular test instrument, featuring physical and protocol layer test modules, with automated test software based on industry and company standards, makes a lot of sense and would greatly contribute to meeting the aggressive mass connectivity of new FTTX subscribers the operators are targeting.
Just as test-set automation simplifies the FTTX technician's role, integration of related test functionality will further simplify application commissioning. The value of FTTX networks is in their ability to carry value-added services to their subscribers. With video (IPTV) and VoIP joining Internet access over FTTX-based broadband connections, service technicians will be required to install the fiber and ensure these triple play services are fully functional.
Future FTTX test sets will integrate test functionality for all the network layers providing customer services: optical, physical (cable TV or xDSL), data link (Ethernet), network (IP), signaling (SIP) for phone calls, TCP/IP for Internet-based services), and QoS for voice and TV applications.
There are significant technical issues associated with consolidating all of these various technologies into a single test platform and even larger issues in ensuring multilayer testing is sufficiently automated for a field technician to perform efficiently. The most advanced test sets of the future will enable an installer to perform automated multilayer testing to confirm connectivity, network, and service quality with the press of a single button. Test sets will automate complex test plans tailored to each service providers' needs while respecting industry standards, permitting uniform standardized service provisioning.
Any way we look at it, FTTX is here to stay due to the numerous possibilities it offers and the revenue it helps generate. The high number of subscribers moving toward broadband-based home entertainment and communications solutions is testimony to the great potential of FTTX.
Like all new technologies, FTTX will continue to evolve with its users, and the test equipment industry will follow suit, foreseeing the challenges of mass adoption. Surely one of the more important telecom breakthroughs since WDM, FTTX is likely to revolutionize the industry and may change our lives as the Internet did in the 1990s.
Nicholas Gagnon is business development manager, access networks, and Sophie Legault is datacom product manager, protocol market, at EXFO Electro-Optical Engineering (Quebec City).