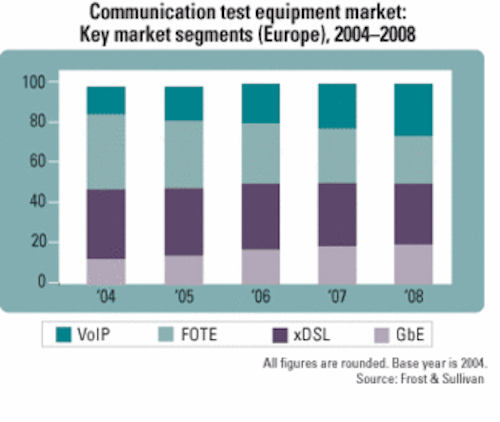 According to consulting firm Frost & Sullivan (Palo Alto, CA), recent advances in technologies such as ATM, SONET, Gigabit Ethernet, and 10-Gigabit Ethernet will cause a surge in growth of the European market for telecommunication test equipment. The firm projects that as more European countries prepare to deploy "triple-play" services, service providers will compete aggressively to offer converged, Internet protocol (IP)-based systems and networks, resulting in increased demand for test equipment.
The firm also says that applications such as voice over IP (VoIP), IPTV, and IP multimedia subsystems caused a huge spike in European network traffic; according to the firm, total European broadband lines grew by more than 65% in 2004, with the UK, France, Switzerland, and Italy seeing the highest growth. Thus, Frost & Sullivan contends that as service providers continue to introduce IP-based content, demand for bandwidth will fuel even more growth in European test.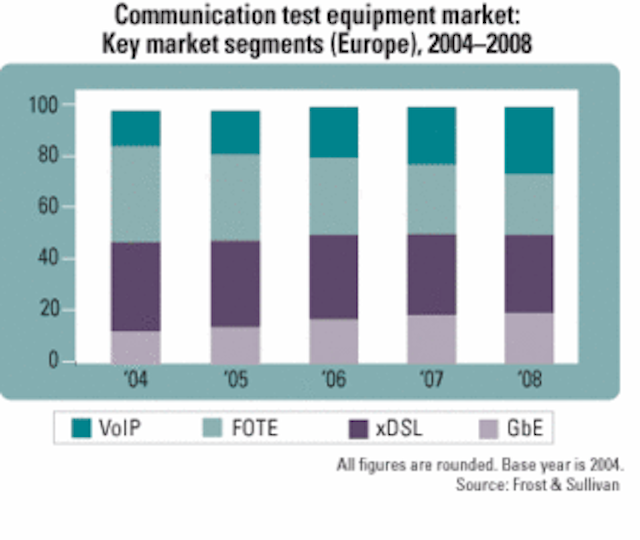 However, Frost & Sullivan also says its analysis indicates that lack of "market awareness" among end users will provide a challenge for vendors. Often, notes the firm, the availability of low-cost test equipment with reduced feature sets supplants the need for the primary products of such vendors. Furthermore, as in the case of VoIP, some services (such as Skype) are free of cost; hence, end users often fail to realize the need for test equipment.
The firm sees an absence of standard testing metrics and performance values for service providers to refer to as hampering vendors. The firm says an "overwhelming need" exists for the European Telecommunication Union and other forums to develop interoperability tests and reference documents to provide benchmarking for quality of service in the delivery of converged, IP-based applications.
Frost & Sullivan's "Strategic Analysis of the European Communications Test Equipment Market" reveals that overall revenue in the European communication test equipment market totaled $311.1 million in 2004, and says that figure is likely to reach $580.5 million by 2008. For more information about the report, visit www.frost.com.