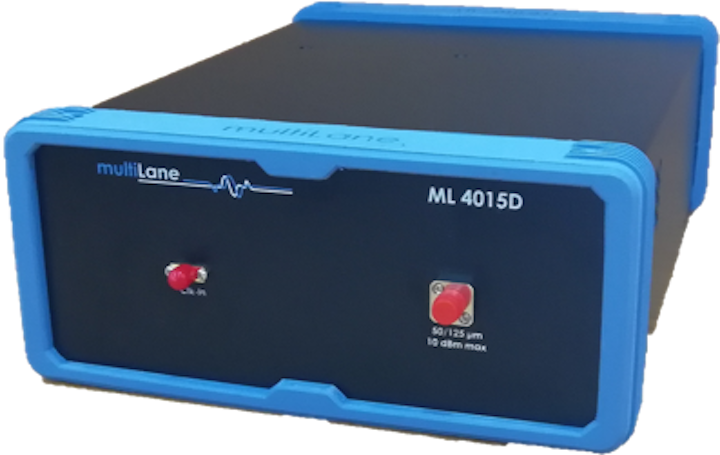 MultiLane Inc. has unveiled the ML4015D optical scope. The instrument offers 40 GHz of bandwidth for the testing of 400 Gigabit Ethernet optical transceivers as well as optical modules conforming to the 100G Lambda MSA. The ML4015D will outperform competitive, higher-priced alternatives, the company asserts.
The ML4015D will accommodate 53.1-Gbaud and 26.6-Gbaud PAM4 signal formats as well as 25.8-Gbaud NRZ. The scope offers integrated clock recovery up to 56 Gbaud PAM4, which MultiLane says is an industry first. This feature obviates the need for complicated clocking schemes in the test setup, the company points out.
The 3.5x8.6x11.8-inch instrument is designed to perform single-channel or two- and four-channel parallel testing. It also can characterize optical and electrical parameters.
The ML4015D is available at what MultiLane terms "value pricing," which includes free analysis software. Nevertheless, the scope will outperform competitive units with a 50% higher price tag, the company says. For example, the ML4015D offers sensitivity of better than -13 dBm at 25.8G NRZ and a noise figure of 3 μW at 26.6-GHz bandwidth, which the company says easily surpasses the performance of other systems. MultiLane also asserts the scope provides a 400X faster sampling rate at 100 MHz than the competition, with a TDECQ test time of less than 5 s.
The ML4015D joins other MultiLane instruments applicable to 200G and 400G electrical testing. The company says it plans to offer 400G compliance test services from its Fremont, CA, facility by this summer.
For related articles, visit the Test and Measurement Topic Center.
For more information on test equipment and suppliers, visit the Lightwave Buyer's Guide.