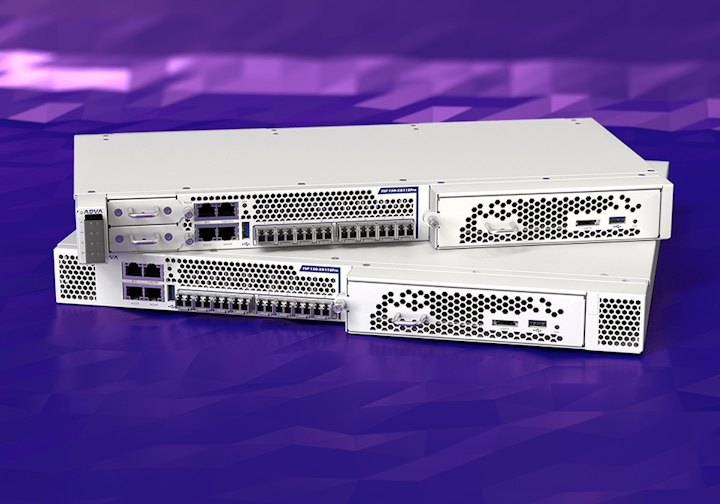 BusinessWire/ADVA
ADVA (FSE: ADV) has expanded its cell site gateway line with the FSP 150-XG118Pro, a 5G cell site gateway device designed to support ultra-reliable low-latency communications (URLLC) at radio base stations. The unit is designed to enable network operators to host virtual network functions (VNFs) at the network edge while supporting the transition from 4G LTE to 5G mobile networks.
The FSP 150-XG118Pro features a temperature-hardened design and incorporates a pluggable high-performance server that enables in-service upgrades for edge hosting of VNFs. It offers precise synchronization capabilities as well as multi-layer demarcation technology, says the company. Its 10-Gbps capacity enables MNOs to use the full 5G spectrum, while its open software-defined networking (SDN) control supports automated network slicing ADVA adds. It can be used to enable industrial IoT (IIoT) as well.
"Featuring our award-winning, field-proven Ensemble Connector NFV hosting software, our FSP 150-XG118Pro enables enterprises to seize the full business potential of the IIoT," explains Ulrich Kohn, director, technical marketing, at ADVA. "It supports big data analytics at the very edge of the network, saving significant bandwidth and improving performance. Now businesses can benefit from our vast experience with migrating centrally hosted network functions to the edge. Our customers can focus on revenue-generating services while we handle complex network integration and testing and ensure superb levels of performance."
For related articles, visit the 5G Mobile Topic Center.
For more information on high-speed transmission systems and suppliers, visit the Lightwave Buyer's Guide.
To stay up to date on network technology, subscribe to Lightwave's Service Providers Newsletter.