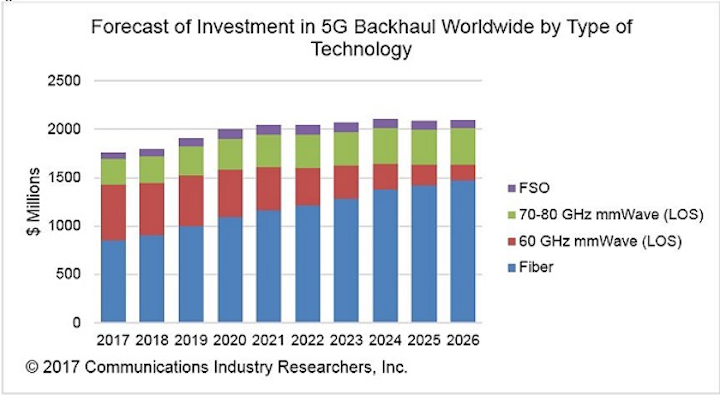 5G mobile services won't begin in earnest until 2020 by which time 5G standards will be in place. Previous generations of mobile communications first brought data, then video onto previously voice-only platforms. 5G will add support for traffic from the Internet-of-things (IoT), increasing the number of "terminals" in the network by orders of magnitude. And while – at a pinch -- 4G LTE can be considered as an alternative to terrestrial broadband, the claim for 5G is that its performance will be good enough for some people to turn off their Wi-Fi and go with 5G instead. Combined with the new mobile IoT traffic this will cause an unprecedented surge in mobile traffic.
Such profound changes in mobile service expectations will inevitably create new opportunities for optical networking as 5G is rolled out. "Optical Networking Opportunities in 5G Wireless Networks: 2017-2026," an industry analyst report published by Communications Industry Researchers, Inc., indicates that 5G deployment will mean more fiber – and specifically PONs – in mobile backhaul.
All this will set up a delicate "dance" in which fiber optics will present itself as the optimal solution to the data rate and latency issues raised by 5G deployment, while also downplaying the fact that optical networking can often be the most expensive backhaul solution in capex terms.
More Fiber Inside
It is unlikely that annual investment in mobile backhaul as a whole will increase much in the next decade. However, CIR's estimate is that almost 60% of the worldwide investment in mobile backhaul transmission facilities will go to optical links in 2022 compared to just under 50% in 2017.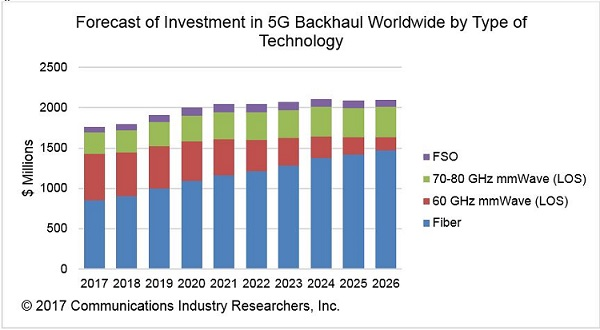 FSO = Free space Optics; mmWave = Millimeter-wave
Consider that the latest version of 4G LTE mobile has an upload rate of 300 Mbps, but 5G terminals will need to accommodate 10 Gbps uploads. Similarly, 4G LTE can make do with 45-ms latency while 5G needs 1 ms. Not all 5G applications need to support such levels of performance, but some of the advanced services that 5G is specifically being built to support -- autonomous cars, augmented reality, and virtual reality, for example – all expect latencies of 1 ms or less.
Given this it seems inevitable that 5G backhaul will bring new money to the optical networking business over the next decade. CIR's analysis suggests that by 2026 annual investment in optical infrastructure for 5G backhaul will have reached $1.5 billion. Millimeter-wave (mmWave) will have a role to play too; it offers impressive latency numbers and it has come down considerably in cost in recent years. 80 GHz mmWave offers impressive latency numbers and a 10-Gbps data rate, but over distances of just 3 km; advantage fiber.
5G Backhaul as a New Direction for PONs
But despite its technical advantages, fiber remains an expensive option, although the installation costs associated with fiber can be mitigated through the use of microtrenching. Passive optical networks (PONs) offer a more strategic solution to cost reduction and they reduce the worrisome costs otherwise associated with fiber. The use case in 5G backhaul is that because PONs share fiber and use only passive components, they can meet the latency, data rate, and distance requirements for 5G without a large cost disparity with other non-fiber transmission technologies.
For now the most suitable PON technology for 5G backhaul is NG-PON2, although the use of XGS-PON is also a distinct possibility, at least in the near term. NG-PON2 can support four separate full-duplex 10-Gbps feeds. This is all that is required for 5G backhaul; each wavelength uses Ethernet to carry 5G packet information. Verizon has already selected this technology for its future 5G backhaul. Cisco, Nokia, Huawei, Calix, ADTRAN, Ericsson, and Nokia are all active participants in developing this technology for 5G backhaul.
CIR expects that in 2022, investment in NG-PON2 and similar advanced PONs will reach $890 million for the year. The remaining investment in fiber backhaul will partially come from other PON technologies but also from non-PON fiber. For example, deeper in the backhaul network – in what are essentially backbone facilities -- carrier Ethernet or some flavor of WDM may be able to offer the raw bandwidth and exceptionally low latencies that are required for 5G backhaul.
This is just beginning. PONs operating at up 100 Gbps are now on the horizon and will certainly find a home in 5G backhaul at some point. The direction that PONs are now taking in terms of data rates and reach will migrate them well past fiber-to-the-home requirements and make PONs a powerful – and potentially good value -- technology option for the local loop and metro networks. But this is part of a bigger story than what we are discussing here.
NGFI: Life beyond CPRI
While the main factors shaping the market for optical links in the 5G backhaul are data rates, latency, and cost, we note that 5G backhaul architectures will be different in a number of ways from what went before in 4G LTE and earlier. In particular, the boundaries between fronthaul and backhaul will change and this re-architecting of the mobile infrastructure will also impact the use of fiber in the backhaul.
Perhaps the most obvious way in which this will happen will be in terms of CPRI (the Common Public Radio Interface), which is currently the standard interface for the connection between the cell tower radio (the remote radio head, RRH) and the mobile network control backbone. CPRI was first defined in 2003 and was intended to serve as a fiber interface to replace the copper cabling used to connect to the cell towers of the time.
CPRI operates at data rates from 614 Mbps to 10 Gbps, which must have seemed more than adequate at the time, but in a 5G era may not be. In particular, equipment vendors are using multiple-input multiple-output (MIMO) technology for their 4G/5G gear. MIMO uses multiple transmitters and receivers simultaneously, thus increasing data rate requirements. CPRI doesn't scale well to the high antenna counts expected in 5G, primarily because of MIMO.
CPRI will not disappear quickly. It will continue to be embedded in most of the centralized radio access network (C-RAN) architectures. But there is a growing debate about whether CPRI will support the data rates adequate for 5G. There is some talk about reducing the strain on CPRI by making use of existing packet networks, but this is something of a stopgap measure. In the long run the way forward will be a CPRI replacement.
The IEEE is addressing this issue through its new Next Generation Fronthaul Interface group (NGFI 1914.1 Working Group). This working group is to define the architecture for the transport of mobile fronthaul traffic. NGFI will essentially re-architect fronthaul as a multipoint-to-multipoint (mostly fiber) network with bandwidth adaptation in response to dynamic payload variation, support for high-gain coordinated algorithms, and decoupling of interface traffic from the number of antennas.
Fiber in 5G Backhaul: Challenges and Opportunities
Other similar challenges will also present themselves. For example, in the fronthaul segment, transport of data over CPRI has been over short distances and standard optical parameter requirements such as jitter, power loss, and latency have been easy to meet. However, as the emerging cloud RAN architectures lengthen to as much as 25 km, some optical performance parameters become problematic.
This is just an example and is intended to show that while fiber is a sure thing to dominate 5G backhaul in the future, the manner in which it will be deployed is still quite uncertain. As in the table below, for every opportunity in 5G backhaul, there are risks and uncertainties.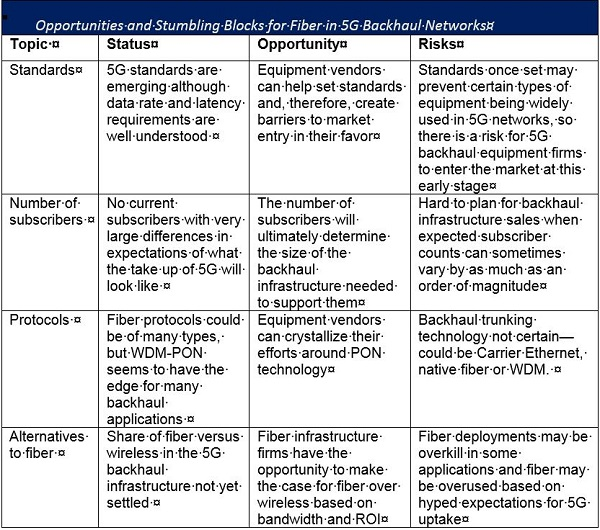 Source: Communications Industry Researchers.
Lawrence Gasman is founder and president of Communications Industry Researchers, Inc. He has tracked commercial opportunities in the high-speed networking business since 1985. Gasman has covered both the optical networking equipment and optical components market, and his recent market analysis work has focused on optical data centers, embedded optics, 5G infrastructure, and quantum networking.