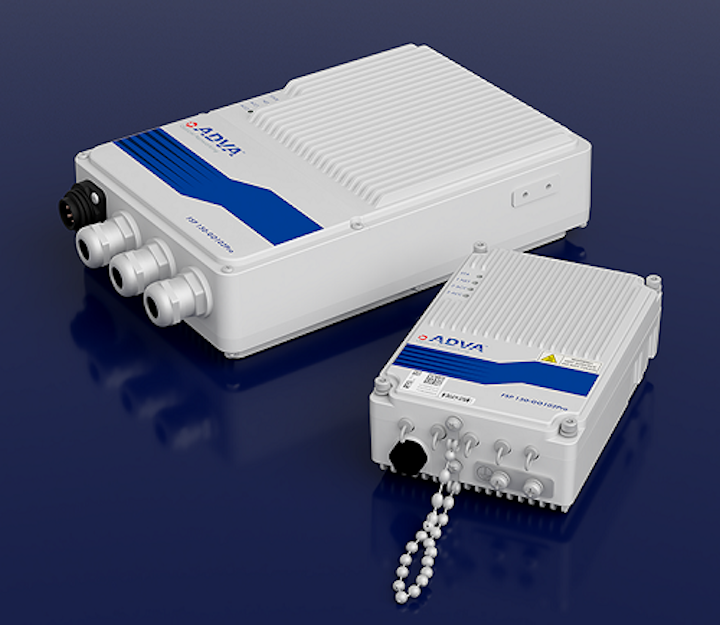 ADVA (FSE: ADV) has unveiled the ADVA FSP 150-GO102Pro Series of cell site gateway devices. The outdoor demarcation units are the smallest available, the company asserts, and enable deployment of small cells at street level. The FSP 150-GO102Pro Series units are available and currently in customer trials, the company adds.
FSP 150-GO102Pro Series comprises three units, two of the same size and a third that is smaller. The two larger ones are the FSP 150-GO102Pro (S), designed with extended environmental hardening for outdoor applications, and the FSP 150-GO102Pro (SP), which adds PoE power sourcing equipment (PSE) capabilities to support subtended devices. The smaller FSP 150-GO102Pro (Sm) is for applications that can't support the larger devices.
All three units offer Layer 2 and 3 service demarcation and Carrier Ethernet and routing features, as well as precision distribution of time and frequency. They can be used in several deployment scenarios, from pole- or wall-mounted to inside kiosks and street cabinets. They also feature zero-touch provisioning as well as support for the necessary testing and monitoring.
For related articles, visit the Network Design Topic Center.
For more information on high-speed transmission systems and suppliers, visit the Lightwave Buyer's Guide.