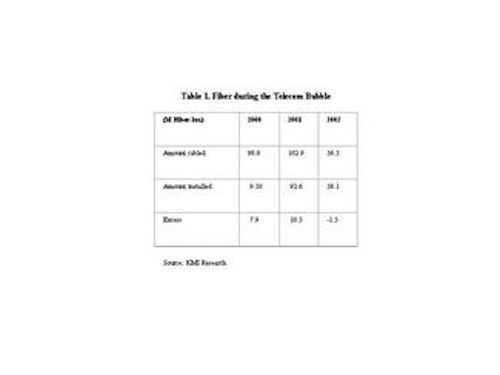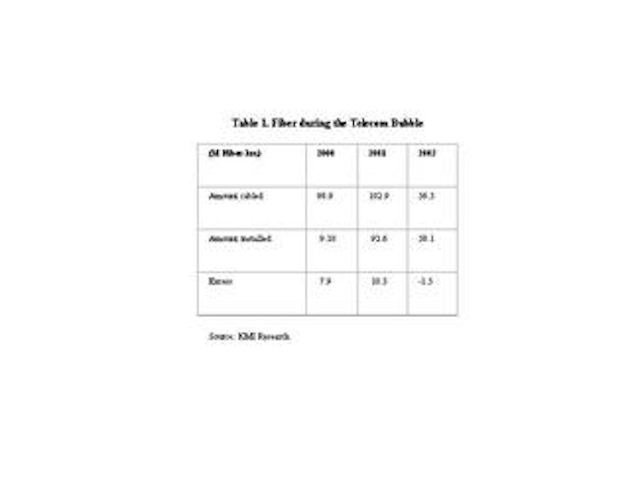 5 May 2003 Providence, RI Lightwave--Worldwide fiber demand will decline for a second year in a row before rebounding in 2004, said Patrick Fay, analyst at KMI Research. Mr. Fay will present KMI's latest forecast this month at KMI's annual Conference on Fiberoptics Markets in Europe in Paris.
According to KMI, worldwide demand for optical fiber will dip 2 % this year after falling a dramatic 38% in 2002 due chiefly to fewer and smaller installations in the U.S. and in Europe. Mr. Fay expects worldwide demand to grow 2 % in 2004.
This two-year downturn is due to the correction affecting the worldwide telecom industry, he explained. Many of the long-distance network operators that fueled the fiber boom from 1999-2001 are bankrupt, and their assets have been sold to competitors. In fact a significant portion of the cabled-fiber produced in 2000 and 2001 during the telecom bubble was never installed. KMI estimates that there could be as much as 15 million kilometers of uninstalled cabled-fiber, much of it high-count, NZDSF cable that no longer suits many current network deployment requirements.
The over-construction in long-distance network means near- to medium-term construction in more mature markets will focus on local telecom applications. These deployments tend to be smaller in scope and use lower fiber counts. There is ongoing construction in transmission backbones in a number of countries in Europe and former CIS countries including:
Greece Power utility, PPC, is building a 1,700 km network (CCS), Attika Telecommunications installation (OFS Brightwave),
Romania Utility Transelektrika is building a 2,800 km network (Pirelli),
Ukraine UkrTelecom installed 2000+ km in 2002, and will install 600+ km in first half of 2003,
Azerbaijan Azeri State Railway installed 550 km in 2002,
Uzbekistan UzTelecom to install 1,000+ km in 2003,
Turkmenistan TurkmenTelecom installed 600+km in 2002,
Kazakhstan KazakhTelecom installed almost 1,000 km in 2002, and
Kosovo PTK Kosovo AllWave project (OFS Brightwave).
In 2002, worldwide terrestrial cabled-fiber deployments were 57.2 million fiber-km, a decrease of 38% from 2001: the percentage decline in North America and in Europe was greater, declining by 54% and 62% respectively. The downturn in North America and Western Europe is evident when comparing 2002 demand to previous years. In 2002 North America had a cabled-fiber demand of 13.6 million fiber-km that accounted for 24% of worldwide demand. Western European demand at 7.4 million fiber-km accounted for 13% of demand.
These volumes are comparable to 1996 demand for North America and 1998 demand for Western Europe, but in those years North America and Western Europe combined demand accounted for 53% to 58% of the worldwide total. Peak deployments of 35.5 million fiber-km in 2000 meant that North America accounted for 40% of 89.5 million fiber-km in worldwide demand, followed by Asia-Pacific with 30% and Western Europe with 22%. Underscoring the shift in demand towards Asia, 31.6 million fiber-km were installed in 2002, which accounted for 55% of worldwide demand. Table 2 shows the decline in the share North American installations and the simultaneous increase in Asia-Pacific demand.
The upshot of the changes in the past two years is that a number of previously held perceptions of the fiber industry must be amended. First, what constitutes a realistic annualized growth needs to be reconsidered. For example, from the mid 1990s through 2001, the compound annual growth rate for cabled-fiber installations was 25%. The annualized growth rate from 2002-2008, however, will only be in the 6%-10% range. Second, the recent downturn in cabled-fiber deployments means worldwide demand may well be in the 50 million fiber-km to 70 million fiber-km range over the next five years.
Although this growth rate and annual deployments seem low, a comparison of cumulative fiber-km deployments from 1995 through 2007 is instructive. Worldwide cumulative deployments first reached 100 million fiber-km in 1995. By year-end 2001, cumulative deployments were greater than 450 million fiber-km. From 2002 through 2007, cumulative deployments will increase to more than 800 million fiber-km, so in a six-year period cumulative deployments almost double.
Third, the boom that characterized the industry from 1999-2001 will not be repeated. The confluence of deregulation, market liberalization, and Internet effect that contributed to the mania of network construction, which saw annual worldwide installations of fiber double from 1998 to 2001, was a one-time factor.
Opportunities for future network construction will be in emerging or less developed markets, where the infrastructure needs upgrading. Alternative operators with rights-of-way on utility lines or railways will permit backbone construction, but distances and fiber counts will be well below what was common during the fiber boom in North America and Europe. In North America and Europe, the focus will be on local telecom and CATV applications.