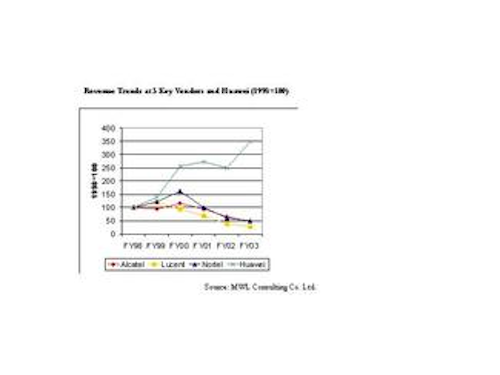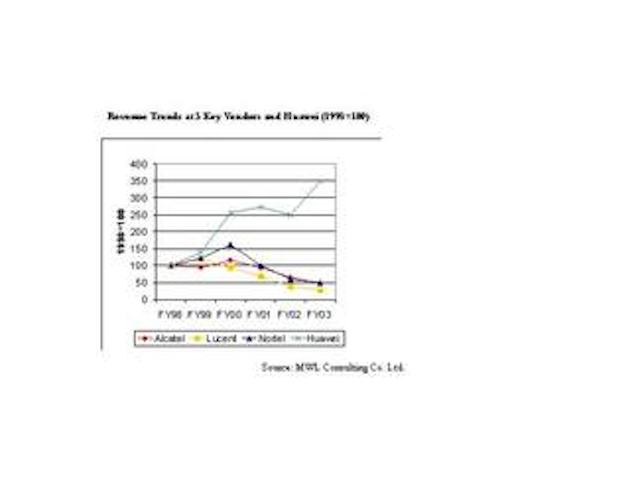 April 28, 2004 -- Huawei Technologies, nearly unknown before the telecom bubble, has become a sensation in its aftermath. As highlighted by its recent win of the bulk of a China Telecom (Guangdong) core router tender and strong reviews from optical customers in Europe, Huawei is now a serious contender in the Tier 1 telecom equipment market. Based in China--where labor is cheap, engineers are plentiful, telecom demand is still rising, local companies are favored, and intellectual property rights are (in practice) mostly nonexistent--Huawei is in many ways a western suppliers' worst nightmare, contends a new report from MWL Consulting Co. Ltd. As its competitors have tried simply to survive post-bubble, Huawei has steadily increased sales.
Huawei's goal of becoming one of the world's leading technology suppliers to telecom service providers, once unreachable, may soon be attained. Huawei is consistently among the world's top 10 vendors in optical networking, as well as a credible broadband access player, an emerging threat in switching and routing (including the Softswitch segment), and a major supplier of wireless infrastructure in the developing world. But now that it relies on exports for growth, has Huawei reached its peak?
According to the report, Huawei is at a key transition point in its evolution. If it is to sustain its growth and gain recognition as a world-class supplier, it must overcome its heavy reliance on low prices; prove it can provide innovative, reliable, timely products; provide adequate after-sales support; and can function with enough transparency--in product development and finance--to give customers confidence in choosing Huawei for major projects. Huawei very well may be able to meet this challenge, say analysts, so its competition must prepare for this and for the onslaught of other Chinese vendors that follow, ZTE in particular.
"Huawei Technologies: Global Competitor or Paper Dragon" analyzes how Huawei has achieved its success and how its product range compares to its competition. The report also details the company's strengths and weaknesses, prospects for growth, and the obstacles that stand in its way.
MWL Consulting Co., Ltd. is a boutique-consulting firm focused on Asian telecom and power sectors. For more information, visit www.mwl-consulting.com.