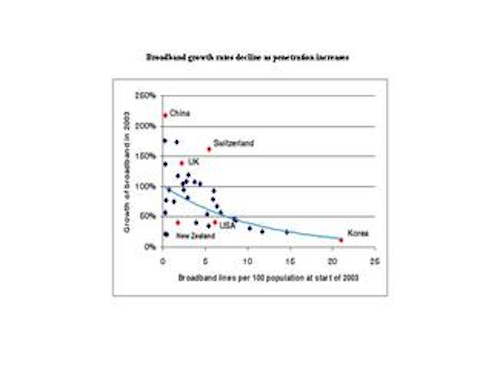 April 29, 2004 London -- Broadband communications researcher Point Topic Ltd. has launched its new Broadband Growth Index for comparing broadband growth rates between countries. Ranking 35 countries on this measure, Point Topic has discovered that Switzerland, China and Italy were the three fastest growing countries in 2003, while Latvia, the Czech Republic, and New Zealand were the slowest.
The Point Topic Broadband Growth Index is the ratio of the actual broadband growth in a country to the rate of growth that would be expected given its existing level of broadband development. It reflects the fact that broadband penetration is likely to grow faster where it is low today than in countries where penetration is already high.
According to Point Topic's calculations, the top ten countries that experienced the highest broadband growth in 2003 were Switzerland, China, Italy, Venezuela, UK, Netherlands, Israel, Singapore, Norway, and Lithuania. The bottom five included Germany, Austria, New Zealand, the Czech Republic, and Latvia.
South Korea (at number 24 in the index), for example, is now showing a low broadband growth rate because it has reached the highest level of broadband penetration in the world and seems to be close to saturation. China and some European countries, on the other hand, still have relatively low penetration rates and are growing rapidly. This effect is clearly shown when growth rates are plotted against penetration, as illustrated in the figure below.
A best-fit trendline using these points follows an exponential curve of reducing growth with increasing penetration. Any measure for comparison needs to take this effect into account.
For more information about Point Tropic's research, which includes an index for each of the 35 countries studied and an examination of their broadband adoption rates, visit www.point-tropic.com.