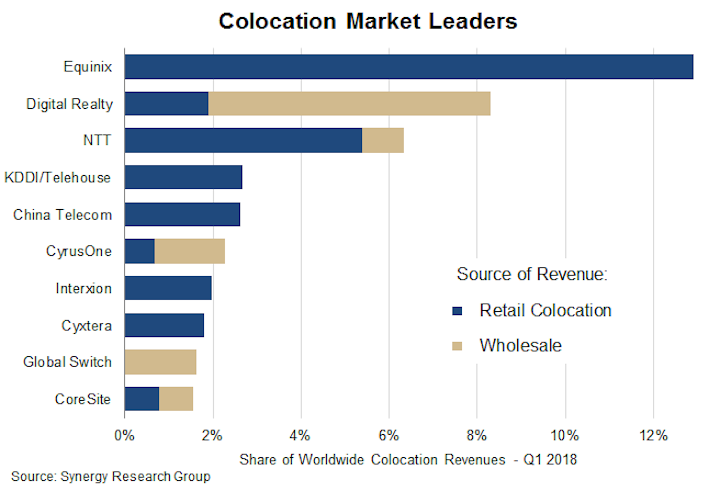 Equinix, Digital Realty and NTT lead colocation market, helped by aggressive M&A deals. (Source: Synergy Research Group)
Equinix, Digital Realty, and NTT remain colocation market leaders, which can partially be attributed to numerous acquisitions, according to new data from Synergy Research Group (see "NTT Com to buy remaining shares of RagingWire"). Having increased their market share throughout the past four quarters, the three companies currently control about 28% combined of the global market. Digital Realty and Equinix spent $19 billion in total on data center operator acquisitions, not including the Equinix acquisition of Metronode, Synergy reports (see "Equinix acquires Metronode equity interests to expand footprint in Australia").
Both organic growth and large M&A deals that have closed over the last year have led to growth for Digital Realty and Equinix at rates surpassing the general market. According to Synergy, Equinix was the market leader with a 13% share of the first quarter market. Subsequently, the company has completed two additional acquisitions, further advancing its market position in the second quarter.
Equinix, Digital Realty, and NTT's closest competition is KDDI/Telehouse and China Telecom, with a 3% market share respectively, succeeded by several operators with 2% share, including CyrusOne, Interxion, Cyxtera, Global Switch, and Coresite. Equinix had a 17% share of retail colocation throughout the two dominant leading market segments, and Digital Realty had a 28% share of the smaller wholesale segment, says the market research firm.
According to first quarter data that includes wholesale and retail colocation alike, consistent market expansion continues throughout all regions. The data also indicates that APAC and Latin America possess the highest growth rates. Based on local currency measurements, China, Hong Kong, Australia, Japan, and Singapore, all in the APAC region, were the major countries with the highest rates of growth. Equinix ranked first in EMEA and Latin America, second in North America, and third in APAC based on rankings throughout the major regions. NTT ranked first in APAC, while Digital Realty took the lead in North America.
"When it comes to operating data centers and colocation services, scale and geographic reach are important," said John Dinsdale, Synergy Research Group analyst and research director. "Enterprises are pushing more of their data center operations into colocation facilities and are also aggressively driving more workloads onto the public cloud, where cloud providers themselves use a lot of colocation facilities. Satisfying the needs of those enterprises and cloud providers often requires a large and widely distributed data center footprint. In order to help achieve that scale there needs to be constant investment in existing data centers, in addition to which we've seen $42 billion in data center M&A deals over the last 36 months, with Equinix or Digital Realty alone accounting for half of the total. There are good reasons why those two are the leading players in the colocation market."
The total value of major data center-oriented M&A deals that closed last year reached $20 billion, surpassing the combined total for 2015 and 2016, said Synergy (see "Data center M&A deals in 2017 outnumbered 2015 and 2016 combined: Synergy Research"). The largest transaction of 2017, however, was Digital Realty's $7.6 billion acquisition of DuPont Fabros.
Synergy provides quarterly market sizing and segmentation data on colocation and related markets, including company revenues by segment and by region.
For related articles, visit the Business Topic Center.
For more information on optical modules and suppliers, visit the Lightwave Buyer's Guide.