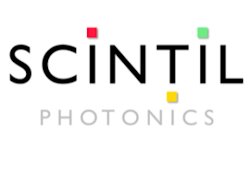 French silicon photonics startup Scintil Photonics says it has raised €4 million ($4.4 million) in first-round funding. Supernova Invest, Innovacom and Bpifrance are led the round with participation by Credit Agricole Alpes Développement and endowment fund Foreis. The company says it will use the money to develop prototypes of 800-Gbps transceiver photonic circuits targeted at data center network applications.
The fabless company was founded in Grenoble in November 2018 by CEO Sylvie Menezo, previously with CEA-Leti, and Chairman Pascal Langlois, former CEO of Tronics Microsystems. The company received startup funding by winning a French government-sponsored innovation competition, called i-Lab 2018, hosted by Bpifrance. Scintil Photonics says it has developed a silicon photonics platform in which it can integrate multi-wavelength lasers. It says it has partnerships with CEA-Leti in France and the University of Toronto in Canada.
Scintil Photonics CEO Sylvie Menezo"We are very pleased to have the support of leading French investors to further develop to an industrial level our innovative silicon photonic integrated circuits," said Menezo. "Integrating lasers onto silicon photonic circuits, mass produced in commercial silicon photonics foundries using standard manufacturing processes, is a key technology asset of Scintil. This will open up many opportunities, not only in optical communications, but also in computing and sensing applications, such as Lidar.
"We look forward to engaging with prospective customers and demonstrating the functionality and performance enhancements that Scintil Photonics can bring. With this first funding round, Scintil will be able to have its demonstrator and prototype circuits manufactured in commercial foundries, which will greatly accelerate our time to market," Menezo concluded.
"We firmly believe in Scintil Photonics' ability to implement the seamless integration of III-V semiconductor material on silicon. In particular, the collective manufacturing of lasers, reducing the cost of mass-producing fully integrated photonic circuits while improving the energy efficiency and other critical parameters, is a key differentiator in penetrating the market of data center transceivers and sensors. It matches perfectly Supernova Invest's ambition to support game-changing Deep Tech startups," said Christophe Desrumaux, investment director at Supernova Invest.
For related articles, visit the Business Topic Center.
For more information on optical components and suppliers, visit the Lightwave Buyer's Guide.
To stay abreast of optical communications technology, subscribe to Lightwave's Enabling Technologies Newsletter.