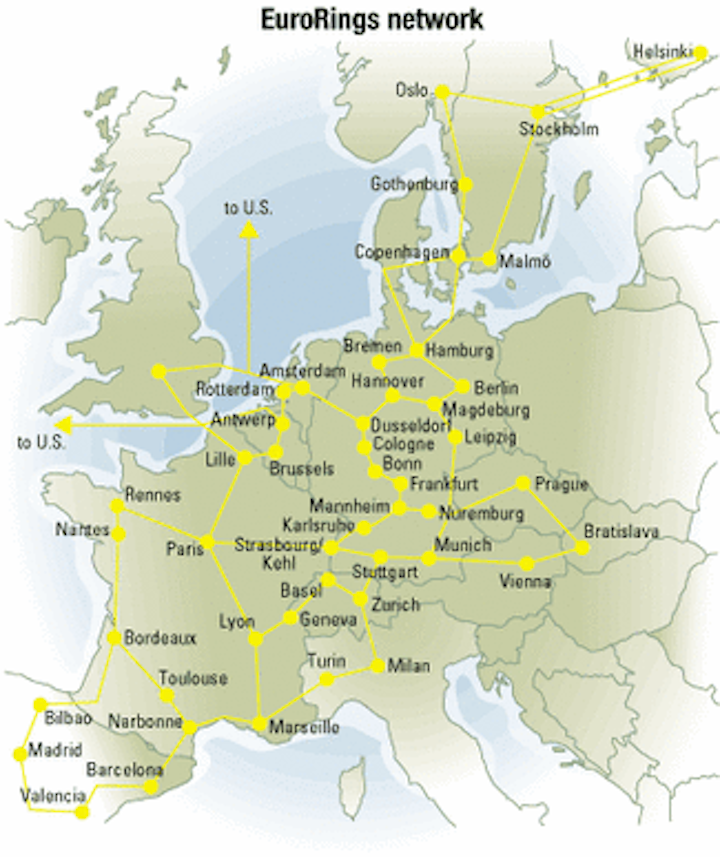 NETWORKS
By EDWARD HARROFF
With near-term business futures looking bleak, KPNQwest is one European new-entry broadband service provider that sees a light at the end of the tunnel. This carrier remains on an aggressive schedule to link 50 major cities along its "EuroRings" network. At 20,000 route-km, it is one of the longest pan-European DWDM networks now underway.
KPNQwest is a Dutch-American joint venture formed in November 1998 between KPN and Qwest Communications International Inc. KPNQwest operates a high-capacity European fiber-optic IP network interconnected with Qwest's U.S. fiber network to deliver seamless next-gen eration multimedia, data, and voice communications services. The joint venture brings together the fiber-optic networks of the two partners and operates one of Europe's largest Internet service-provider (ISP) groups with 14 "CyberCentres" located in key cities.
"KPNQwest is at a turning point in their history. They are emerging as one of the leaders in the alternative telecom and data-communications markets in Europe," says Stéphane Téral, an analyst at RHK Group. "Having demonstrated their ability to achieve profitability at the operating level and deliver network construction milestones on time and on budget, KPNQwest is now intensifying its focus on operational performance as a competitive advantage."
KPNQwest had completed six of its seven fiber-optic rings in Europe, including the Nordic, Eastern, and Southern rings, which added 7,100 km to the network. It has a total of 15,300 km connecting 41 European cities. The company intends to have a 20,000-km network linking 50 European cities.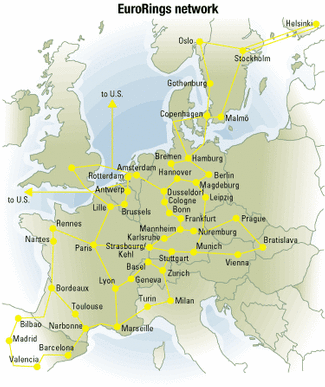 The EuroRings network enables KPNQwest to provide IP and data services across the continent and provides a gateway to the United States. (Source: KPNQwest)
But there have been construction de lays on the seventh and final ring, which will span the Iberian Peninsula (between France and Spain), adding seven points of presence, including Bilbao, Madrid, Valencia, and Barcelona. The delay means that KPNQwest customers must wait until next year before they get services network-wide without depending to some extent on leased lines.
"I think the Iberian ring is likely to be finally lit in the first quarter of 2002, and civil construction will be done by the end of this year," says Jack McMaster, president and CEO of KPNQwest.
KPNQwest promises to interconnect EuroRings to Qwest's 39,500-km North American network and its 1,400-mi extension into Mexico. It also plans to connect to the 13,125-mi submarine cable connecting the United States with Japan that is being built by a consortium that includes Qwest.
EuroRings is designed with data and IP in mind. KPNQwest's services will include IP-based voice communications, high-speed Internet access, intranets, extranets, Web hosting, IP-based virtual private networks, and ATM and IP transit services for the wholesale market.
KPNQwest's construction project for the regional subnetwork that connected the Nordic Ring to the EuroRings fiber-optic network finished one month ahead of schedule. With 4,500 km and seven points of presence, the Nordic Ring is the fifth and largest of the seven OC-192 self-healing rings in EuroRings network. It consists of 96 fiber strands, capable of delivering 80 wavelengths per strand at up to 10 Gbits/sec per wavelength. The network provides high-speed connectivity to Stockholm, Copenhagen, Gothenburg, Helsinki, Malmö, and Oslo.
This ring includes 38 repeater huts, regenerator stations, secure power supply, and backup to ensure full redundancy and connectivity through a high-capacity undersea cable, which connects to the German Ring in Hamburg. A spare duct has also been built alongside the entire EuroRings network to futureproof the KPNQwest network.
Recent major contract wins for KPNQwest demonstrates how its EuroRings network can provide a new class of broadband services across Europe. One customer, NORDUnet A/S, is responsible for the development and operation of the Nordic research network backbone with over a million end users in the Nordic countries. NORDUnet A/S is a limited company owned by government institutions within higher education in Denmark, Finland, Iceland, Norway, and Sweden.
NORDUnet has contracted KPNQwest to provide a mixed solution of IP transit and managed broadband services to the United States with backup connectivity to Europe. The 2.5-Gbit/sec bandwidth solution-Europe's first 2.5-Gbit/sec port with U.S.-based traffic-will provide NORDUnet with access to the public Internet, access to other U.S. research networks, and access to Startap, an international exchange point for research networks.
"We selected KPNQwest's network for its competitiveness and service quality," says NORDUnet general manager Peter Villemoes. "Firstly, it offers us unparalleled entry scale and future scalability, and secondly, our users will benefit from the in-built resiliency of the network. In addition, their direct relationship with Qwest means that transit to the U.S. goes direct rather than via the rest of Europe, offering improved efficiency and reach."
KPNQwest is using equipment from Sycamore Networks to enable an efficient mesh-based network topology. "Carriers are looking to address issues of bandwidth capacity, creation, and delivery in the most timely and cost-effective manner," notes John Owen, managing director of Sycamore Networks EMEA.
The SN 10000 transport systems Syca more has delivered to KPNQwest address these challenges and provide carriers with substantial return on investment in high-capacity long-haul and ultra-long-haul applications, he says.
"Customers like NORDUnet are in an ideal position to judge the quality of our global network solutions for high-bandwidth users," concludes KPNQwest's McMaster. "The fact that the EuroRings has passed with flying colors is a testimony to the superior design and connectivity of our pan-European network and the recently completed Nordic Ring."
Edward Harroff writes on telecommunications issues from Bellevue, Switzerland, for the GEID Press Agency (Paris).