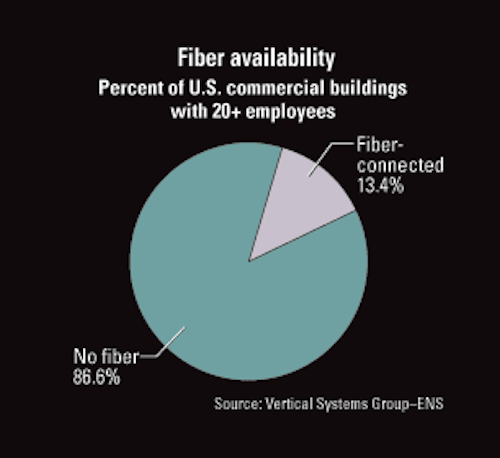 Business fiber access to network services now reaches 13.4% of U.S. buildings with 20 or more employees, reveals Vertical Systems Group's latest research. However, small and medium enterprise (SME) sites remain disproportionately underserved.
Based on building size, nearly twice as many large enterprise sites are now fiber-connected compared to the number of SME buildings. Business customers have optical fiber access to network services that are supplied by one or more service providers.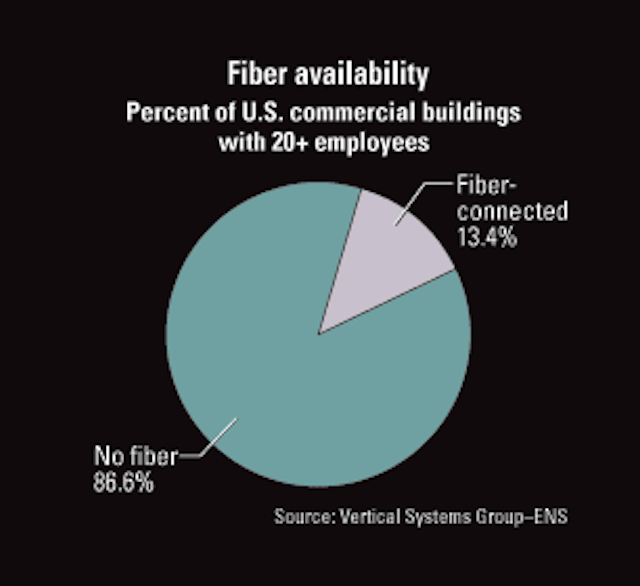 Optical fiber is a key enabler for delivering emerging business network services, including Ethernet, IP-based VPNs, voice over IP, and IP video, at up to gigabit speeds. Millions of fiber route-miles are installed throughout the US to ensure high-capacity backbone carrier transport; however, last-mile connections to business customer sites remain spotty.
"Scarcity of fiber is one of the three major market gaps challenging the growth of native Business Ethernet Services, in addition to speed range and pricing," notes Rosemary Cochran, principal at Vertical Systems Group. "There are hundreds of thousands of small and medium size buildings in the US without access to fiber… Service providers are implementing many different solutions to fill their fiber gaps through business partnerships and alternative access technologies."
Vertical Systems Group's research can be found on its web site at www.verticalsystems.com.