When leaving stealth mode in a down market
Dec 1st, 2002
Weathering the telecommunications storm is challenging, even for established suppliers. So how's a company coming out of stealth mode going to make it in this market?
"For me the fundamental answer is focus," says Pat Edsell, chief executive of Gigabit Optics (Sunnyvale, CA), a startup that demonstrated its first product, a coarse wavelength-division multiplexer/demultiplexer at NFOEC.
"We've defined Gigabit Optics from the start as a CWDM company," says Edsell. "I think two or three years ago, startups could perhaps do three or four different things, maybe hedge their bets and go after different markets or even have a couple of different technologies. In this market, given funding the way it is, you just don't have the luxury of doing a lot of different things." The company closed its first round of $6 million Series A funding in November 2000 and its second-round $20-million Series B financing in September 2001.
Gigabit Optics expects to soon ship its four-channel MicroMux, a 9×9.2×6-mm device, in which all four fibers depart from one side. Other products on the road map over the next two years will use the same technology platform: an eight-channel multiplexer/demultiplexer, potentially a 16-channel module depending on customer demand, and add/drop multiplexers. If all goes as planned, the company will then incorporate active devices and offer transmit optical subassemblies and receive optical subassemblies. Gigabit Optics does not plan to develop transceivers or transponders.
Focus also may help Gigabit Optics and other startups as systems vendors faced with limited resources in research and development instead buy best-in-class modules. "The laws of small numbers will apply again," says Peter Evans, chief executive of optical performance monitoring newcomer Optovation (Kanata, Ontario). "Those companies that can focus on a particular niche and do it very well will survive."
Originally part of Roshnee, an optical-networking equipment manufacturer founded in December 1999 by Rajvir Singh (founder of StratumOne, Siara Networks, and Cerent), the systems group was spun out of the company in 2000 and the remaining components group was renamed Optovation. Today, Optovation is focused on its optical performance monitoring (OPM) technology for DWDM signals in the C- and L-bands.
Optovation uses a tunable-filter technology to offer a combination of spectral analysis and data monitoring to extract measurements such as time and protocol from individual 2.5- and 10-Gbit/sec signals in the optical layer. The OPM technology was demonstrated at SuperComm last June in conjunction with Calient Systems' all-optical switch. Target customers include systems suppliers and handheld test equipment companies. Optovation is well funded—the company has raised $37 million (U.S.) in venture capital, closing its $23 Series B round of funding last January.
"We're trying to inject efficiency into the process and help carriers do more with what they've got," says Robert Lane, vice president of marketing and product management at optical management software startup Elematics. Formerly Qoptics, Elematics is emerging from stealth mode with optical management software designed to function as an "intelligent network control plane." The software is designed to provide a common signaling and control plane across islands of multiple vendors' Layer 1 equipment and even across multiple carriers' optical networks. How it works is a control-plane module is paired with a network element, and the information passed between the two is translated using a customized driver (interface). The control plane software is designed to support service provisioning and activation, signaling over legacy equipment, optical virtual private networks, and inventory reconciliation.
Several standards bodies are working on signaling standards such as the Optical Internetworking Forum's user-network interface (UNI) and Generalized MPLS as well as other specifications (network-network interface—NNI) that will ease interoperability issues, but ratification of these initiatives is still a ways off. "Standards only get us so far," says Jeff VanZwol, marketing manager at Elematics. Carriers seem receptive to the intelligent control-plane concept, according to VanZwol. The company is also pursuing strategic partnerships with optical-switch vendors.
Founded in December 2000 in New York City, Elematics closed its first round of funding ($11 million) in August 2001. Warburg Pincus LLC led the Series A round. Elematics has received $4 million in debt financing and expects to close its Series B round before the end of this year. The company moved its operations to Beaverton, OR, where its research and development is based and changed its name from QOptics to Elematics in October.
Optoelectronics newcomer Centellax (Santa Rosa, CA) is developing physical layer electronic components for the OC-768 (40-Gbit/sec) market. "There's still some uncertainty about when, but there is very little uncertainty about whether," says Centellax sales and marketing director John Hirsekorn, about the 40-Gbit/sec space. The company's strategy is to be ready when the OC-768 wave hits.
"From our perspective, the market is moving forward," says Hirsekorn. "A lot needs to be done between developing the chips and modules and building a line card." A year ago, 40 Gbits/sec bumped up against several technology limitations; today, many of these issues have been resolved and the constraints are more on the business side. Nevertheless, carriers will migrate to 40-Gbit/sec solutions based on the technology's ability to lower network costs, improve performance, and offer integration, Hirsekorn asserts.
Centellax is developing chip-level components using gallium arsenide pseudomorphic high-electron mobility transistor technology (broadband amplifiers) and BiCMOS silicon germanium technology (multiplexers/ demultiplexers). The chip fabrication is outsourced to different foundries; product evaluation and testing are done in-house.
After releasing its DA series of millimeter amplifiers early this year, Centellax demonstrated a four-channel multiplexer feeding a multistage amplifier at 40 Gbits/sec at NFOEC in September.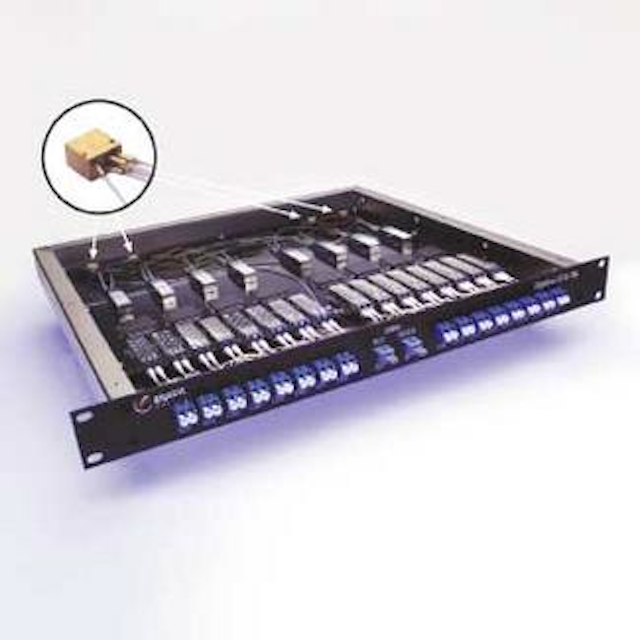 Downsizing: Gigabit Optics' four-channel CWDM MicroMux will allow system designers to incorporate all system functions onto one card, instead of the three to four cards required in current systems.
Competing against established IC suppliers such as AMCC and Vitesse is challenging, but large public companies face quarterly earnings reports and sometimes end up putting products on hold for financial reasons. "We don't have those constraints," notes Hirsekorn.
Competition in any product category is a positive sign, and despite unique technologies, all of these companies will face off against established companies as well as other newcomers in their chosen markets. "If you're the only guy out there doing something, then you either know something that everybody else doesn't know or you've made a mistake," says Gigabit Optics' Edsell.