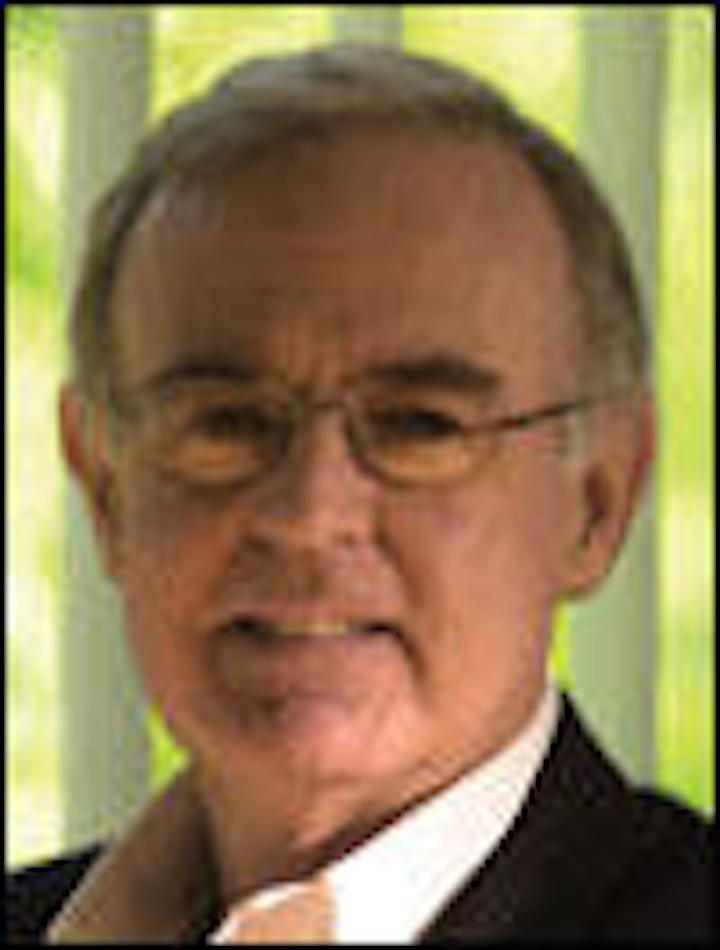 Brian McCormack
Brian McCormack has been named CEO of Teem Photonics Inc. (USA) and vice president of global sales. As CEO, McCormack will be responsible for building the company's U.S. capabilities; he will also direct worldwide sales for Teem, which is headquartered in Grenoble, France. "Teem holds a number of aces in the photonics market," says McCormack, who adds that the company "is getting in on the ground floor in the design process of next-generation architectures and existing products, where timing will coincide with the upturn in capital spending by service providers." Prior to joining Teem, McCormack was senior vice president of worldwide sales at Avici Systems, where he built a direct sales force in the United States and Europe as well as indirect channels in Asia. Before that, he was vice president of major carrier sales at Alcatel/DSC Communications. His more than 25 years of industry experience also includes posts at Cisco Systems, Northern Telecom, and IBM.

David Palmer
David Palmer is the new senior vice president of sales and marketing at Memphis Networx, a public-private joint venture in the process of building a high-speed, high-bandwidth fiber-optic ring network in Memphis, TN. Palmer has more than 30 years of global telecommunications experience, including sales vice president at Evolution Networks, director of global sales at GTE Communications, and a carrier/special accounts vice president at MCI Telecommunications.
Metro-Optix has appointed Dave Orr its new CEO, with co-founder Arun Bellary moving from CEO to executive chairman. Orr has more than 20 years of experience in telecommunications, serving most recently as president and CEO of Pliant Systems (formerly BroadBand Technologies). Before that, he was president and CEO of Alcatel Network Systems and vice president and general manager of Rockwell International's Network Transmission Systems Div., which was later acquired by Alcatel. Metro-Optix's CityStream bandwidth manager will be among Orr's highest priorities. "My charge is clear...to realize the full potential of CityStream," says Orr.
George Nolen is the new CEO of the Siemens U.S. Information and Communication Networks (ICN) unit. Previously president of Siemens Enterprise Networks in the United States, Nolen will work closely with Thomas Ganswindt, who had been acting head of ICN and is now chairman of the unit.
Dr. Steve Norman has been promoted to vice president of operations and engineering at Southampton Photonics, where he helped set up the company's new specialty fiber manufacturing facility. Norman was previously the company's director of U.K. operations, and before that, he served more than 20 years at Pirelli in several key manufacturing positions, including chief engineer of telecommunications and later director of engineering and quality.
Former executive vice president of corporate development at Qwest Communications International, where he was responsible for mergers and acquisitions activities, Marc B. Weisberg has joined Tellium's board of directors. Before joining Qwest in 1997, Weisberg spent 11 years in investment banking, providing services to clients primarily in the telecommunications, entertainment, and media industries.
Jerome Prieur has been appointed vice president of sales and business development at OpsiTech. Prieur's more than 12 years' experience in high-performance optics and WDM optical networking include vice president of North American sales at VPIsystems and director of sales at REOSC (acquired in 1998 by SAGEM), where he managed the marketing activities for WDM thin-film filters, lasers, and high-precision optical subsystems.
Palomar Technologies Inc. has promoted Bruce W. Hueners to vice president of marketing. Hueners joined Palomar Technologies in 1981, when it was part of Hughes Aircraft, where he held several engineering, sales, and marketing management positions. In the 1980s, he collaborated on the development of the laser interferometer positioning system as well as submicron positioning systems. Prior to joining Palomar, Hueners was advanced manufacturing engineer with the Semiconductor Products Dept. at General Electric, where he developed mechanized processes for high-volume optoelectronic assembly.