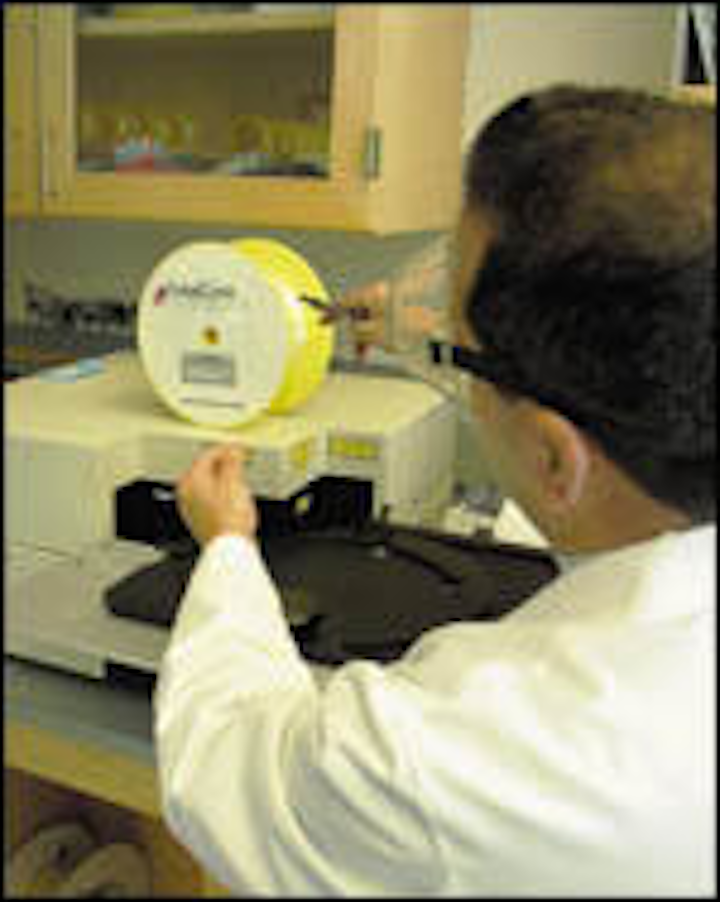 Incubators for startup companies
A new incubation model looks beyond the university for promising disruptive technologies.
BY KATHLEEN RICHARDS
This summer, the first fiber-optic communications company to complete the Photonics Center at Boston University's incubation program will move out of its shared office space at 8 Saint Mary's Street in Boston into its own newly built 40,000-sq-ft headquarters in Grafton, MA.
IntelCore Technologies Inc., a specialty optical-fiber startup focused initially on fiber for optical and Raman amplification, first settled into the Photonics Center in July 2000; the company had six employees. While making the rounds with the startup's initial business plan to look for funding and incubation, founder Dr. Abdel Soufiane heard about the center at Boston University (BU) from former colleague Dr. David Krohn-the founder and general manager of 3M specialty optical fiber-who was a member of the center's advisory board at the time.
After acceptance into the incubation program, IntelCore quickly moved ahead. The startup's initial funding, led by the center's Beacon Telco venture capital development company, raised $5 million from Beacon, Megunticook Management, and other investors. The IntelCore business plan developed at the center involved a methodical marketing approach, first identifying application segments and the leading component and subsystem OEMs in those target markets, then working with these customers to develop products and manufacturing processes on a collaborative basis.
By December 2000, about four-and-a-half months after IntelCore moved into the Photonics Center at BU, the company delivered prototypes to its first customers. How did an incubator program get IntelCore up and running so fast?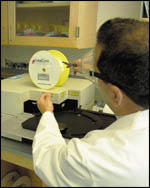 Dr. Abdel Soufiane, founder and chief technology officer at IntelCore, evaluates the properties of the company's specialty optical fiber. IntelCore is currently located at Boston University's Photonics Center, while construction on its new 40,000-square-foot facility progresses.
As with all incubation programs, the idea behind the Photonics Center at BU is to help promising startups accelerate their time-to-market and better their odds for success. The $80-million, 235,000-sq-ft Photonics Center, which houses 10 floors, opened in June of 1997 with a focus on the commercialization of photonics technologies for life sciences. Portfolio companies at the center today include Ambergen, Iprovica, SOLX, and PhotoSecure. The Photonics Center is fully permitted for hazardous materials and houses about $30 million worth of test and lab equipment-some new, some relocated from other university facilities.

The push for the commercialization of telecommunications technologies and processes came when the market was booming in early 2000. In November 2001, IntelCore remained the only publicized communications company in the portfolio, outside of Verilink, which lost its corporate funding and is no longer part of the incubation program.
The Photonics Center model is unique in several aspects, according to its director, Dr. Donald C. Fraser. "There are a couple of words that make me cringe a little bit. One is 'incubator' and the other is 'research.' In the way most people think about those two words, that's not us," he says.
While many universities use the type of facilities present in the Photonics Center to support faculty research, the BU group takes a different direction. "We did not create it to solely exploit BU's technology. I'm looking for technology no matter where it may be in the world," says Fraser. "Not doing basic research and taking other people's stuff that might be better than yours is heresy in most hallowed halls."
The Photonics Center offers traditional incubator services: office space, reception services, conference rooms, even group health insurance. Startups also have access to venture funding through Beacon Telco as well as technical facilities, equipment, and business acumen through corporate partnerships, Boston University, and its affiliates and the center's own extensive lab facilities.
The center's "mission" is executed through Beacon Photonics, a joint venture between Boston University and Globalvest Management (Saint Thomas). Globalvest is one of BU's best-performing money managers and has invested in communications in emerging markets such as Latin America. Beacon Photonics is the holding company of venture capital development companies Beacon Telco and Beacon Life Sciences.
"Venture capitalists traditionally, they invest money, they have contacts, and they take board seats," says Alok Prasad, president of Beacon Telco. "The thought here was, we want to play an active role in terms of reducing time-to-market and improving the success probabilities for startup ventures, and also to create ventures. There is a lot of intellectual property available in universities. But the idea can come from anywhere. It can come from BU, it can come from MIT, it can come from other corporations, or it could be from an entrepreneur.
"Our thought was to support startup companies as ventures without passing the cost structure on to the portfolio companies. We try to make it more virtual, where we can take some established companies and leverage their resources."
As such, the Photonics Center has relationships with several outside companies, including Beacon investor PRTM, a management consulting firm with more than 600 consultants in 14 offices worldwide, and the Fraunhofer USA Center for Manufacturing Innovation, which can offer expertise in automation and packaging.
"With IntelCore, we did what a venture capital firm would do in terms of screening the opportunity," says Prasad. "We liked the opportunity. We liked the people. We liked the space. When IntelCore came in here, we gave them access to the facilities, like the draw tower, which is a $14-million piece of equipment. One of the professors, Ted Morse, became a member of their advisory group. We gave them access to IP [intellectual property]. We worked with them to form a business plan and we leveraged some of the PRTM resources. Then really in four-and-a-half months, they had product, they had revenue, and that was the basis for closing a $25-million series B round."
Indeed, the second round of funding for IntelCore led by Tudor Ventures Group raised $25 million with investments from Technology Venture Partners, St. Paul Venture Capital, and Megunticook Management. The funding was announced in August 2001.
Bill Beck, president and CEO at IntelCore, describes his company as an anchor tenant at the Photonics Center. "We are here at the Boston University Photonics Center, primarily because we needed a place to operate from until our new manufacturing and development facility was completed. So for us, incubation meant having access to pilot-level manufacturing, development, and test equipment as well as a broader set of analytical capabilities that they have here at the center while we were building that for ourselves later in our timeline."
Beck asserts, however, that his company is not the archetypal incubation startup. He and others on his management team have many years of experience in marketing and developing specialty optical fiber as well as other technologies. "When most people hear 'incubation,' they think of a couple of wild, crazy professors who know a lot about technology but don't know what the market is or 'how to do it,' so to speak. Because my team is very experienced, they didn't come in saying, 'How do we do this?' They came in saying, 'We know how to do this, so we are going to move ahead,'" says Beck. "So in the first month or two, you had your normal new neighbor kind of get-to-know-you friction, which you are always going to have when you share a facility with somebody. But once we established credibility with the rest of the folks here, it's been terrific. There are capabilities in this building that there is no way a startup could afford, no matter how much their funding is."
The center's lightwave lab includes fabrication equipment for preforms and fiber drawing, equipment that was installed by the IntelCore team on behalf of the university, according to Beck. IntelCore has had exclusive use of this lab. Other developmental and test laboratories are shared with primarily post-doctoral and doctoral researchers. IntelCore engineers work on the ongoing development projects for customers. Exploratory research is done in conjunction with lightwave lab director Dr. Ted Morse. IntelCore has first access rights to any technology that relates to specialty fiber and glass making.
Traditionally, a startup in an incubation program is expected to move on in a two-year time frame. IntelCore is right on schedule. The plan is to move into the new development and manufacturing facility in the second quarter of 2002. As of November, the head count was 35 employees and growing. Some IntelCore employees will remain at the Photonics Center through the summer, when the incubation program officially ends. At that time, IntelCore will spin out and move all of its employees into the Grafton headquarters.
"We've had a couple of companies in the life sciences space complete the cycle and move out because they got too big," says Fraser. PhotoDetection Systems and U.S. Genomics are both graduates of the life sciences program. IntelCore will be the first telecommunications startup to complete the program.
If and when the "magic exit" happens for IntelCore, the money will be distributed to the principals of Beacon Photonics and the subsequent limited partners that invested in the joint venture. Boston University is one of the limited partners. "Everything we do is done on an equity basis. That's another difference from most university activities because they like to get cash," says Frazer. "We're doing it because we think we can make the equity worth far more than the cash over the same period of time. And we're doing it through Beacon because my judgment was that we needed more serious professional talent managing this process-that the university people don't have the necessary business background, they don't have access to cash and access to the people, who have built businesses on the same scale."