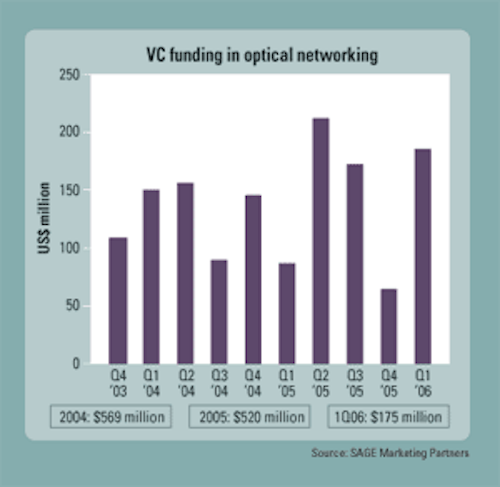 Venture capitalists in the United States and Europe have begun to cautiously reapproach the optical networking market, investing in more than 40 optical networking companies in 2005. And 2006 is already off to a very strong start with $175 million invested in 12 deals in the first 10 weeks of the year.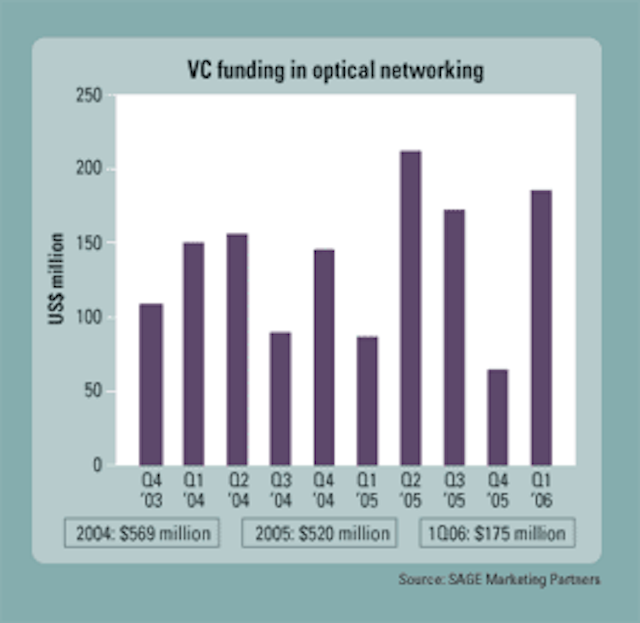 While VC investment in optical networking dipped slightly in 2005 from the previous year, 2006 is off to a strong start.
The majority of these funding events are later-stage rounds. Venture capital (VC) is predominantly being directed to growing optical networking firms that survived the downturn and are now shipping innovative products, generating revenue, and winning system designs as they compete with large, incumbent suppliers.
These recent late-stage rounds went to firms like Infinera (more than $200 million in total VC funding), a systems vendor with expertise in indium phosphide (InP) integration and 10-Gbit/sec optical transport; CyOptics (in excess of $50 million in total VC funding), an optical components supplier whose recent funding round was used to acquire Triquint's optical portfolio; and All­optic, a supplier of Gigabit Ethernet PON equipment for the high-growth global fiber-to-the-home (FTTH) market (more than $70 million in VC funding to date).
Early stage investment in optical networking startups has been a very rare event, with only two firms receiving Series A funding in 2005. One of these firms was Paxera, which is developing a tunable laser (see "Small Companies Get In Tune" on page 20) and received approximately $5 million in funding from Crescendo Ventures, et al., in late 2005. Paxera and its investors (who have lived through the telecom market of 1999-2002) are making a bet on the renewed growth of the optical networking market and on the value of a tunable laser source.
Another type of VC funding, symptomatic of a still consolidating market, also occurred in 2005-the funding/merger of two underperforming startups. Sometimes there were board members common to the two merged firms, sometimes the products lines were similar, and sometimes the product lines were complementary. Examples of this funding type were the Polatis/Continuum optical switching merger and the T-Networks/ASIP 10-Gbit/sec InP funding/merger.
VC investors are looking at optical networking companies with an optimism fueled by a recovering market and strong growth sectors like FTTH, GPON, and reconfigurable optical add/drop multiplexers (ROADMs). Investors also continue to invest in next-generation optical technology-both 40-Gbit/sec technology developers and optical regeneration firms received funding in 2005. VC investing in 2006 will be even more active in this renewed and growing market.
Eric Wesoff publishes the SAGE Marketing Newsletter, read by thousands of investors and technologists each week. His firm, SAGE Marketing Partners (Woodside, CA), provides research, reporting, and due diligence for investors in optical networks, photonics, solid-state lighting, and alternative energy. To receive the newsletter, e-mail Eric at wesoff@mindspring.com.