Alternative rights of way enable metro/access deployments
Oct 1st, 2001
SPECIAL REPORTS: Installing Fiber-optic Networks
Deploying cable in sewers, roadways, and sidewalks speeds installation and curtails cost.
SHANE SHANEMAN and CHAD SWEAZEY, Corning Cable Systems
During the late 1990s, several carriers focused on building new, state-of-the-art, long-haul networks across the country. That pushed the challenge of playing "catch-up" into the metro/access area. Despite the resulting increase in long-haul capacity, business and residential customers continue to face "bandwidth bottlenecks" in the metro/access networks, thereby restricting high-speed Internet access and the use of bandwidth-intensive applications. As a result, fiber deployment is projected to shift from long-haul networks to the metro/access space over the next several years (see Figure 1).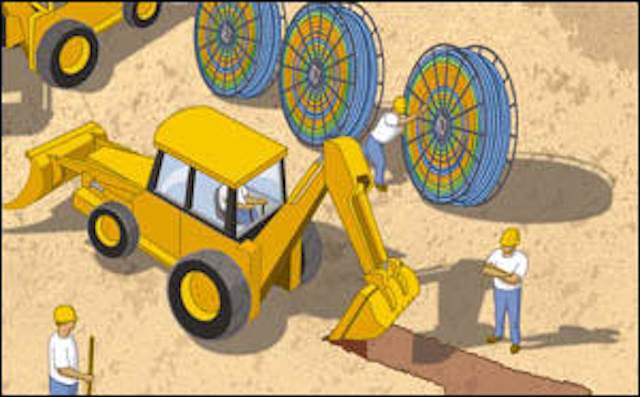 Unfortunately, metro and access network deployments have certain drawbacks, including high labor and installation costs, lengthy deployment time frames, and disruption to roads, traffic patterns, and the community in general. Despite the need for increased bandwidth, community leaders, businesses, and residents are growing weary of the disruptions that deployments cause on their daily lives and the condition and longevity of their roadways.
To minimize disruptions, many cities now issue permits that require contractors to work off-peak hours, including nights and weekends, to reduce traffic jams. Other cities have placed conditions on deployments that require multiple carriers to jointly deploy their networks in a single trench and/or require roadways to be completely repaved from curb to curb after the deployment is completed. Still, other cities have placed complete moratoriums on network deployments once a road has been repaved or in downtown areas altogether.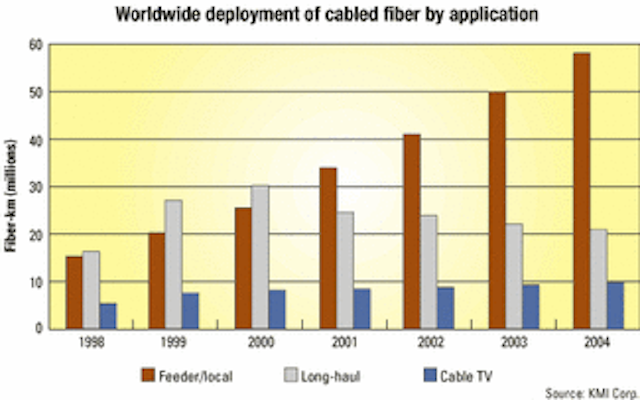 Figure 1. Fiber deployment is projected to shift from long-haul networks to metro/access space.
As a result of these restrictions, carriers are faced with the increasingly complex task of negotiating rights of way (ROWs) and arranging permits to construct their metro/access networks. As carriers continue to plan future network deployments, carriers and cities alike are looking for solutions in the form of alternative ROWs that are cost-effective, quick to deploy, and minimally disruptive.
Over the past several years, several innovative cabling solutions that enable the use of alternative ROWs for metro/access deployments have been in development. Through recent advances in cables, cost-effective solutions enable carriers to deploy optical cables in storm and sanitary sewers as well as directly in roadways and sidewalks.
Due to the pervasive nature of roadways, sidewalks, and sewers in the metro/access space, alternative ROWs hold a great deal of potential for cities and carriers to:
Ease permitting and ROW acquisition.
Reduce labor and installation costs.
Increase deployment velocity.
Minimize disruption to communities.
Create possible revenue earnings.
By leveraging alternative ROWs, carriers may also be able to secure more direct deployment routes, reducing infrastructure requirements. Deployments, previously not possible because ROWs were not available or securable, today account for increased subscriber revenues. However, alternative ROWs require innovative cable and equipment designs to ensure network reliability and ease of installation-the catalyst for the development of new cabling solutions.
For example, three cabling solutions-S.L.I.M., MCS-Drain, and MCS-Liner-enable deployment in storm and sanitary sewers (see Figure 2).

Figure 2. Innovative cabling solutions installed in sewers, roads, or sidewalks enable the use of alternative rights of way for metro/access deployments.
Through a relationship between the cable manufacturer and Ca-Botics Fiber Systems, S.L.I.M. cable can be robotically installed in sewer pipes 8 inches and larger using a Sewage Telecommunication Access by Robot (STAR) methodology developed by Robotics Cabling Co. of Berlin. After a sewer is cleaned, inspected, and determined to be structurally sound, the robot is lowered into the sewer through a manhole and remotely piloted using the robot's five video cameras to install the cable (see Figure 3).
As the robot traverses the sewer, it attaches cable to the ceiling or wall of the sewer pipe by installing low-profile J-hooks (anchors) that prevent cable sagging and minimize flow disruption. Once the installation is completed, the robot can also provide the city or carrier with a permanent video record of the condition of the sewer as well as the location of the cable deployment.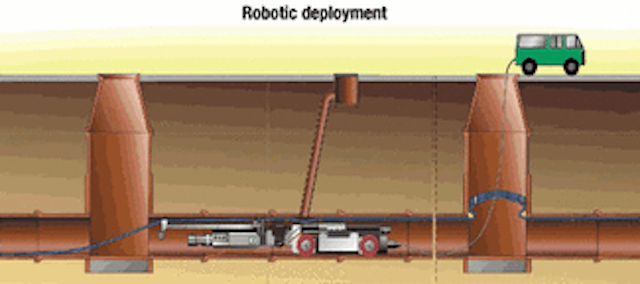 Figure 3. During deployments using S.L.I.M. cable, a robot pulls fiber-optic cable through a sewer, attaching the cable to the ceiling or wall of the pipe with low-profile anchors.
MCS-Drain is also deployed in structurally sound storm or sanitary sewer systems. Rather than using a robotic installation process, however, MCS-Drain is installed manually by pulling cable through the sewer, then tensioning the cable on the roof of the sewer pipe by tightening the cable between two turnbuckles installed in adjacent manholes using the cable's high-tensile steel wiring armoring.
This solution is advantageous in situations where the sewer pipe is smaller than 8 inches-in instances where installing J-hooks in the sewer pipe is not preferred or allowed or in sewer pipes where there are not a large number of vertical or lateral openings.
The final cabling solution developed for sewer ROWs targets sewer infrastructure in need of renovation or repair. The MCS-Liner solution deploys a cable as part of a sewer renovation using a composite liner or coating that strengthens the sewer-pipe structure and establishes a new inner pipe lining that improves sewer flow. By installing the liner cable as part of the renovation process, the city or carrier can achieve the following benefits:
Extend the livelihood of their existing sewer infrastructure.
Avoid the cost and disruption of sewer replacement.
Install optical cables that may provide a critical ROW or recurring revenues.
The MCS-Road cabling solution ad dresses deployments in roads and sidewalks and features a crush-resistant design. After a narrow, shallow groove is cut into a roadway or sidewalk, cable is directly installed and sealed into the road or sidewalk, providing carriers and cities with a very fast, and minimally intrusive, deployment capacity.
Given the pervasive nature of roadways, the solution enables carriers to capitalize on a virtually unlimited source of cost-effective ROWs, while avoiding the extensive permitting and ROW acquisition costs often associated with more disruptive deployment technologies.
While each of the cabling solutions developed for alternative ROWs is unique and has its own inherent advantages and disadvantages, these individual solutions may be used in the following deployment applications:
In standalone, point-to-point network deployment.
In conjunction with other cabling solutions as part of a 100% alternative ROW deployment.
As a complementary technology to traditional deployment methodologies for specific network segments.
These cabling solutions offer cities and carriers a very cost-effective solution that offers significant deployment cost and time savings as well as potential revenue enhancement opportunities. Figure 4 compares installation costs of a 1-km network deployment using 144-fiber cable from each of the cabling solutions versus a traditional trenched 144-fiber cable. The costs are based on theoretical modeling of network deployment.
In addition to the potential deployment cost savings highlighted above, the new cabling solutions potentially offer carriers other advantages, including an accelerated deployment time frame, reduced permitting, and ROW acquisition costs.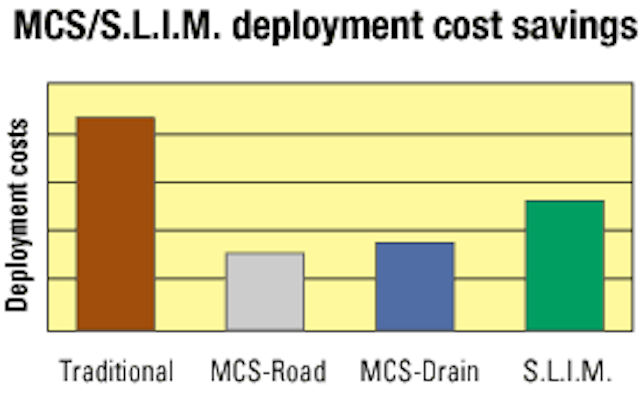 Figure 4. Alternative right-of-way cabling solutions offer deployment cost savings. Traditional cable deployment is more expensive than newly developed cabling solutions.
From a municipality's perspective, allowing the use of alternative ROW may also be a significant source of recurring revenues for the city, or a mechanism by which to deploy a government network at little to no cost. Whether deployed as a tip-to-tip solution or as a segment of a much larger network deployment, these cabling solutions provide carriers and cities with more deployment options and alternative ROW network solutions.
As the demand for bandwidth continues to increase with the continued growth of the Internet and the emergence of advanced applications, the need for the deployment of metro/access networks will only intensify. While the price of fiber build-outs and the underlying cost of acquiring traditional rights of way continue to increase, alternative cabling solutions will enable carriers and cities to leverage additional ROWs as part of their network deployment strategies. That allows them to save time and money, while minimizing the disruption inherent in using traditional deployment methods.


---
Shane Shaneman is market manager and Chad Sweazey is a market specialist for Access Solutions at Corning Cable Systems (Hickory, NC).