Carrier feeds fiber to bandwidth-starved community
Oct 1st, 2001
APPLICATIONS
By ROBERT PEASE
The difference between deploying a successful fiber-optic network and one doomed to fail often hangs on strategic decision-making. Even when financial times are good, poor management decisions can result in the demise of networking projects. But when the economy is struggling, it could spell disaster. Adopting sound strategies to serve bandwidth demands in opportunistic markets will not only expand fiber connectivity to new areas, but it can also keep carriers and providers from operating in the red.
Years ago, Williams Communications conceived a strategy for installing fiber cables in energy pipeline rights-of-way and soon became one of the nations first and largest carriers' carriers by 1994. At about that time, another carrier made a strategic decision to adopt a similar approach in the Northeastern United States (see Lightwave, February 2000, page 1). The decision resulted in a successful network consisting of 90,000 fiber-mi and 117 points of presence-and the network continues to gain momentum.
However, while following Williams' lead in acquiring rights of way, NorthEast Optical Network Inc. (NEON-Westborough, MA) followed a different strategic course when it came to deciding which routes to pursue. Anticipating that large carriers-and carrier's carriers-would flock to tier 1 markets like New York City, NEON decided to look elsewhere for opportunities.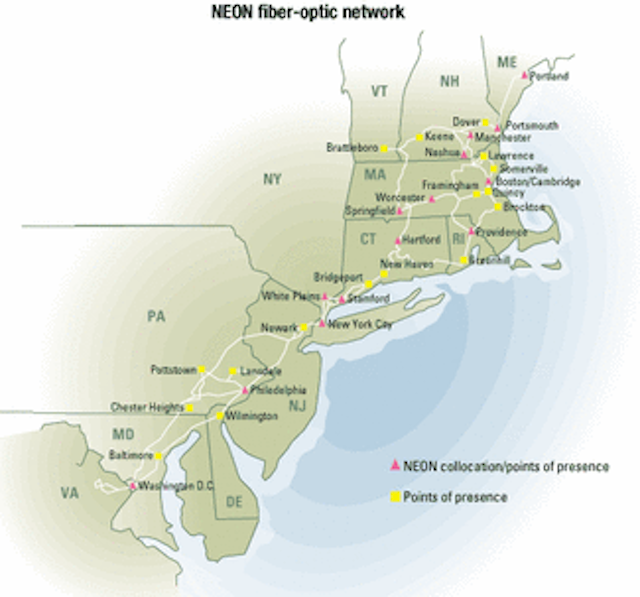 NEON's fiber-optic network stretches across the Northeast and mid-Atlantic corridors to provide an "information highway" onramp for bandwidth-starved communities. The company's new strategy expands its network footprint while leveraging opportunities to push high-speed, high-capacity fiber connectivity to lower-tier cities throughout the area.
"We knew large carriers would have to enter those [tier 1] markets to serve customers and expand their customer base," says Fred Kocher, director of corporate communications and investor relations at NEON. "That's exactly what is happening, especially over the past year. Most of the circuits NEON leases are into second- and third-tier markets-and most of those circuit orders are coming from large carriers."
NEON is a wholesale carrier, leasing high-capacity, high-speed bandwidth to retail carriers who, in turn, connect to businesses and other customers in these smaller communities. NEON believes the lower-tier strategy will be lucrative as demand continues to grow in outlying areas as a result of a lack of available bandwidth to homes and businesses.
"It's a bottleneck that will be fixed because of a growing confluence of pressures, including the aggregation of demand in third- and fourth-tier markets, the need for carriers to serve customers locating in those markets, and the intent of the FCC to make certain it gets fixed," says Kocher.
NEON's efforts to reach these underserved communities include not just network expansion, but also close liaison with the small community networks that need capacity to backhaul their traffic into the larger markets for regional, national, and international connectivity. While larger carriers typically don't directly serve these areas, NEON has discovered a niche by playing the middleman's role between the local community and "Fortune 500" carriers.
The company is already doing business with a local network in the Hudson River Valley of New York and is in early discussions with aggregator groups in Maine, New Hampshire, and Massachusetts who have assembled enough demand to attract some carriers.
A typical "package deal" for getting bandwidth to businesses begins with local business leaders and economic developers determining the demand in a particular area. Surveys are compiled for businesses, schools, hospitals, municipalities, local Internet providers, and others to determine demand as well as value to a telecommunications provider. With that information in hand, negotiations begin with carriers, or requests for proposal are sent out to spark the carriers' interest. Carriers who see economic value in providing for the area respond with their bids.
"NEON's role is to work closely with the local group in any way that is helpful," says Kocher. "We provide advice, necessary design, infrastructure, or implementation of services to put their local network together. We also conduct business with the retail carriers involved."
NEON's fiber-optic network is built throughout the Northeast and mid-Atlantic regions of the United States, with presence in cities as large as New York City and Washington, DC, and as small as Keene, NH, and Green Hill, RI. According to NEON, the network covers 30% of the communications market in the United States, based on the density of populations and metro areas in the Northeast and mid-Atlantic.
The opportunity offered by the tier 2/ tier 3 markets becomes even more enticing when coupled with recent government programs that offer incentives to service providers deploying fiber to underserved communities. The Broadband Internet Access Act of 2000 and the Rural Utility Service loan program (see Lightwave, March 2001, page 1) are designed to push high-speed fiber-optic capacity to overlooked areas across the United States.
In an economy where the former "deep pockets" of many telecommunication carriers have been turned inside out, seeking out niche markets where new opportunities exist makes more sense than ever. Companies like NEON are discovering and adopting new strategies that make economic sense while continuing to meet the growing demand for bandwidth-not just for a chosen few, but for everyone.