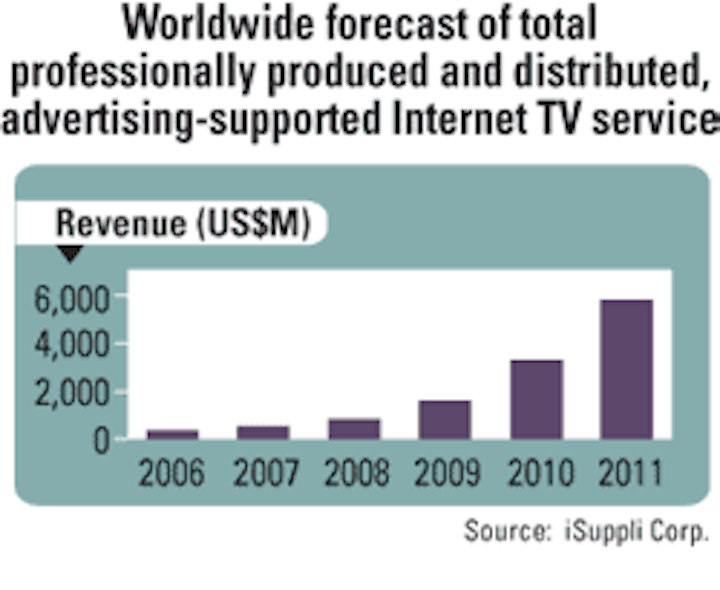 The market for Internet TV service is expect to net $5.79 billion in 2011, expanding by a factor of 13.7 from its $422.7 million mark in 2006, according to a new report from iSuppli Corp.
iSuppli defines Internet TV as professionally produced and distributed mass-market video that is monetized via advertising and distributed through broadband Internet connections.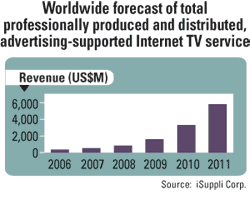 The web is quickly growing into the world's largest on-demand, interactive video library, and it is evolving into the most ubiquitous video distribution platform ever known, say iSuppli analysts.
Internet TV poses both challenges and opportunities for companies involved in the video distribution value chain, note analysts. Content owners face the tradeoff of "reach" versus "control," as they navigate this distribution channel. Video network operators face the challenge of a new way to reach consumers, as well as new competition that could threaten their long-term position in the market. A variety of Internet portal companies, content delivery networks, software platform companies, and other technology providers embrace the revenue opportunity.
The report also finds that:
The bandwidth required for Internet TV will grow by more than 44× from 2006 to 2011 to almost 7 million Tebibytes (TiBs).
Internet TV will be dominated by North America and Western Europe. Regions such as Latin America and Eastern Europe will not have significant Internet TV penetration through 2011.
For more information about the report, "Internet TV: Revenue and Network Demands for Online News, Sports and Entertainment Video," visit www.isuppli.com.