With corporate data traffic growing unabated, organizations around the world are rapidly exceeding the capacity limits of their legacy frame relay, ATM, and private line networks. As they do, they are increasingly replacing these legacy services with Ethernet and IP/MPLS VPN services, which are more flexible and less restricted than their legacy counterparts. This shift is happening swiftly, say Infonetics Research analysts.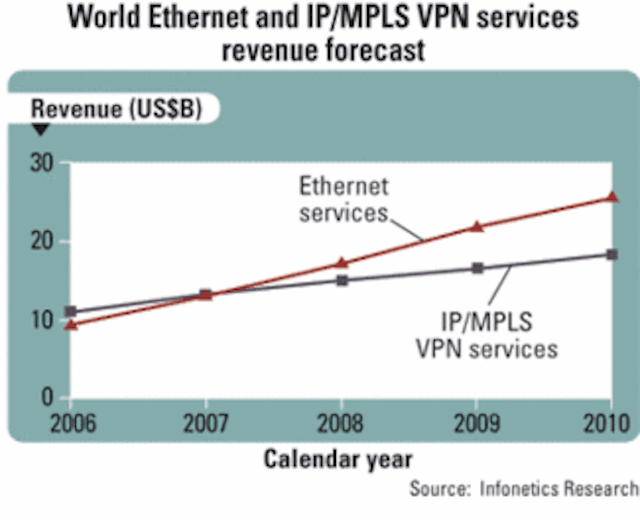 After more than doubling in 2005 to $5.7 billion, worldwide Ethernet service revenue jumped another 65% in 2006 to reach $9.4 billion, and IP/MPLS VPN service revenue grew 38% in 2006 to $10.9 billion, say analysts.
"Ethernet and IP/MPLS are the Layer 2 and Layer 3 service protocols of choice for today's data service networks," reports Michael Howard, principal analyst at Infonetics Research. "Small and medium businesses and remote and branch offices of large businesses especially like Ethernet and IP/MPLS VPNs because they offer considerably more bandwidth with little or no increased WAN costs. These are the very customers service providers are targeting for new revenue, and they're succeeding: Based on the revenue increases we're seeing, it's obvious there's been and will continue to be a strong uptake in new subscribers to Ethernet and IP/MPLS VPN services," Howard contends.
Infonetics forecasts the Ethernet service market to surge 171% from 2006 to 2010, when it will top $25 billion worldwide. Service revenue for mid-band Ethernet (MBE), which includes the 1- to 10-Mbit and >10- to 50-Mbit speed bands, will nearly triple from 2006 to 2010.
For more information about the report, "Ethernet and IP MPLS VPN Services," visit www.infonetics.com.