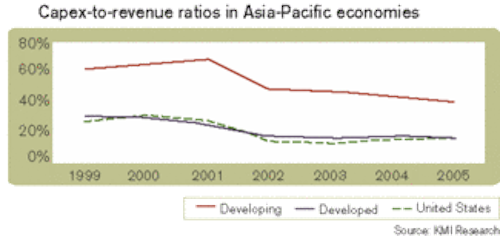 The Asia-Pacific region is the hottest market for fiber-optic telecommunications equipment, but how long will it stay hot?, asks a new report from KMI Research (Providence). KMI examined telecom capital expenditures (capex) in Asia-Pacific and concludes that region-wide growth will slow down but should remain well above that of other regions.
According to KMI, Asia-Pacific has two distinct telecom markets. One consists of developed economies like Japan, Korea, and Taiwan, where about 20% of revenue is spent on capex to grow and improve the network. The other consists of developing economies typified by China and India, where it is not unusual to see telecom capex at levels more than 60% of revenue.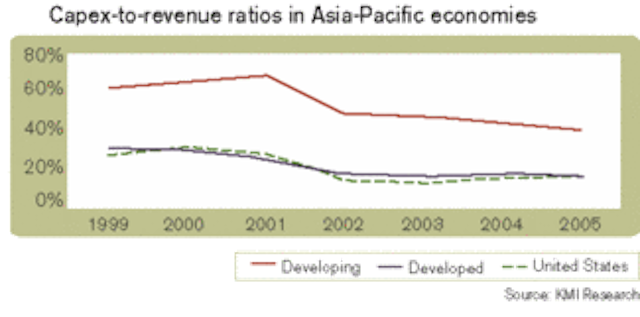 Those high levels of capital spending over the past decade reflect the developing economies' newfound political interest in the strategic and economic benefits of an effective telecom infrastructure, say KMI analysts, and it has resulted in enormous growth of their networks. But such high levels of capex are financially unsustainable over the long term. In fact, capex in developing nations in Asia has been on a downward trend over the last three years, and KMI expects it will drop to an average of 40% by next year as new public-network operators look to improve their financial picture. One outcome of Asia-Pacific's strong telecom spending is that the region has become the world's largest market for optical fiber, accounting for about two-thirds of worldwide fiber deployments last year.
For more details on the report, "Prospects for Telecom Capex in Asia-Pacific," visit the firm's Website, www.kmiresearch.com.