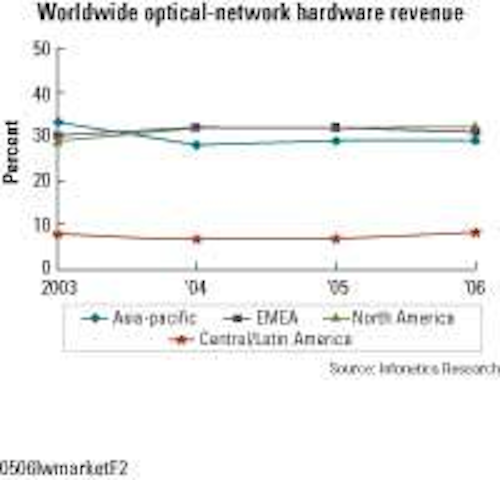 Worldwide optical-network hardware revenue grew 21% between the third and fourth quarters of last year to $2.6 billion, reveals a report from Infonetics Research (San Jose, CA). The report says Alcatel, Cisco Systems, Lucent Technologies, Marconi, and Nortel Networks all had strong quarters, spurred by some help from service-provider "capex flush." Worldwide revenue grew 10% to $9 billion between 2003 and '04, with steady growth projected through 2008.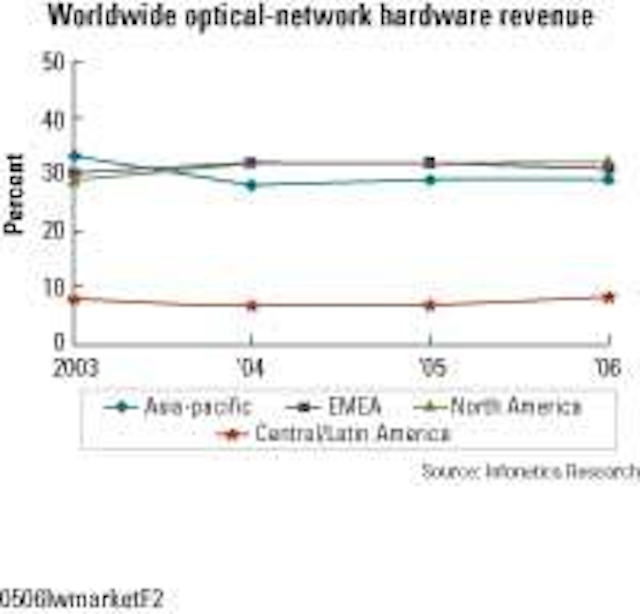 The market for metro WDM optical equipment was particularly robust, with worldwide revenue topping $380 million in the fourth quarter, a 30% increase from the third quarter. Alcatel remained the leader in worldwide revenue market share for total optical-network hardware, followed by Nortel, Huawei, and Fujitsu. Nortel and Tellabs led in North America, Alcatel led in EMEA, and Huawei led in Asia-Pacific.
Also, metro equipment made up 74% of all optical-network hardware revenue. SONET/SDH comprised 69% of optical equipment sales in the fourth quarter, 85% of which was metro SONET/SDH. During 2004, long-haul market fell 13%, with long-haul SONET/SDH down 16% and long-haul WDM down 10%. WDM and intelligent SONET/SDH are expected to grow slowly this year due to better business conditions and pressures to reduce opex, creating new investment in optical products.
The report says service providers are depending more on CWDM/DWDM and are building more metro access rings; ROADM technology will further facilitate this trend.
For more details on the report, "Optical Network Hardware," visit www.infonetics.com.