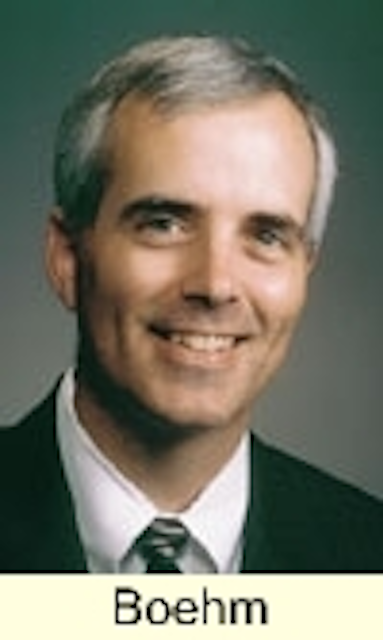 Boehm
Rodney Boehm has been named senior vice president of sales and marketing at Fujitsu Network Communications Inc. Boehm was vice president of business management before being promoted to his new position by Akira Tokimasa, president and CEO of the company. Boehm joined the company in 1989 as director of strategic planning and previously worked for Bell Laboratories, Bellcore, and Rockwell International.
Gerald H. Taylor, former CEO of MCI Communications Corp. has joined Ciena Corp.'s board of directors. In addition to his roles as CEO, president, and COO, Taylor has held key roles in operations, sales, and marketing throughout his 29-year career with MCI. Currently working as a telecom consultant and private equity analyst, Taylor also serves on the boards of Lafarge Corp., E2Enet Inc., and Voyager.net.
J. Cliff Eason, president of network services for SBC Communications Inc., has been elected to the board of directors for Williams Communications, a provider of broadband network services to carriers and integrated communications solutions to businesses. Eason assumes a director position that was designated for SBC Communications when the company acquired an equity stake in Williams Communications in conjunction with the initial public offering for Williams stock last October. Prior to his appointment last October to network-services president responsible for all network operations across SBC, he was president of SBC International. Previously, Eason was president and CEO of Southwestern Bell Telephone. His management career includes serving as vice president of network distribution services in Texas in 1989, senior vice president of strategic planning for parent SBC in 1990, and president and CEO of its Metromedia Paging subsidiary in 1991. Also, Cuba Wadlington has been elected to the board of directors at Williams Communications to replace Brian O'Neill, who retired as president and CEO of Williams's gas pipeline unit. Keith Bailey has been elected chairman of the board for Williams. Bailey, who is chairman, president, and CEO of Williams, succeeds Roy Wilkens in chairing the board. Wilkens remains a board member.
Hus Tigli has joined the Optical Micro-Machines Inc. as president and CEO, reporting to the board of directors. Before joining the company, he was senior vice president and group executive responsible for the telecommunications, energy, and industrial group at Raychem Corp. (Menlo Park, CA). He has held general-management positions of increasing responsibility, from a 30-employee venture to 3,500-employee group.
Richard White has been appointed vice president of operations at Extreme Packet Devices Inc., a fabless semiconductor company developing leading-edge traffic-management and packet-processing devices for next-generation Internet voice, video, and data communications. White has over 20 years' experience in the semiconductor industry and was recently president of Accelerix Inc. He has also held senior positions at Nitidus Technology Inc., Prior Data Sciences, Enhance Systems, and NovAtel and had worked as a semiconductor design and test engineer.
William C. Murphy has been appointed president of Viatel Inc. He will play a key role in accelerating the company's presence in major corporate accounts, both in Europe and the United States, and in expanding its data, Internet, and access initiatives. Murphy is a 20-year veteran of the telecommunications industry. For the past 12 years, he has been employed by British Telecom, holding several senior positions.
Harry J. Carr has been named chairman and CEO of Tellium Inc. Carr has held a variety of positions across the telecommunications and data-communications industry over the past 22 years. Most recently, he served as president of Lucent Technologies' Broadband Carrier Networks unit, the company's multibillion-dollar data-switching unit focused on the service-provider marketplace. He joined Lucent as a result of the company's acquisition of Yurie Systems, a provider of ATM access equipment, where he served as president and COO. He led discussions resulting in the acquisition of Yurie by Lucent and had established distribution agreements with Bay Networks, Ericsson, Lucent, and other players.
William Reid has joined Luminous Networks as vice president of sales, reporting to Alex Naqvi, president and CEO. Reid most recently served as national account manager for Cisco Systems, where he managed a sales team whose focus was on offering solutions to CLECs and ISPs. He has more than 13 years of sales and management experience, including serving as sales director at Racal-Datacom.
Don Muskopf has been hired as SigmaTel's new chief financial officer. Formerly with Arcus Data Security, Muskopf has more than 20 years of experience in financial management. Mark VanZanten has joined the company as vice president of worldwide sales and business development. Prior to joining the company, VanZanten served as sales vice president of Fujitsu Microelectronics as well as director of marketing and business development for VLSI Technology.
Joan E. Ryan has been named chief financial officer of Tellabs. Ryan succeeds Peter A. Guglielmi, who has served as the company's executive vice president and CFO since 1988 and continues to be part of the executive team and direct the company's investor-relations efforts for an appropriate transition period. Ryan, who will be responsible for the day-to-day operations of Tellabs' global finance operations, most recently served as senior vice president, CFO of Alliant Foodservice Inc. Prior to that, Ryan was vice president, finance, and CFO of Ameritech Small Business Services. Guglielmi, who also had served as president of Tellabs International, will continue to be a member of the company's board of directors.
Richard Cantin has been named regional vice president of Qwest Communications International Inc.'s Internet and multimedia services. He is responsible for establishing strategic partnerships and alliances that will leverage the company's 4,300-mile high-speed fiber-optic broadband Internet network in Canada. Before joining Qwest, Cantin was marketing vice president of UUNET, an MCI WorldCom company.
Brian Attard has been appointed vice president of operations at Chromatis Networks Inc. With over 20 years of experience in manufacturing, operations, and engineering environments, Attard will be instrumental in the launch of the company's next-generation metropolitan-area transport product family this year. He was previously operations vice president of Harris Corp.'s Communications Products Div. He will report directly to Chromatis president and COO Bob Barron. Before joining Harris, Attard held positions of increasing responsibility at DSC Communications for seven years, both in manufacturing and product-development roles. There, he was instrumental in the standardization of DSC SONET transmission crossconnects at several major ILECs and RBOCs.