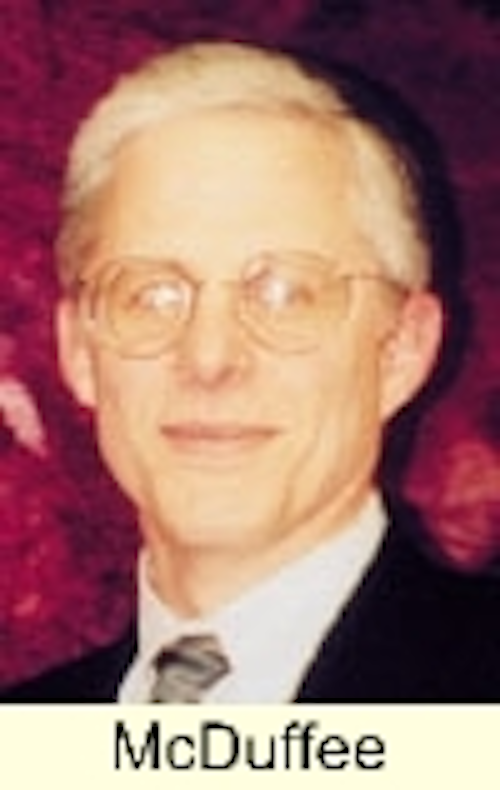 Christopher Rothlis has been appointed vice president of network engineering at Broadwing Communications. Responsible for equipment selection and deployment of new technologies in the company's fiber network, Rothlis will be instrumental in overseeing the installation of Corvis' optical-transmission products and will play a key role in providing the necessary equipment for Broadwing's expanding nationwide data centers. He has more than 20 years' experience in the telecommunications industry and joined the company in 1998 as director of technology planning. He later served as vice president of new-product development and most recently as vice president of access planning, where he helped develop the company's network strategy for local access.
Donald A. Bloodworth has been appointed chief financial officer of GST Telecommunications Inc., responsible for developing long-term financial objectives and plans, managing the acquisition and allocation of capital, and developing and maintaining relationships with analysts and shareholders. He was most recently vice president and corporate controller at 3Com Corp.
Harry Tankin has succeeded Keith Schneck as president of AM Communications Inc. Schneck will continue to serve the company as director and chief financial officer. Previously, Tankin was the company's sales and marketing vice president and has held marketing and technical positions with General Instrument Corp., Digital Equipment Corp., and Xerox.
Oren Shaffer has been named president and chief operating officer of Sorrento Networks and George Wanet has been named executive vice president and president of Sorrento Networks Europe. Shaffer most recently served as executive vice president and chief financial officer for Ameritech Inc. Wanet had been with Belgium's national telecommunications carrier, the Belgacom Group, since 1981.
Pierre A. Humblet has joined Astral Point Communications as chief technical officer, where he will be responsible for strategic directions and work with engineering to develop substantial intellectual property. Humblet is an MIT professor, IEEE Fellow, and one of the country's leading researchers in the field of optical networking.
Chris Simpson has joined Ciena, responsible for the company's worldwide sales. Simpson most recently served as vice president of sales, marketing, and international operations for Harris Corp.'s RF communications.
The Society of Manufacturing Engineers Education Foundation has elected officers for its 2000 fiscal year. Elected officials include president Raymond G. Adams PE, chairman, Axis Inc.; vice president Douglas E. Booth CMfgE, FSME, PE, director of engineering; secretary Laurence W. Hecht, president, Associates for Competitiveness, and treasurer Peter F. Mackie, executive vice president, Commerce Bank.
Michael A. Gort has been named director of APA Optics Inc. He is founder and president of Milestones LLC, which serves as an independent consultant to high-tech companies and advises early-stage companies. Previously, Gort held key positions at Morgan Stanley Dean Whitter Discover & Co. including managing director of the Information Technology Div., chief quality officer for Information Technology, and managing director of Smith Barney, Harris Upham Inc.
Kent Wardley has been appointed director of telecommunications sales and marketing at CiDRA Corp. He will oversee global marketing, sales, and customer support for the company's new Optical Network Products group, with a focus on managing key telecom OEM accounts. Previously, he worked at SDL Queensgate, where he headed sales and marketing for the United States and Canada.
Roger Booker has been named senior vice president of business development at Video Network Communications Inc., where he will help create and enhance strategic business relationships for the company. Susan Wing has been appointed director of marketing communications and will work to strengthen the company's position in the video-communications market. Booker, previously vice president of engineering and operations at the company, has more than 20 years of telecom and progressive management experience. Wing has 12 years of marketing-communications and public-relations experience in the high-tech and healthcare arenas.
Dianne Gongaware has been promoted to senior vice president of sales at 2nd Century Communications, reporting directly to the president and CEO. She will have responsibility for all sales company-wide, with four regional presidents reporting to her. Previously northeast regional president, Gongaware was responsible for managing regional operations, recruiting sales-channel partners, and driving the channel to sell the company's package of business tools and communications services.
Vincent Chan has been elected to Vitesse Semiconductor Corp.'s board of directors. He has over 25 years' experience leading the development of advanced communication systems and serves on the Massachusetts Institute of Technology faculty as the Joan and Irwin Jacobs Professor of Electrical Engineering and Computer Science and Aeronautics. He is concurrently the director of MIT's Laboratory for Information and Decision Systems and serves on numerous government and advisory boards relating to next-generation communication networks.
Stephen N. Carroll has been appointed chairman of Storm Telecommunications Ltd. He has 22 years' experience in the telecom industry and joins the company following the announcement of its strategic o-commerce plan. Prior to his appointment, Carroll was chairman of Star Telecom Europe and is former president of Worldcom Europe.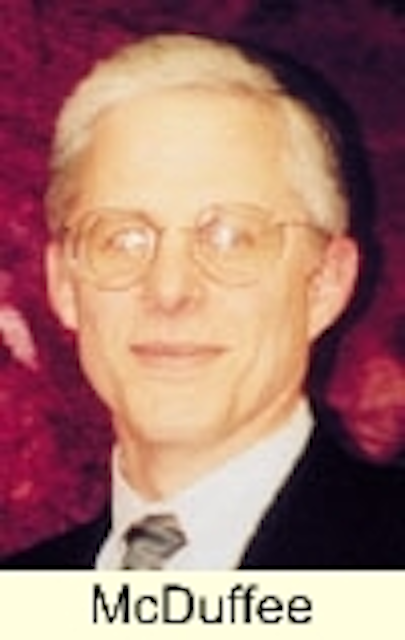 McDuffee
Fred McDuffee has been promoted to senior vice president of Sumitomo Electric Lightwave (SEL) Corp. He will be responsible for all manufacturing operations at the company's Research Triangle Park and Whiteville, NC facilities. He will continue his responsibilities in the area of product design and marketing for SEL's cabling, connector, and fusion-splicing products. Also, Barrett Mills has been promoted to vice president of sales, responsible for national, regional, and inside sales of the company's cabling, connector, and fusion-splicer products, and Richard Herwig has been appointed to national sales manager, responsible for sales of the FutureFLEX ABF cabling system and the company's regional sales force.
Mills
Christopher B. Coles has been named executive vice president and chief operating officer of Qwest Communications International Inc.'s Internet and multimedia markets. He will direct day-to-day operations and focus on delivering leading-edge Internet solutions, including electronic commerce and complex professional services, virtual private networking, and dedicated and remote Internet access.
Shafer
Terry Shafer has been appointed general manager of Amherst Fiber Optics. He brings 10 years' management experience to the company and will be responsible for all company operations and supervision of management.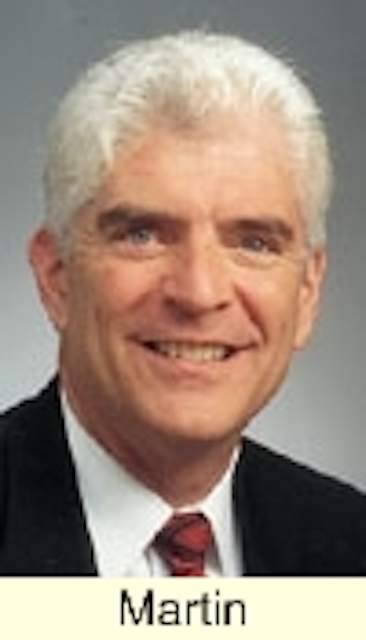 Martin
Ron Martin has been named chief operating officer at Fujitsu Network Communications Inc., responsible for product development, sales, marketing, product planning, strategic planning, and overseeing the new and growing Photonic Network Laboratory research facility at the Richardson, TX, company headquarters. He will also remain executive vice president in the company.
Kathy Boyd has been named vice president of TTC's Performance Optimization Group for network- and telecommunications-related strategic services. She is responsible for designing programs that expedite the roll-out of new technologies, reduce service intervals, improve network utilization, and increase workforce productivity. Boyd has nearly 20 years' experience with Hewlett-Packard, most recently as general manager and senior partner for HP's $200-million consulting services business in North America.
Mark Gilpin has joined the Opto Power Corp. as operations manager, responsible for all functional areas of the company's manufacturing operations, including logistics, material management, scheduling, process engineering, product assurance, and equipment maintenance.
Peter S. Buswell has been appointed executive vice president and chief operating officer of Cybertel Communications Corp. The hiring of Buswell is key to the company's vision of integrating its VoIP initiative with that of recently acquired LDVL.com, a DSL-based Internet service provider. He has been a consultant for Cybertel since the beginning of the year, working on the design and development of the company's VoIP network plan. Under Buswell's guidance, Cybertel will have cut over its first 30-market VoIP network in June, integrating VoIP with the company's switching systems being installed at ICG, based in San Diego.