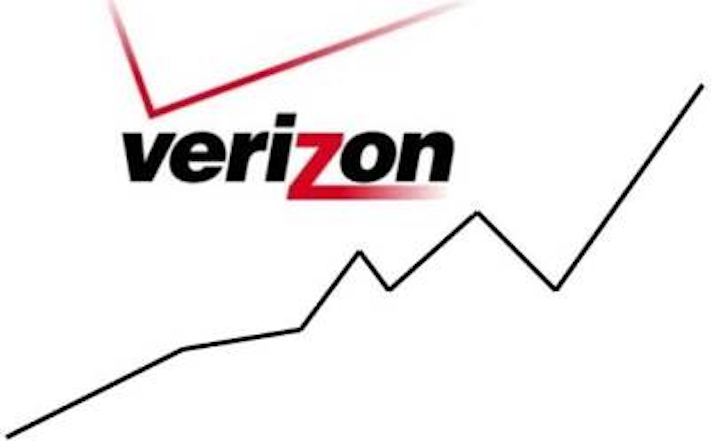 Verizon Communications Inc. (NYSE, NASDAQ: VZ) reported that operating income and earnings per share for the second quarter of 2014 exhibited double-digit growth for the sixth consecutive quarter. The best revenue growth in sixth quarters benefited from the first instance of year-on-year revenue growth in the wireline segment in more than seven years.

Total operating revenues for the quarter reached $31.5 billion, a 5.7% increase over the same quarter of 2013. Operating income was $7.7 billion, up 17.2% year over year. Earnings per share (EPS) were $1.01, an improvement over the $0.78 per share in second-quarter 2013. Non-GAAP EPS was $0.91 in 2Q14, up 24.7% versus 2Q13's $0.73 cents per share.

While wireless revenues remained strong ($21.5 billion for the quarter, up 7.5% year over year), the wireline performance was perhaps a bit of a surprise. Total wireline revenues were $9.8 billion, up a meager 0.3% year over year, but a growth nonetheless. Consumer revenues accounted for $3.9 billion of that total, up 5.3% year-on-year; FiOS contributed 75% of the consumer total. Consumer ARPU for wireline services increased to $122.57 in second-quarter 2014, up 11.0% versus the year-ago quarter. Total FiOS revenues grew 14.4% year over year, to $3.1 billion.

The company reported 139,000 net new FiOS Internet connections and 100,000 net new FiOS Video connections. That brought totals to 6.3 million FiOS Internet and 5.4 million FiOS Video connections at the end of the second quarter, representing year-over-year increases of 9.3% and 7.6%, respectively. FiOS Internet take rates stood at 40.1% at end of second quarter 2014, an improvement over the 38.6% of 2Q13. FiOS Video penetration was 35.3% for the most recent quarter percent, slightly improved over the 34.5% of last year's second quarter. The FiOS network passed 19.3 million premises by the end of second-quarter 2014.

Total broadband connections reached 9.1 million by the end of 2Q14, a 1.5 percent year-over-year increase. Net broadband connections increased by 46,000 in the quarter, with FiOS Internet net additions offsetting declines in DSL-based High Speed Internet connections.

"Verizon's second-quarter results continue to demonstrate our ability to deliver strong customer growth, with equally strong financial performance, in a dynamic and competitive environment," asserted Verizon Chairman and CEO Lowell McAdam. "We have great momentum heading into the second half of the year. We remain focused on profitable growth and on meaningful network investments that provide our customers with the best, and with a continuously improving, overall experience."

Looking ahead, Verizon said it continues to expect capex to remain in the range of $16.5 billion to $17 billion, which would translate into a decrease in capital spending as a percentage of total revenues for the full year. The company also forecasts consolidated top-line growth of 4% and adjusted consolidated EBITDA margin expansion in 2014, with positive contributions to profitable growth from both wireless and wireline.

For more information on FTTx systems and suppliers, visit the Lightwave Buyer's Guide.